Published Oct 8, 2021
PreSonus USB audio interfaces and USB MIDI Controllers are USB class-compliant devices, and work with most Android mobile devices such as tablets or phones. For simple monitoring and streaming of mono or stereo audio with applications like Skype, Zoom, Google Meet, or Discord, using a stereo USB audio interface with an Android OS powered mobile phone, tablet, or Chromebook will provide a better listening experience and control over input levels for microphones.
UC Surface
UC Surface (UCS) is not available for controlling devices directly connected to the same mobile device that UCS is running on. UCS is only for controlling supported hardware connected to Mac or Windows systems on the same network as the device running UCS.
For example: You can use UCS on your mobile device to control Revelator's settings when a Revelator is connected to your Mac or Windows computer on the same network. You cannot use UCS to control Revelator's settings when it is directly connected to your mobile device.
You can still use the on-board preamp control and any other physical settings on the device itself while using Android OS.
To read more about ChromeBook compatibility go here.
To find out more about your mobile device you can visit this website which indexes every mobile available: https://www.gsmarena.com/
Android system requirements for audio recording and/or MIDI sequencing
Android 6.0 (API Level 23) or higher
Recommended System Requirements:
Octa-Core SnapDragon or Intel CPU 1.5GHz or faster

4GB RAM

at least 4GB flash memory
Note: If you are not using a capable enough system, you may only get one or two tracks of audio before your system starts to have performance problems. Check your application for any additional requirements.
Hardware We Tested
Phones tested:
Google Pixel 3

Samsung Galaxy 10
Tablet tested:
Samsung Galaxy Tab A7

Onn Tablet Gen 2
Tablet tested that did not work:
meBerry 10" - did not recognize USB Audio or USB MIDI devices. USB port is only for charging

Amazon Fire 5 - did not recognize USB Audio or USB MIDI devices. USB port is only for charging
Audio playback, larger interfaces, and hubs
Very Important: Audio playback will come out of the USB Audio device, not out of the headphone jack of your Android device (if it has one). Audio input will be through the USB Audio device and not through the on-board microphone with one exception.
Android OS does not support multi-channel audio beyond simple left/right 2-channel stereo, so when you connect your interface to an Android mobile device or tablet, only channels 1 and 2 (or in some cases 1 or 2 will work.) Not all applications use both inputs and will instead only use Input 1.
Connecting larger interfaces with more than two inputs to an Android device does not consistently allow for use of the first two inputs, and sometimes no inputs are recognized at all. We do not support or recommend the use of larger interfaces and mixers with Android devices. (See the compatibility list at the end of this document for more info.)
Not all Android mobile devices support connecting USB audio or USB MIDI devices. We suggest choosing brand-name devices from the likes of Samsung, ASUS or Amazon, whereas lesser-known-brand devices may not support connecting audio interfaces or MIDI controllers.
Some of the better known brands also make devices that are relatively inexpensive and they may choose to limit the feature set of these devices to not allow USB peripherals other than a charging cable. PreSonus has no way of knowing which phone models accept USB peripherals.
In most cases, Android mobile devices only have a single USB Micro or USB-C connection. Android mobile devices do not limit current draw, therefore directly connecting a bus-powered audio interface will work, depending on how long your battery lasts.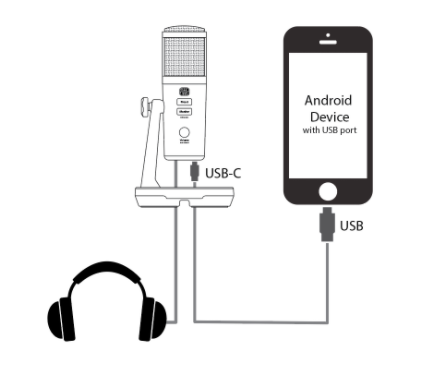 NOTE: We found that running the USB Hub as a passive device (not plugged in to wall power) did not work well, or if you're not using a pass through power adapter, you may see the following errors on your Android device:


Connecting an external power supply to charge the phone while using an interface will require connecting to an externally-powered USB 2.0 or USB 3.0 hub.
You will need to use an adapter with the phone or table to provide constant power in addition to connecting to our interface. The adapter we tested was from INTPW, but there are many like this available, such an adapter would look like this: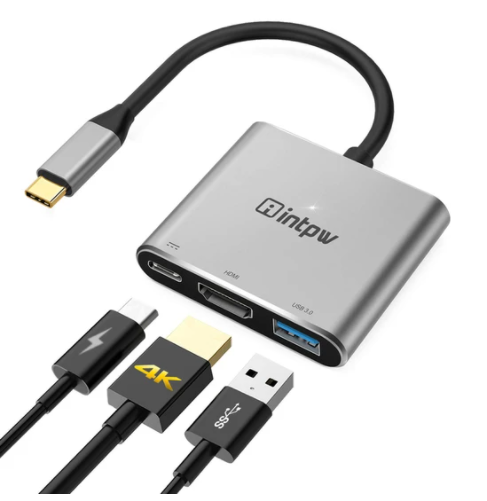 Using a hub will also be required if you want to connect a MIDI controller while using an audio interface. Example configuration: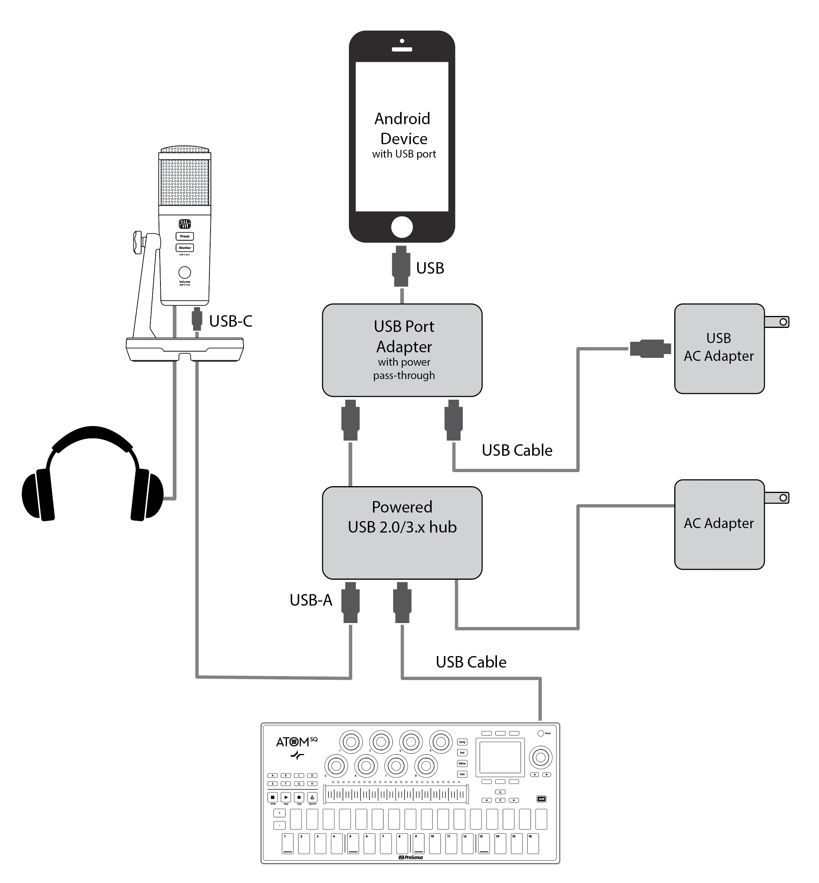 If your setup does not include an active USB Hub, then using an alternative power source is highly recommended. Using either a 12 watt or better AC to USB power adapter or a portable battery bank of 10000mAh of power or better is recommended. This is like the ones we used in testing, the solar panel makes no difference. These can be found for relatively low cost anywhere online.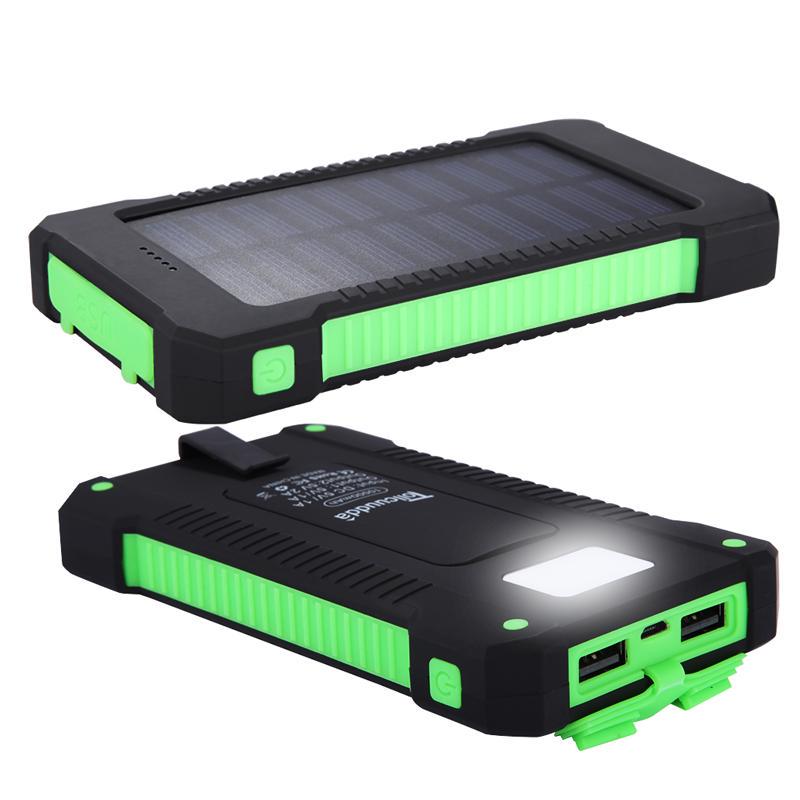 An example configuration would appear as follows: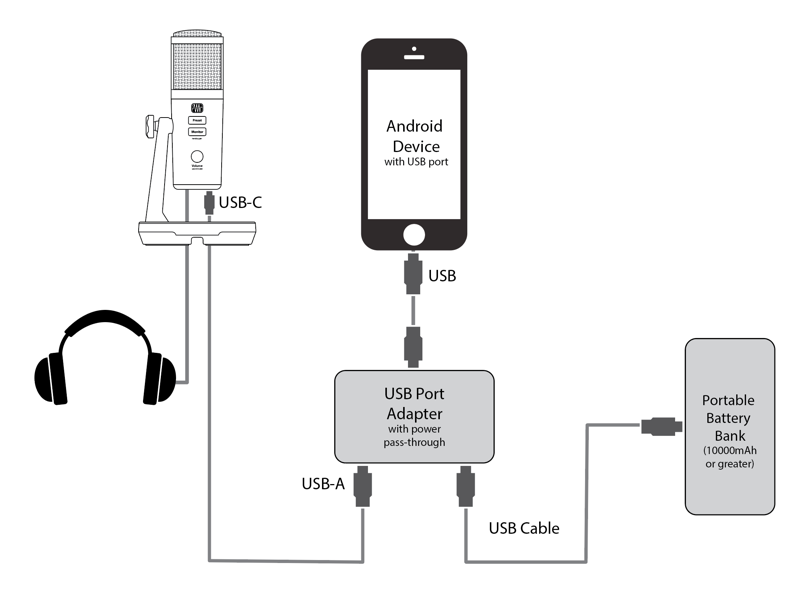 Low Latency USB Audio Driver vs Android OS USB Audio Driver
Some applications like n-Track (as shown here) offer their own low latency device driver for use with class compliant USB Audio devices. We suggest trying each one to see which one works best for your situation. PreSonus does not provide a low latency Android OS device driver itself.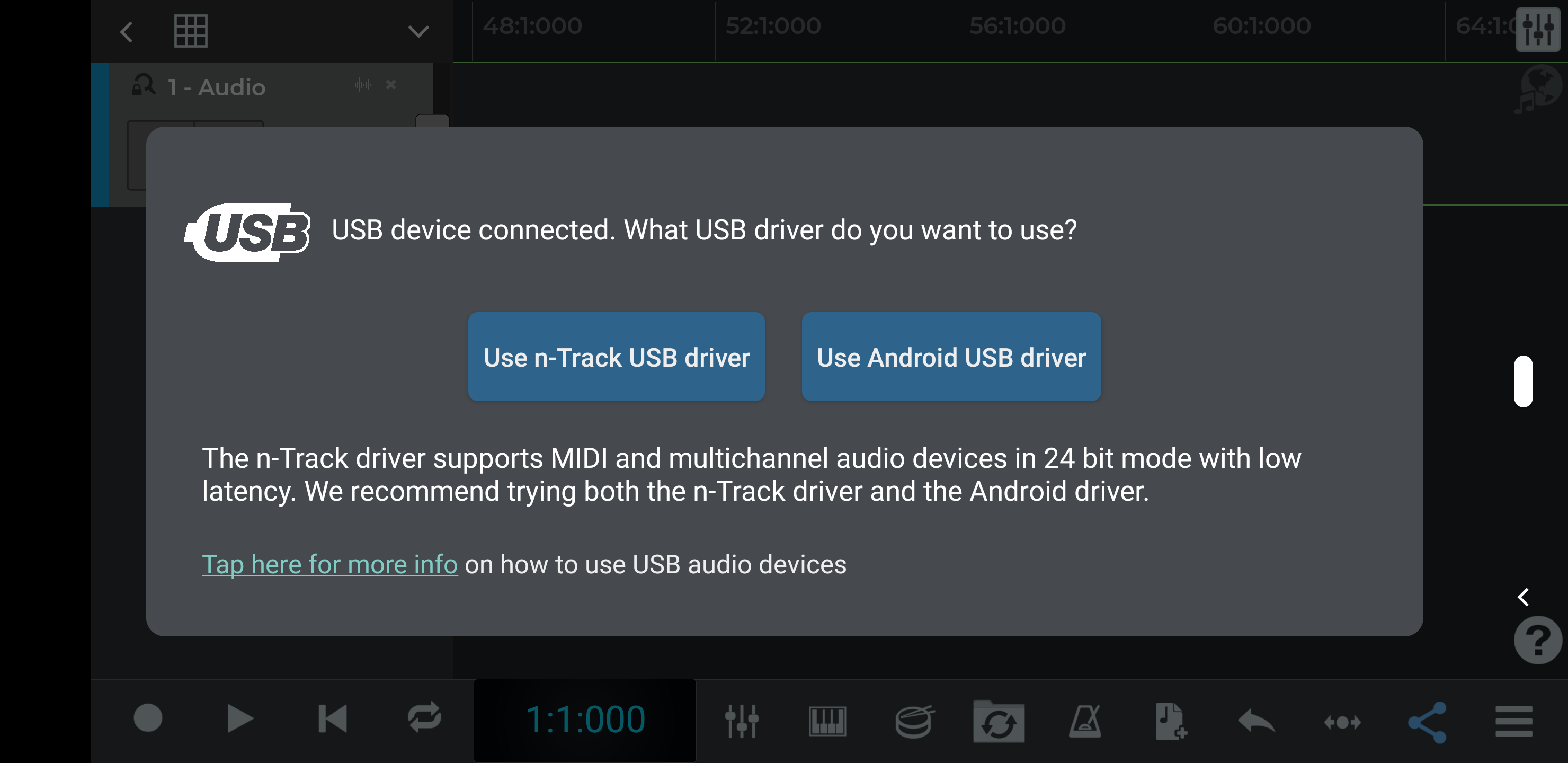 Android OS / Chrome OS
The following interfaces work for both input and output with Android / Chrome OS.
Revelator Series devices operate with Android in Multi-Mode only.

Make sure your Revelator is set to Multi-Mode in the UC control panel (on Mac).

Setting Revelator Series device to Single Mode may result in undesirable results.

If you were previously connected to a Windows computer, Revelator will already be in Multi-Mode.

Only the first two channels will work for Input and Output

Additional Channels are ignored by Android OS.

Revelator USB microphone

Revelator Dynamic microphone

Revelator io44

Revelator io24

AudioBox Go

AudioBox iOne

AudioBox iTwo

AudioBox USB 96

AudioBox USB

AudioBox USB 96 Studio

AudioBox USB Studio

ioStation24c*

Studio 24c

Studio 24

Studio 26c

Studio 26

AudioBox 44VSL: only the first two channels will work for Input and Output; Inputs and Outputs 3 and 4 are ignored by the operating system.

AudioBox 22VSL

ATOM

ATOM SQ

FaderPort 16*

FaderPort 8*

FaderPort 2018*
* MCU / HUI support is present if the application you are running supports this feature.
* Using MIDI Mode with FaderPort 16 or FaderPort 8 is still plausible, provided the app supports assignable MIDI controllers.
Android OS / Chromebook OS:
The following products do not work with Android OS (or ChromeBook OS):
Revelator Series operating in Single Mode

StudioLive Series III Console and Rack Mixers

StudioLive Series III 64s

StudioLive Series III 32s

StudioLive Series III 32X

StudioLive Series III 32SC

StudioLive Series III 32R

StudioLive Series III 24R

StudioLive Series III 16R

StudioLive Classic mixers

StudioLive AR Mixer Series (AR22, AR16c, AR12c, AR8c) - Output only

Studio-series interfaces

Studio 1824c / Studio 1824

Studio 1810c / Studio 1810

Studio 68c / Studio 68 - Output only

Studio 192 / Studio 192 Mobile

AudioBox VSL-series interfaces
Observations:
Many Android tablets can be found for a lower price than Android phones. The CPU is most often a low-power ARM processor that lacks the required co-processing for intense mathematical calculations needed for multi-channel audio recording, arranging and playback.

Some applications may use a different sample rate than the default sample rate of the connected audio interface. It is up to the host application as to whether the sample rate can be toggled or not.

For example we found that FaceBook Live was not able to change the sample rate from 48kHz to 44.1kHz, whereas with n-Track mobile DAW, it would allow selection of all supported sample rates for the connected device.

Some applications like Zoom do not use both inputs of an audio interface—they will only use Channel 1 for input, but will play back in stereo.

VoIP applications such as Zoom and Skype may playback audio in only one channel. These and other Voice over IP applications only use one channel for sending and receiving audio, it is up to the host application / system OS to playback a mono stream on a stereo bus.

We advise against the use of non-powered / passive USB hubs as the power drain can be too much for some mobile devices to handle.

Some lesser expensive Android tablets do not support sending UDP Packets and only send TCP, therefore using apps like Studio One Remote or UC Surface to control PreSonus hardware won't work. There is no way to know this until you actually try to use the tablet. The telltale sign is the low price. Try to go for a better quality, name brand, late model tablet.