Published May 17, 2021
PreSonus USB Audio interfaces work with Google ChromeBook as our devices work as a USB Class Compliant Audio Interface.
1) Connect your PreSonus USB Audio interface to your Chromebook.
NOTE: Chrome Browser will always toggle to the last audio interface that was connected (most of the time). It's always a a good idea to check to make sure your interface is selected for Input and Output.
2) Once connected, click in the lower right corner of your screen.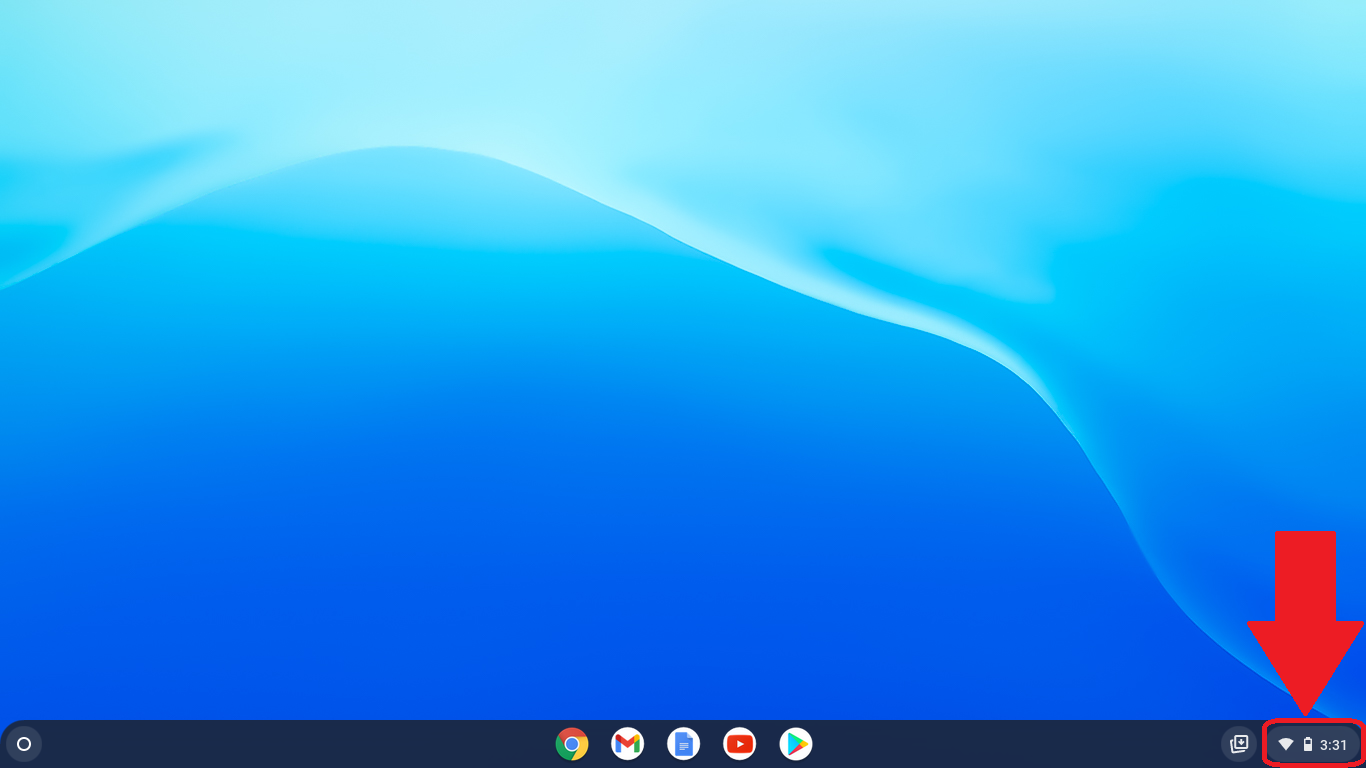 3) Next click the greater than symbol as indicated in this picture.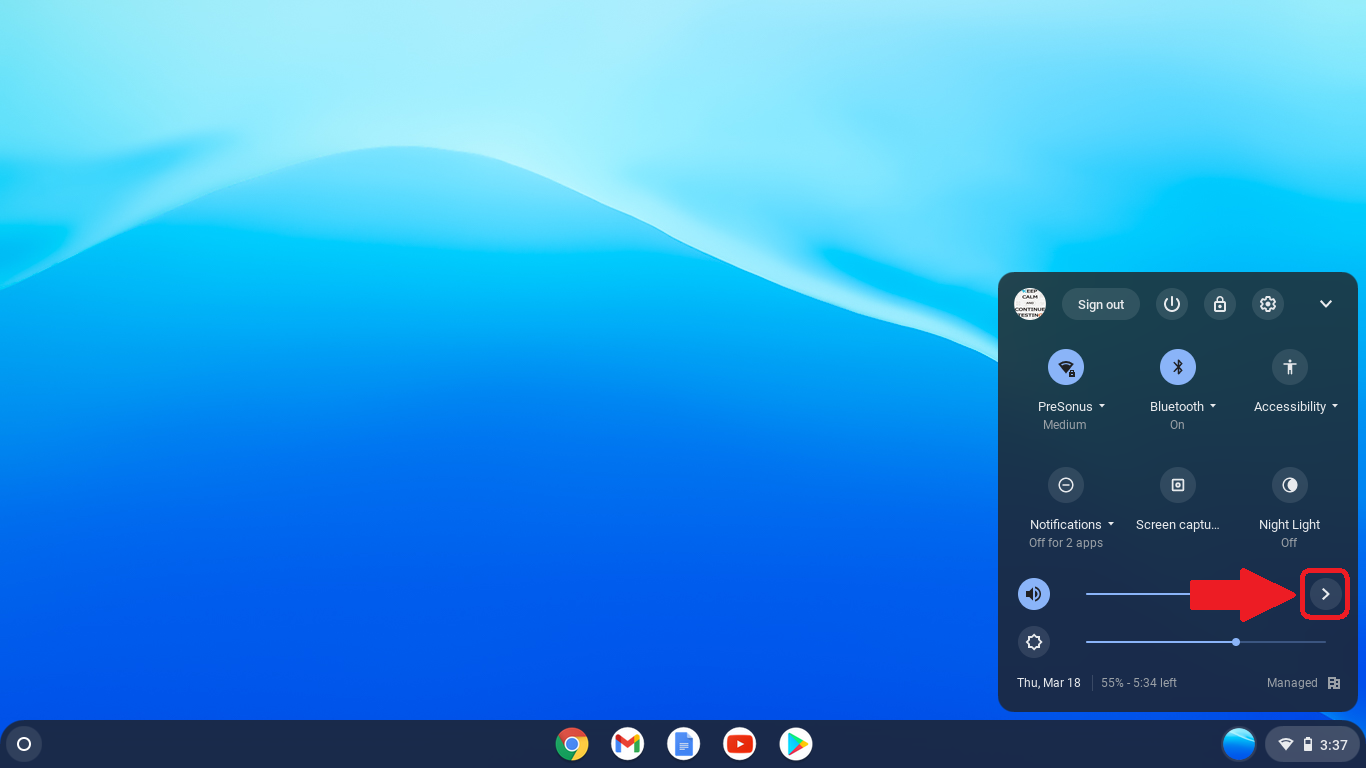 If you hover your mouse over this icon, you'll see a tooltip that says "Audio Settings" in a little white box.
4) In the next screen you have two selections.
One for Output and another for Input. The last device connected may already be selected, if not, select your audio interface and the system will immediately switch to it.
There's a volume slider there for your convenience.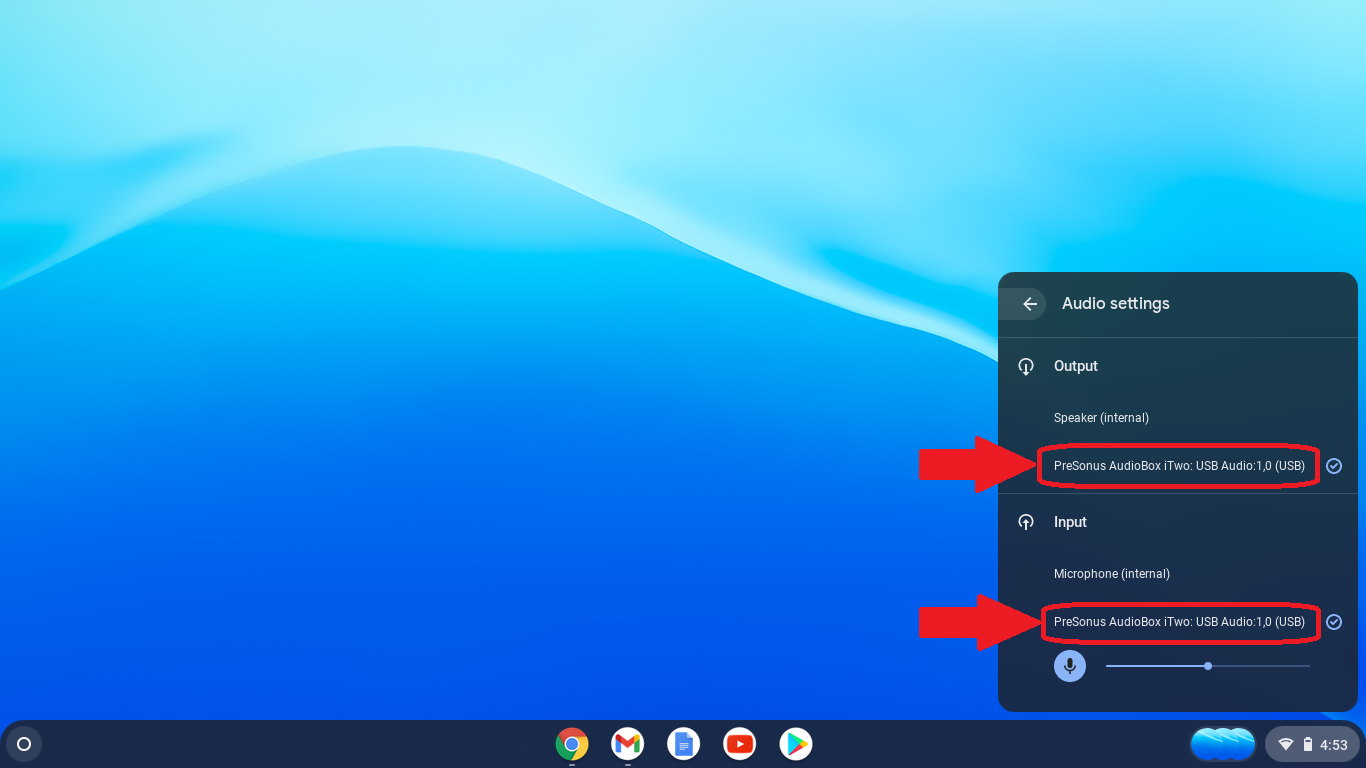 Here is a closer look at that option window.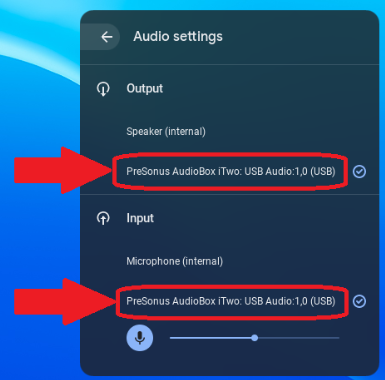 5) Additionally if you're using Google Meet and you need to adjust your audio settings or if your audio interface does not appear to be selected, here's what you do.
In the meeting window select the little three dots in the lower right corner of your screen.
This will bring up the options menu above it.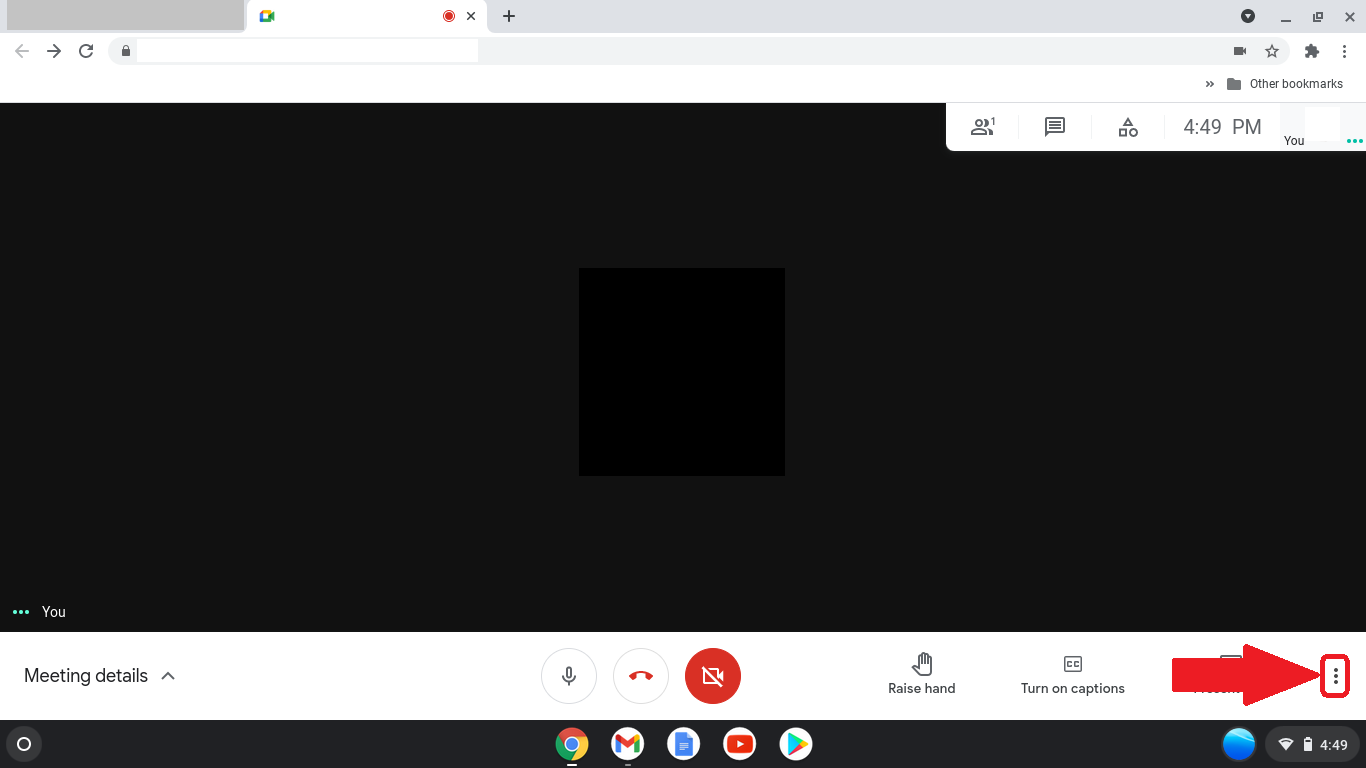 6) Click where it says "Settings"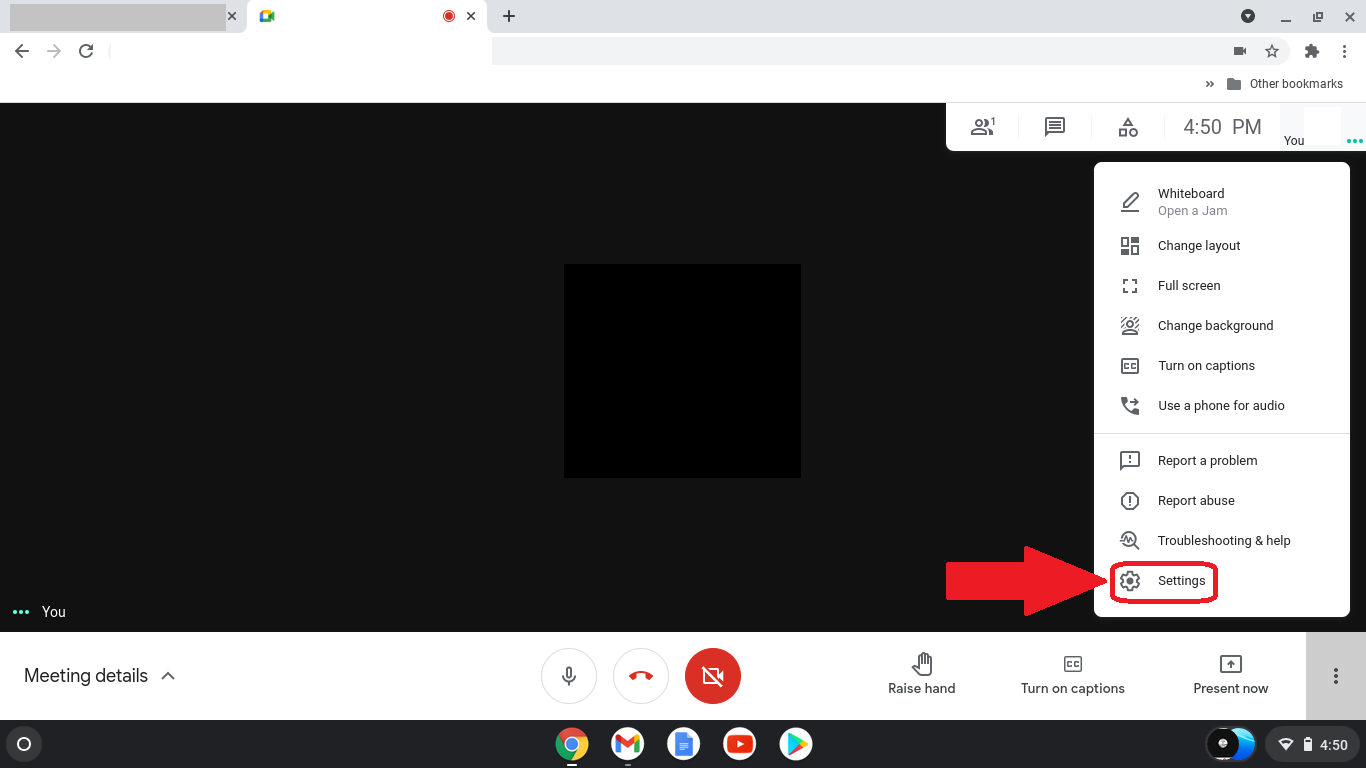 7) In the next menu the Settings for Audio come up first.
Here you are presented with two drop down menus. If your audio device is not already selected for you, click on the dropdown box and select your interface for Input and Output. The system will immediately switch to the device you select and start using it.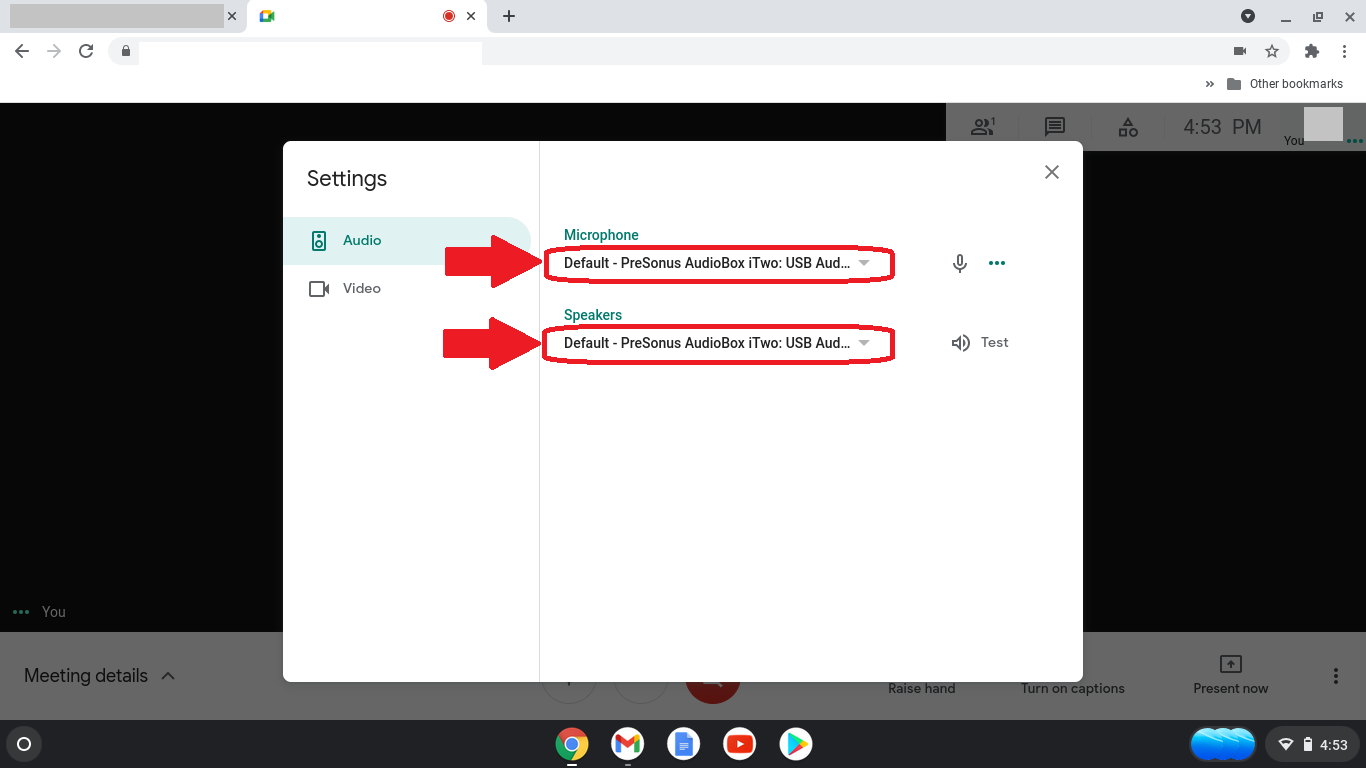 That's it!
Now you're all setup.
Keep in mind that the next time you start a Google Meet and you don't have your interface connected, the system will use the default on-board audio instead. If you connect your interface the system may not revert to it on it's own. You may need to manually select it as shown here. This is a function of how ChromeBook OS works.
Universal Control is not available for ChromeOS, however as a Class USB Audio device you can still use the on-board preamp control and any other settings local to the device itself while using ChromeBook. Chrome OS does not support multi-channel audio beyond the first two channels, so when you connect your interface, only channels 1 and 2 will work with your ChromeBook.
The following interfaces work for both input and output with Chrome OS.
Revelator io24 and

Revelator USB Microphone -

If Revelator was previously connected to a Mac, it may be in one of two modes, Single Mode or Multi-Mode. It is not possible to toggle between modes on ChromeBook. You can reconnect Revelator to a Mac or toggle mode.

Single Mode will show just one input and one output.

Multi Mode - will show three sets of input or output.

Select the first input and first output.

AudioBox iOne

AudioBox iTwo

AudioBox USB 96

AudioBox USB

AudioBox USB 96 Studio

AudioBox USB Studio

ioStation24c*

Studio 24c

Studio 24

Studio 26c

Studio 26

AudioBox 44VSL

Only the first two channels will work for Input and Output

Inputs and Outputs 3 and 4 are ignored by ChromeOS

AudioBox 22VSL

ATOM

ATOM SQ

FaderPort 16*

FaderPort 8*

FaderPort 2018*
* MCU / HUI Support is present if the application you are running supports this feature.
* Using MIDI Mode with FaderPort 16 or FaderPort 8 is still plausible provided the app supports assignable MIDI controllers.
* Original FaderPort was not tested, as a MIDI Controller it is plausible this might work provided there is an application that supports HUI or MCU for it to control.
The following products DO NOT work with ChromeBook:
StudioLive Series III consoles and rack mixers

StudioLive Series III 64s

StudioLive Series III 32s

StudioLive Series III 32X

StudioLive Series III 32SC

StudioLive Series III 32R

StudioLive Series III 24R

StudioLive Series III 16R

StudioLive 16.0.2 USB

StudioLive AR Mixer Series (AR22, AR16/c, AR12/c, AR8/c) - Output only

StudioLive Ai Series Mixers (32Ai, 24Ai, 16Ai, RM/L32Ai, RM/L16Ai, CS18Ai)

StudioLive Classic Series Mixers (2442, 1642, 1602)

Studio 1824c / Studio 1824

Studio 1810c / Studio 1810

Studio 68c / Studio 68 - Output only

Studio 192 / Studio 192 Mobile

AudioBox 1818VSL

Quantum Series - ChromeBooks do not support Thunderbolt or installation of device drivers.

FireStudio Interfaces - Chromebooks do not support 1394 or installation of device drivers.
Notes:
Using a USB hub may be necessary in order to connect multiple devices. We suggest using a quality, externally-powered USB 2.0 or 3.0 hub.

We found that using the powered Insignia USB 3.0 4-port hub did not work well with the ATOM SQ and Studio 24c on an iPad Pro (3rd Gen) running Audio Evolution DAW.

When we used the Aukey CB-H18 USB 3.0 hub, everything performed as it should.
Observations:
Chromebook is most often found in elementary and middle grade schools to help students learn from home using Google Classroom. A question we often get is, "Can Chromebooks be used for audio recording?"

A Chromebook like one issued by a school district or one that you'd pay very little money for in a retail store is good for simple monitoring and streaming of mono or stereo audio with applications like Skype, Zoom, Google Meet, or Discord.

Since Google now allows Android OS applications to be installed on Chromebooks. This opens up a wide range of applications including audio recording, beat making and DAW applications to be used with a Chromebook, however this requires some considerations.

Entry-level Chromebooks are usually ruggedly built entry-level laptops. The CPU is most often a low-power ARM or Intel Atom or Celeron processor that lacks the required co-processing for intense mathematical calculations needed for real time operations like multi-channel audio recording, arranging and playback.

Chromebooks do come in more powerful versions labeled Plus or Premium models sporting Intel i3, i5, and i7 CPUs. These other Chromebooks rival Mac and Windows laptops in terms of price and performance and are typically purchased from Google or from a computer reseller.

Chromebooks should be thought of as a place to start and get some ideas down to be taken to a larger, more capable Mac or Windows system to complete the project later.

Using a stereo USB audio interface with Chromebook will improve the user experience by providing a better listening experience and control over input levels for microphones.

Chrome OS is limited to 2 audio inputs and 2 audio outputs. This is a known issue and can be reviewed here:

https://bugs.chromium.org/p/chromium/issues/detail?id=453876

Some applications do not use both inputs, and only use Channel 1, but will play back in Stereo.

One of our test notebooks was the Lenovo 100e (32-Bit) Chromebook with USB-A and USB-C ports, the same model used by the school district here in Baton Rouge. It is one of the most basic Chromebooks available.

It is difficult to recommend this level of Chromebook for recording

We were able to use a Studio 24c and M7 microphone with an ATOM SQ with Audio Evolution and n-Track Pro DAWs to record a few tracks of audio and do some sequencing with the ATOM SQ as the MIDI controller.

At a basic level this worked, however in some cases recorded audio playback was distorted due to too many windows open or the system was busy doing something else.

Repeated attempts proved successful with one app running only and not more than one or two tracks of audio or MIDI.

A system like this is best left to streaming audio for online class learning where no media is recorded on the local machine.

More capable systems may allow more tracks of audio and MIDI, your mileage will vary.

PreSonus support will only be able to provide guidance based on what is presented here.

For most issues, you'll need to go back to the computer vendor for assistance with performance which is based on your computer configuration (CPU speed, RAM installed, storage speed, etc.)

For more serious work we recommend using a Windows or Apple Mac based system with Studio One for real-time audio recording, arranging and production.