Whether you want to donate, purchase as a gift, or sell your PreSonus Software [StudioOne/StudioOne Add-Ons/Notion/ Progression, etc...], the EULA (End User License Agreement) allows for the permanent transfer of your license to another party.
To transfer your software, log into your PreSonus User Account via www.my.presonus.com. Next, select "My Products " at the top of the screen:

Here you will see all of your registered software: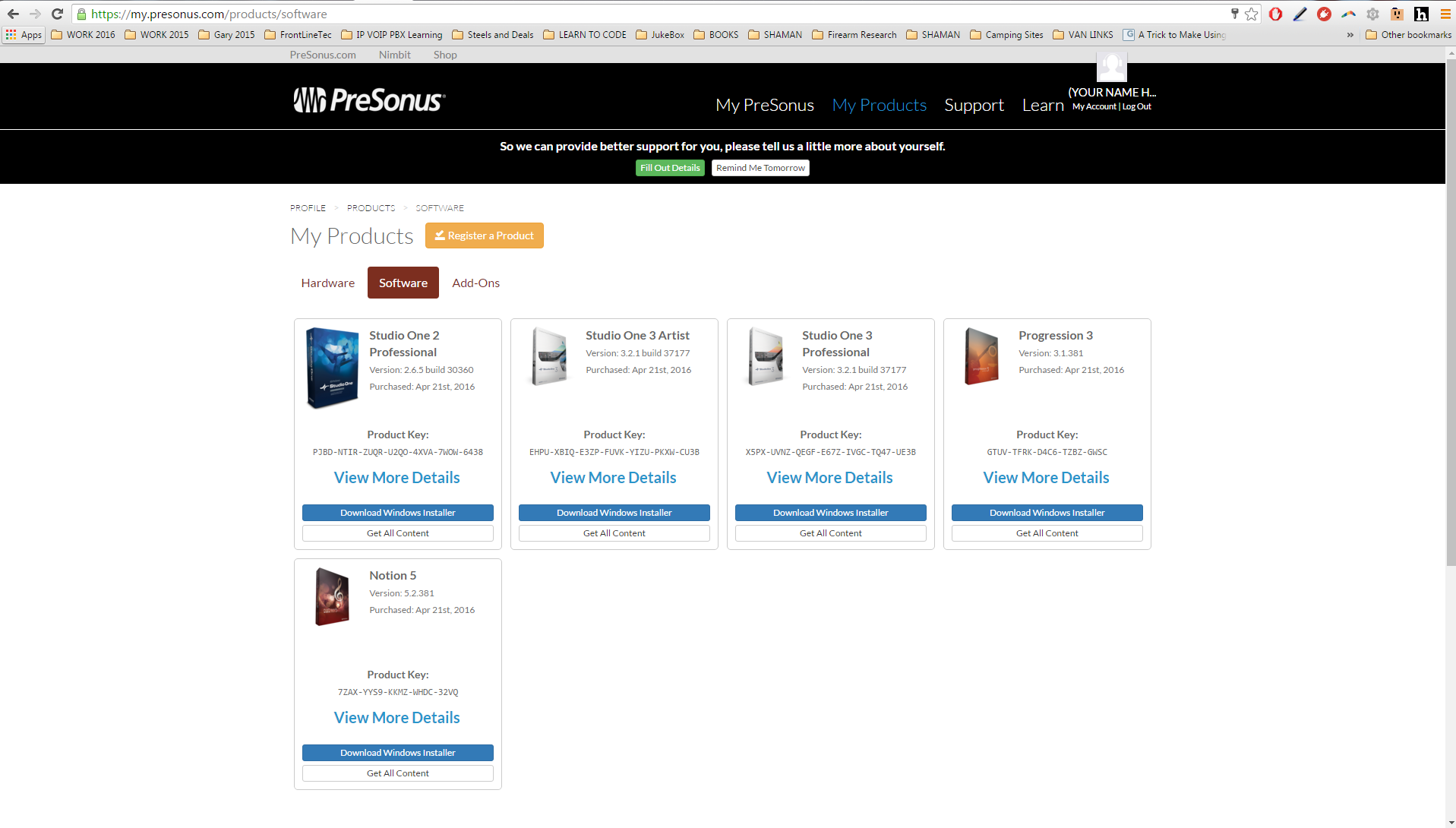 Select the copy of the software you wish to transfer:
**For Add-On Transfers, Select the Add-On tab next to the highlighted Software tab.
Here you will see all necessary data pertaining to the individual software copy previously selected. Right below the product key you will see some additional information; such as Upgrade (eligible to upgrade) or Upgraded (already upgraded), Offline Activation, Date of Software Registration, Transfer License—either blue (eligible for transfer) or grayed out (not eligible for transfer)—and the number of activations currently being used out of the total number of activations that come with each version of PreSonus software. If the "Transfer License" link is blue, this indicates that it is a product that can proceed to be transferred to another user. If this is the software you wish to transfer, select the blue link and continue.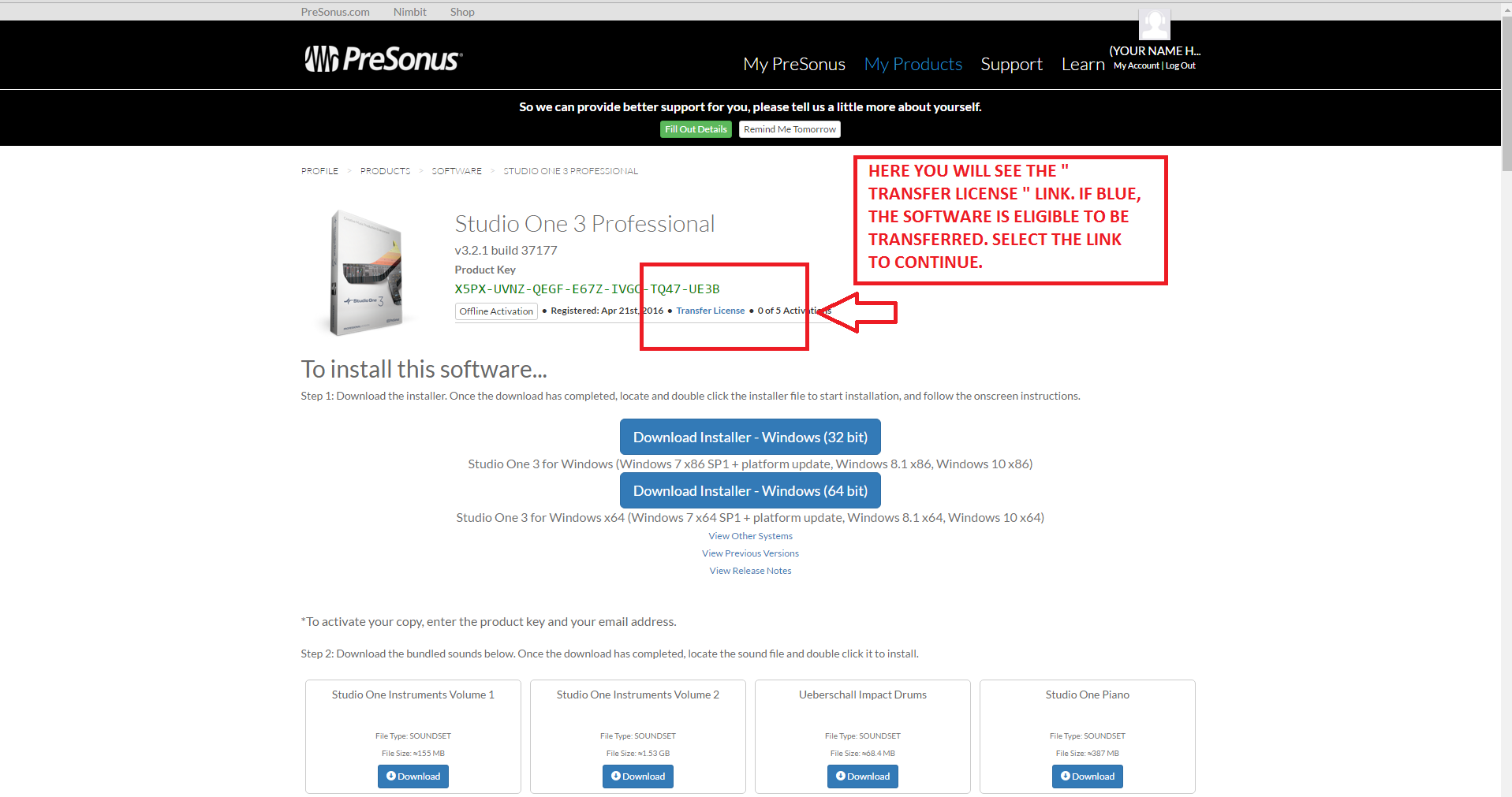 Upon selecting the blue Transfer link, the transfer license window will appear.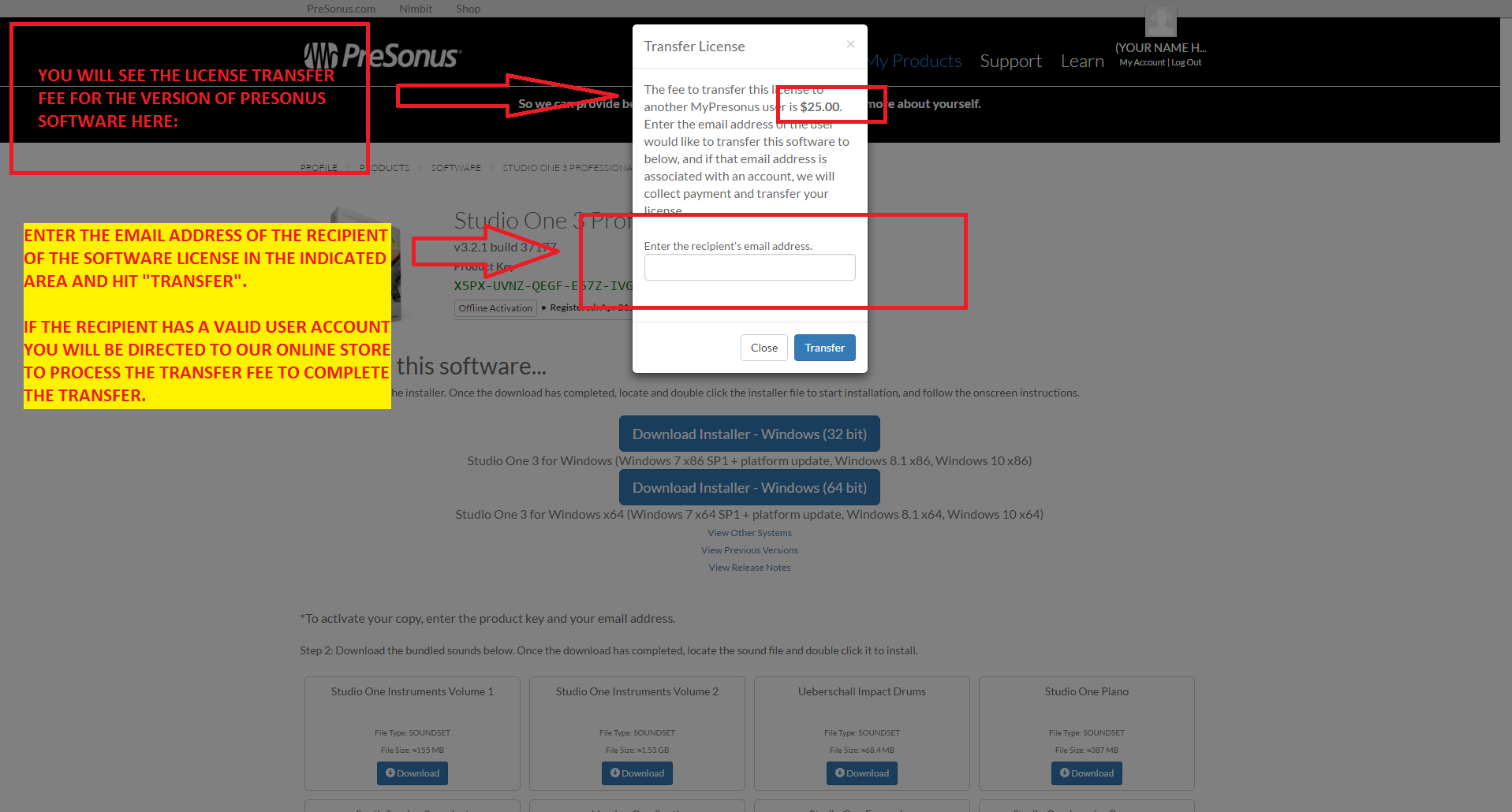 In the transfer license window, you will see the transfer fee associated with the specific software you have selected for migration. There is also an input field at the lower portion of this transfer window. This is where you would enter the valid User Account email address for the person receiving the transfer.
**if the recipient does not yet have a valid PreSonus User account, you will be notified upon selecting the blue Transfer button and the recipient will need to create and authenticate a PreSonus Account in order to be eligible to receive any such software transfer.
-------------------------------------------------------------------------------
The Transfer Fees for PreSonus Software are as follows:
StudioOne : $25.00 US
StudioOne Add-Ons : $5.00 US/ea
Progression : $10.00 US
Notion : $10.00 US
Notion/Progression Add-Ons : $5.00 US/ea
-------------------------------------------------------------------------------
 **transfer fees are subject to change without advance notice
Once a valid email address is accepted by our system, you will be re-directed to our online store to process the Transfer Fee Payment. Upon completion of fee payment, the transfer will be finalized. Both parties involved will receive individual email notifications; informing you that the transfer has been accepted and processed. Please safely store this email as part of your personal records and or as validation of the transaction between the seller and buyer. 
**Should any issues arise pertaining to any software license transfer, this email confirmation will be requested by a member of the PreSonus Team to help validate any issues and assist them with swift resolution of any potential issues that could arise later down the road.
Please read the following stipulations regarding software license
transfers and what constitutes eligible licenses for migration.
License transfers are permanent, and cannot be undone.
All Transfer Fee Payments are final and non-refundable
PreSonus at no time accepts responsible for nor is obligated to enforce the terms of any software license sale between the two 3rd parties.
The Terms of such Sales are between the Seller and or Purchaser. PreSonus only facilitates the final transfer of ownership and collection of the license transfer fee; solely based on the owner's transfer request. 
Once the transfer is completed, the seller is legally required to remove any and all installations of the software (related to the sale/transfer), as well as any included software content and or related installers from your computer(s) as soon as the transfer has been accepted and payment processing has been completed.
It is not possible to transfer a software license that has been used as part of any upgrade path to another version of the software.  All licenses related to such upgrades will be transferred together as one entity, upon completion of the submitted transfer.
Software licenses that are permanently linked via a previous software upgrade are subject to a single one-time transfer fee and do not incur additional individual costs per linked licenses.
This includes, but is not limited to Studio One Professional Version 1 after upgrading to Version 2 Artist and or after upgrading to any higher version.
For example, if you purchased an upgrade from Version 3 Artist to Version 3 Professional; both copies collectively make up the full Professional 3 License and therefore would be transferred as one collective copy of Studio One 3 Professional. 
NFR (Not For Resale) licenses can not be transferred at any time, for any reason.
Prime, Demo and or any free versions of PreSonus software are not transferable.
Beta Licenses (for any version of PreSonus Software) are at no time eligible for transfer (or sale) and would be a direct violation of the terms indicated within the Beta Participant Agreement with PreSonus. 
*** PLEASE NOTE: PreSonus license transfers are for PreSonus products only.
Should the terms of transfer/ person to person sale /3rd party purchase include Melodyne (or other bundled software that was included initially when the program was received), the recipient would need to make prior arrangements with the seller ( outside of the PreSonus License Transfer Process) to have their Celemony User Account and Melodyne Lic ( or other 3rd party software ) transferred over to the buyer; should this 3rd party software be included per the purchase agreement between the two parties.
  **PreSonus does not have access to or control of any third-party (Celemony) User Accounts and or related Registration Servers. PreSonus simply bundles the additional software with ours as an extended benefit to our customers.
EULA: http://www.presonus.com/EULA
Privacy Policy: http://www.presonus.com/Privacy-
Terms of Use: http://www.presonus.com/Terms-of-Use