Published October 9, 2018
PLEASE NOTE: This issue includes OS X 10.15 Catalina and OS X 11 Big Sur
With the release of Mac OS X 10.13 (and 10.14 Mojave) have introduced some security challenges for installing our USB, Thunderbolt and FireWire interface drivers into the OS. There are some additional screens that you may encounter that you'll need to check off some boxes and possibly go through a reboot or two to get the older installs of Universal Control to work correctly.
From the Apple Site Technical Note TN-2459: "macOS High Sierra 10.13 introduces a new feature that requires user approval before loading newly-installed third-party kernel extensions (KEXTs). When a request is made to load a KEXT that the user has not yet approved, the load request is denied. Apps or installers that treat a KEXT load failure as a hard error will need to be changed to handle this new case, Approval is automatically granted to third-party KEXTs that were already present when upgrading to macOS High Sierra".
With some careful navigation, you should be able to get an UC 1.7.6 (Presonus FireWire Devices) / UC 2.x (Presonus USB, ThunderBolt Devices) release not already installed on your system to install your PreSonus devices.
The first screen you'll most likely encounter after install of UC is this one, indicating that Apple's heightened security restrictions have blocked our Kernel Extension (i.e. the driver).
Click "Open Security Preferences". Notice how the default is the blue OK button, if you click this, nothing will be installed.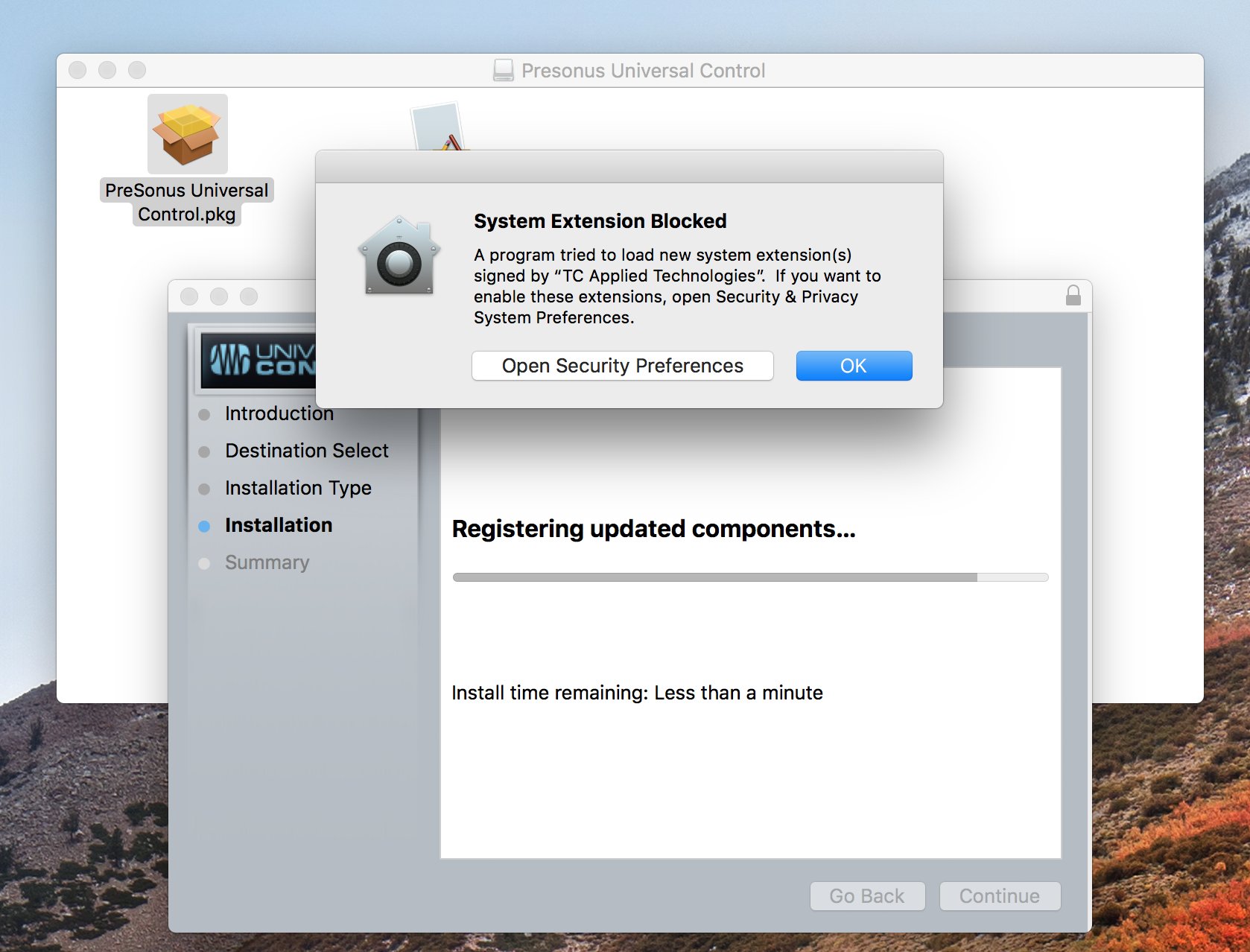 On the next screen you'll be presented with your Security & Privacy window, which if you clicked OK, you can navigated to the next Window (after a failed install) and access your System Preferences by clicking the Apple in the upper left of your desktop.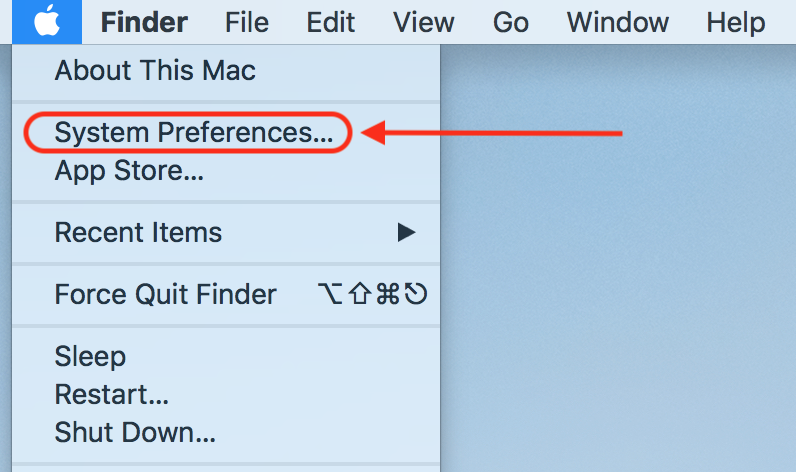 In System Preferences, open the Security and Privacy icon (looks like a Combination Lock in House on the Top Row).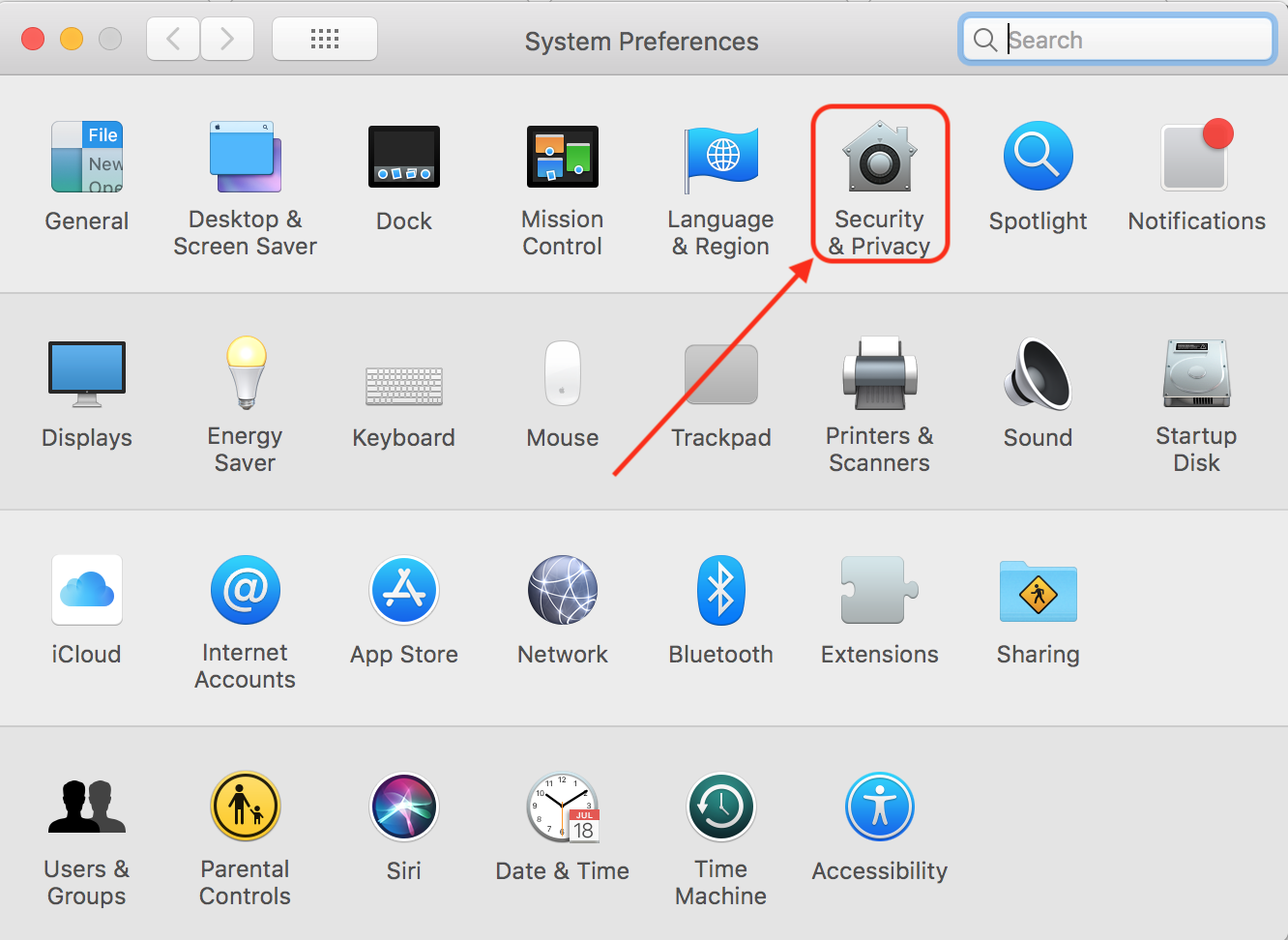 At the bottom of the Security and Privacy Menu there will be an exception for the last application the system blocked from installing, click "Allow". In my example I had already selected Allow so my picture is empty.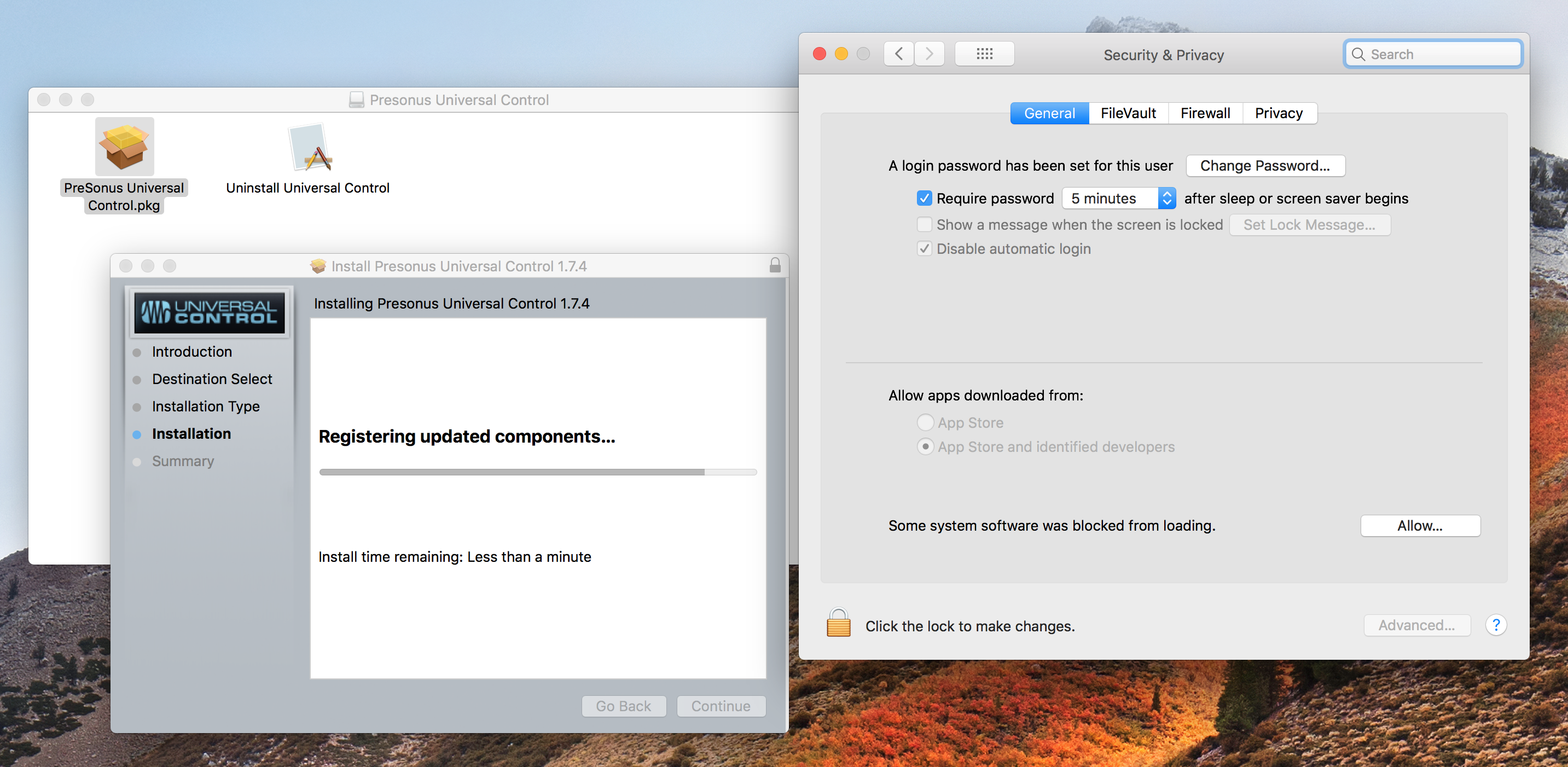 Once you've allowed the exception, you'll need to check some boxes to allow the Kernel Extensions (ie Drivers) for your devices to be allowed into the OS.
In this example, we have two boxes for (FireStudio interfaces and StudioLive Mixers with 1394)
- TC Applied Technologies
- Devguru Co, Ltd.
If you're installing a Thunderbolt interface such as Quantum or a USB interface or StudioLive Mixer, your extensions maybe different.
Even though these don't say PreSonus, they are elements of the UC series package that you'll need to check in order to allow High Sierra to add the to the system. Once you'e checked the boxes, click OK to continue.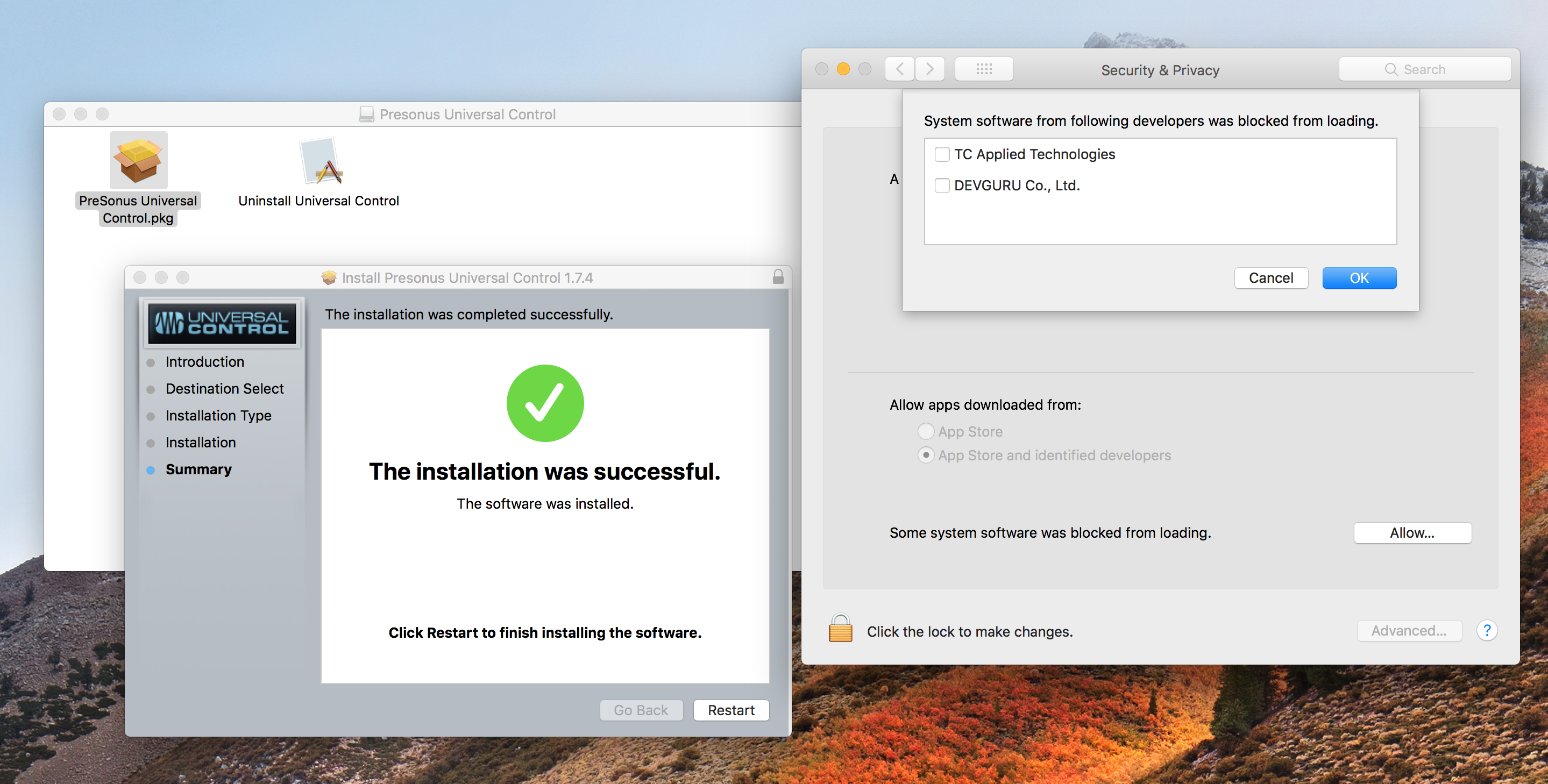 Lastly, you'll need to initiate a manual reboot of your system by clicking the "Restart" button.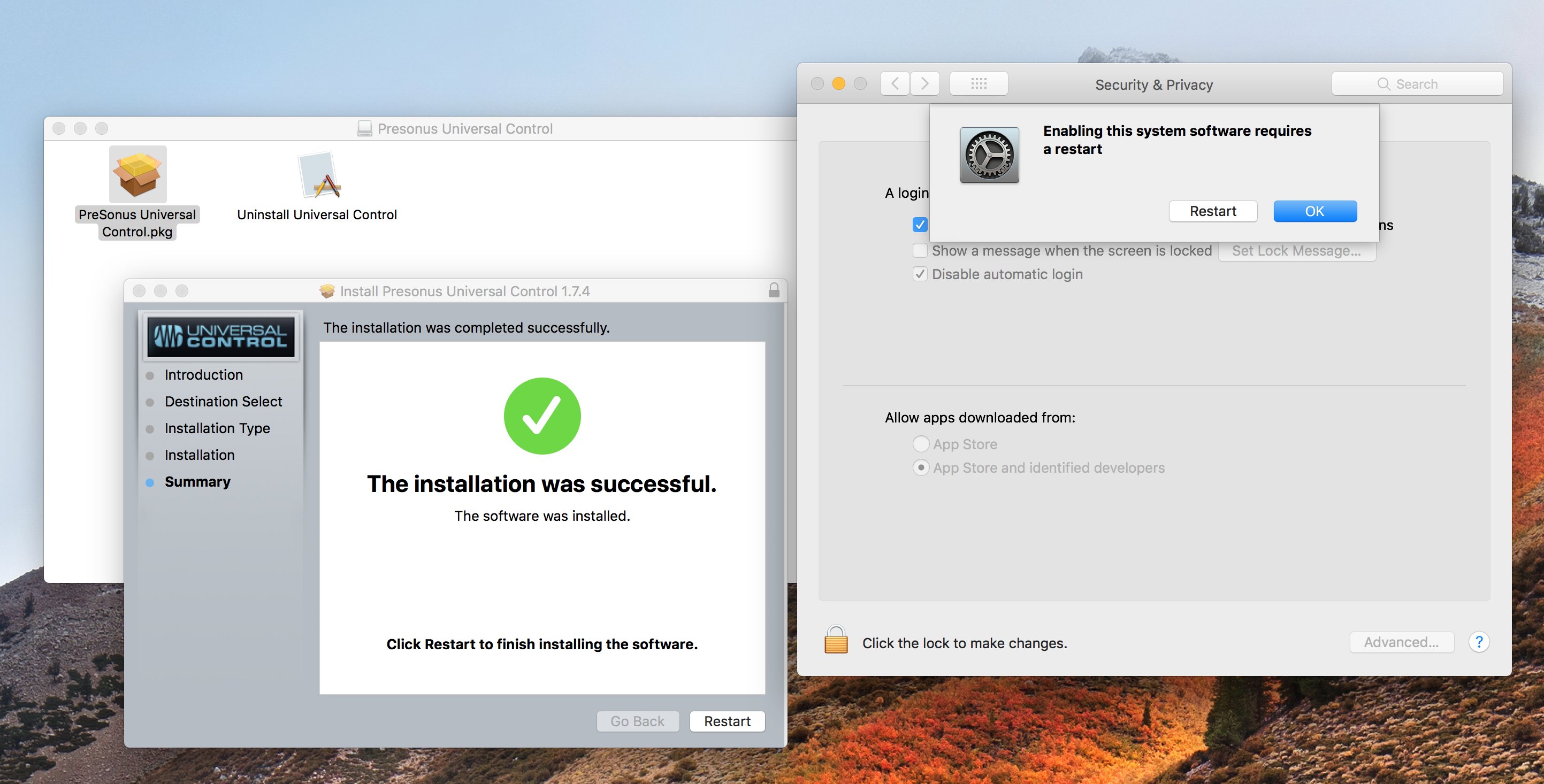 After your system restarts you can now connect and use your PreSonus products with your system.
Despite these challenges, PreSonus is looking into the matter to see if the installation can be improved upon so the experience is a bit easier. We have seen instances where devices do not work at first, but then appear to work after a couple of restarts.
==================================================================
Please contact PreSonus Technical Support by creating a Support Ticket at
My.PreSonus.com

for further assistance.