Published August 12, 2021
PreSonus Quantum-series with Thunderbolt 2 (Quantum, Quantum 2, and Quantum 4848) have been reported to be having problems functioning as expected on Thunderbolt 4 equipped PCs. The Quantum 2626 which is a Thunderbolt 3 interface is unaffected by this issue.
This Thunderbolt driver 1.14.1094.00 currently listed on the Intel website will cause an exception error (BSOD) when connecting a Thunderbolt 3 to Thunderbolt 2 adapter to any dual-port Thunderbolt 3 device that is connected to a Thunderbolt 4-enabled PC running Windows 10 (20H2, 21H1) or Windows 11 (22000).
For example, using a CalDigit Thunderbolt 4 hub or a Dell K16A TB3 Dock with the StarTech Adapter connected to a Gigabyte AERO 15 OLED XD Laptop with TB4 will throw an exception error (BSOD) in Windows 10 (or Green for Windows 11)
We've researched this topic with Intel who have agreed with this text:
Thunderbolt 4 supports native backward-compatibility with Thunderbolt 3.

Thunderbolt 3 supports backward-compatibility with Thunderbolt 2 through the use of third-party adapters. (StarTech, etc.)

Thunderbolt 3's backward-compatibility with Thunderbolt 2 stopped with the introduction of Intel's 10th Generation ("Comet Lake") Core processors.

Thunderbolt 4 is not backward-compatible with Thunderbolt 2 when using the aforementioned third-party adapters.

Any compatibility workaround for Thunderbolt 4 to Thunderbolt 2 is not officially supported by Intel or PreSonus.
PLEASE NOTE: The information provided in this knowledge base article is a solution based on community feedback. In the interest of helping our customers get our hardware working with these newer systems we have a workaround that we found to work. PreSonus is unable to provide support for this workaround if you run into any issues.
To make Thunderbolt 2 interfaces work with Thunderbolt 4, one must use a Thunderbolt 3 to Thunderbolt 2 adapter. We recommend the following.
Thunderbolt 4 does not provide power over the TB4 (USB Type-C) connector to Thunderbolt 2 accessories / devices directly. We found that an externally powered Thunderbolt 3 or Thunderbolt 4 Dock must be used in addition to the adapter on an available Thunderbolt port on the dock to provide power to the accessory. Combined with a working Thunderbolt system driver only then will the connection work.
In our tests we used the following externally powered devices with the TB3 / TB2 Adapter on the downstream port:
Cal Digit Thunderbolt 4 Hub

Dell K16A Dock

Lacie D2 HDD with 2x TB3 Ports.
PLEASE NOTE: At the time of this writing, Intel has driver 1.14.1094.0 posted as their latest Thunderbolt 4 driver release. We do not recommend using this driver with our Quantum-series interfaces.
PLEASE NOTE: There is a newer driver available, 1.14.1134.0—however, this driver is only available on a Microsoft site. We have no control over this driver or it's availability. There is a risk that this driver may become no longer available or replaced by a newer driver.
This article will walk you through how to update your device driver manually.
STEP 1: Create a new folder in your Download directory, name it whatever you want.
for example: New Intel Driver.
STEP 2: Click the MicroSoft Update Catalog link to get the driver from the Microsoft site.
PLEASE NOTE: Microsoft stores driver updates in what are called "Cabinet Files" or Cab files for short. Cab files are not zip files, it is a directory folder for Windows to load files from during updates. Read more about them here.
STEP 3: The link will take you to this site and there will be a long list of files. you'll see the version numbers are all the same until it gets down to the older driver release.
Make sure to select the driver for 1.14.1134.0 and click Download.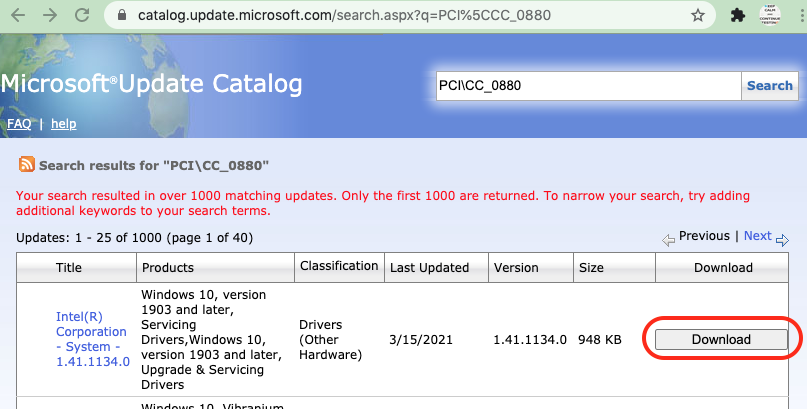 STEP 4: Another window will appear.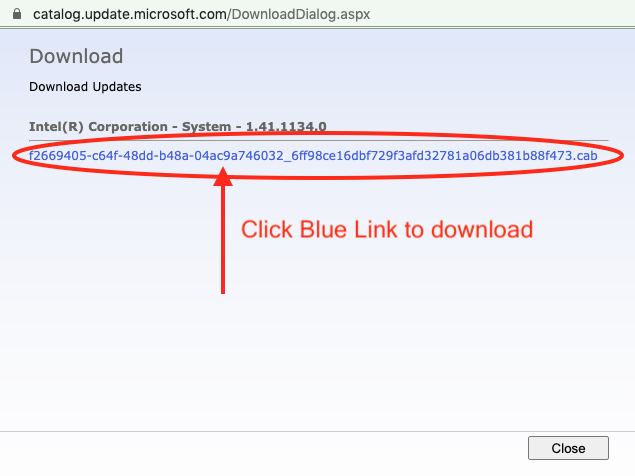 STEP 5: Open the download by clicking where it says "Open File".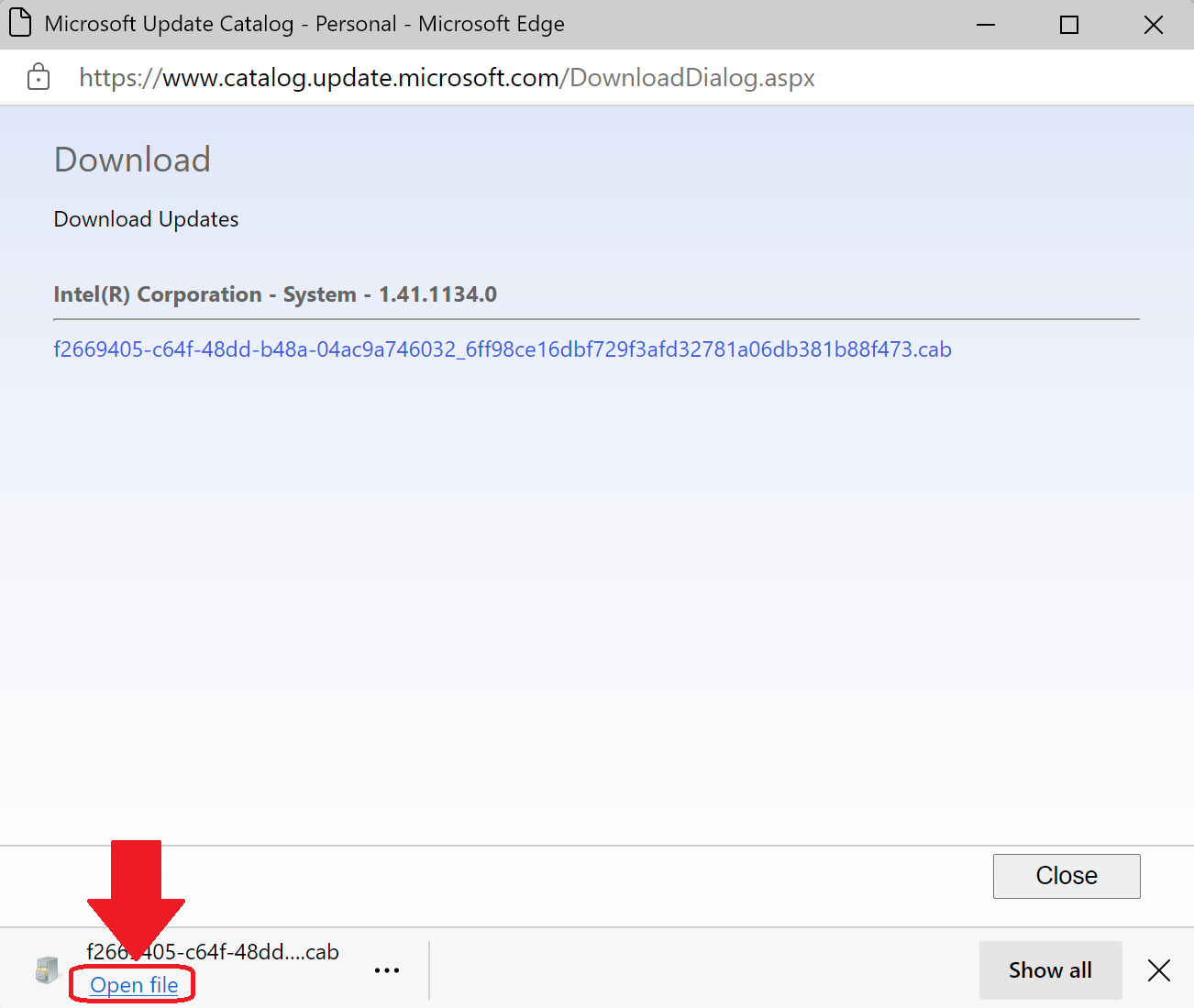 .
STEP 6: Press Control+A to select all the files and then press Control+C to copy them to clipboard memory.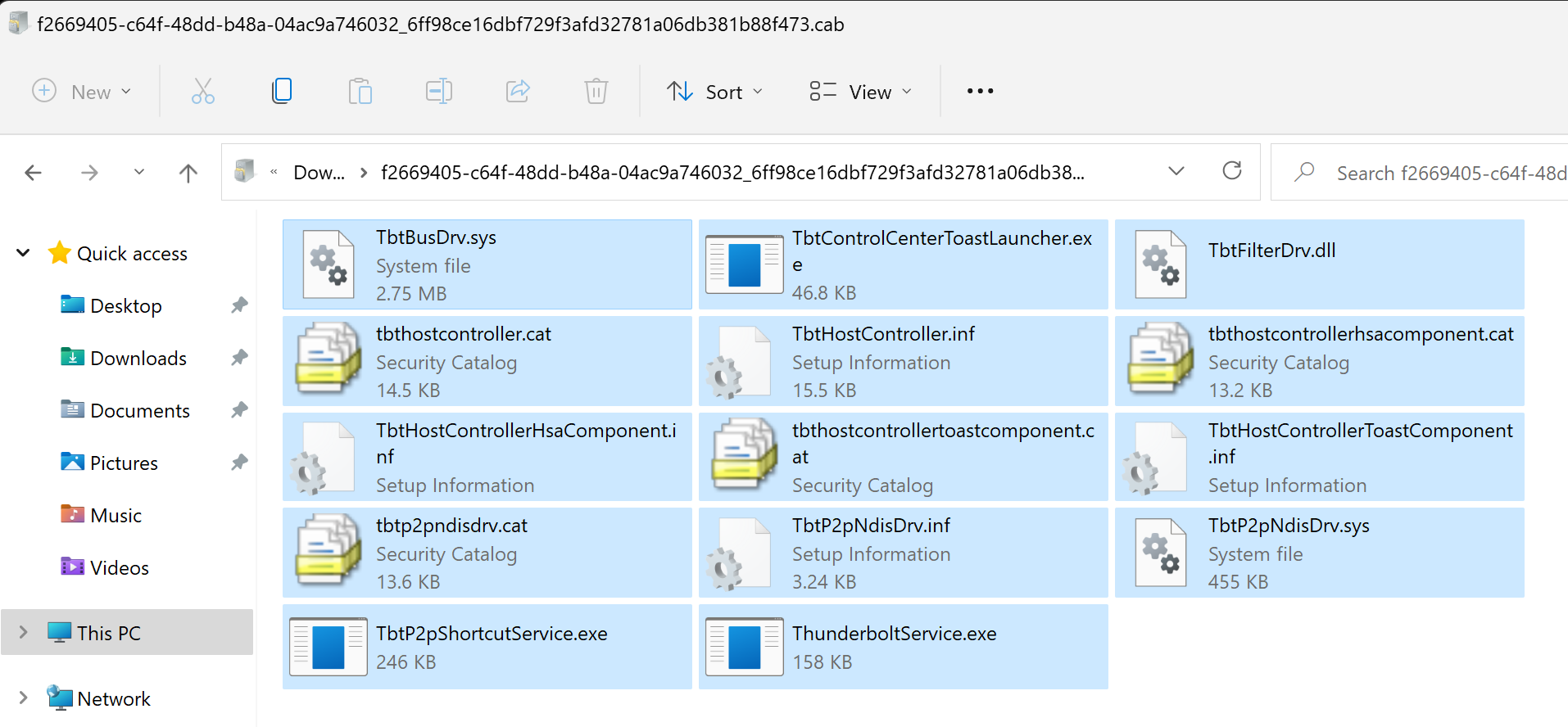 STEP 7: Open your Downloads folder and open the folder you created earlier.
Paste the files you copied to memory here (Control+V).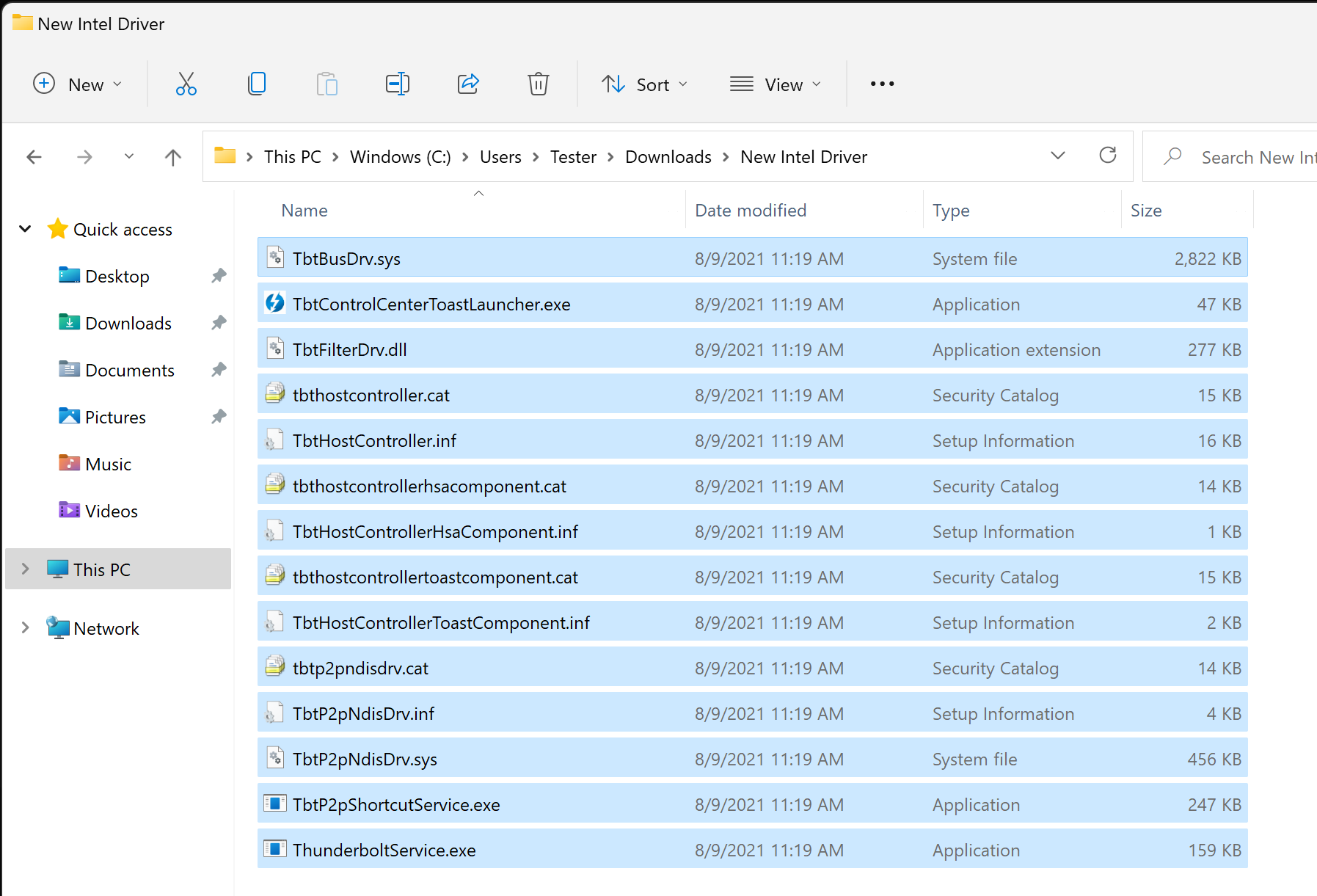 STEP 8: Now we can update device drivers using Device Manager.
Press Windows Key + X and select Device Manager from the list (or press M)

STEP 9: In the Device Manager window scroll down to the bottom of the list and open the > sign next to where it says >System Devices.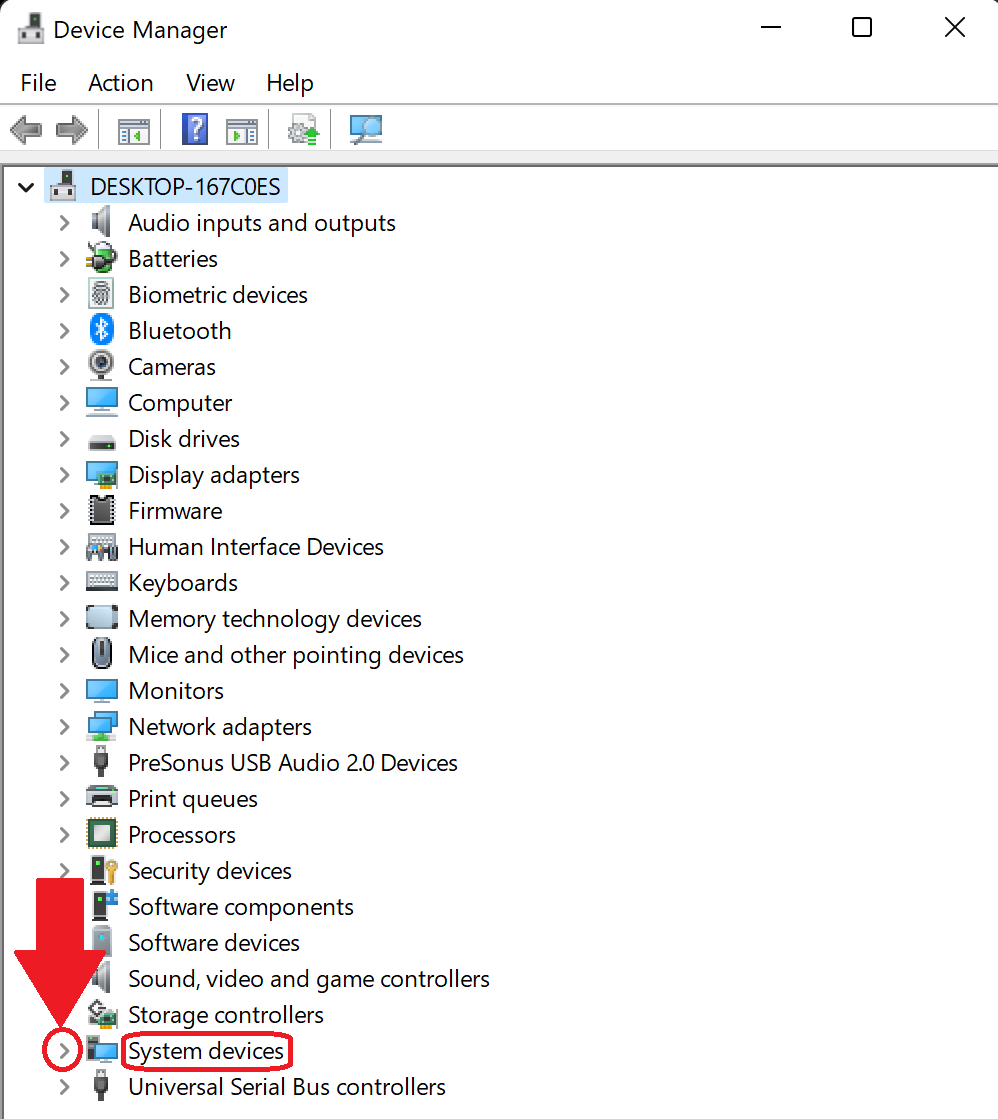 STEP 10: Scroll down to where it says "Thunderbolt(TM) Controller", Right Click and Select Update Driver.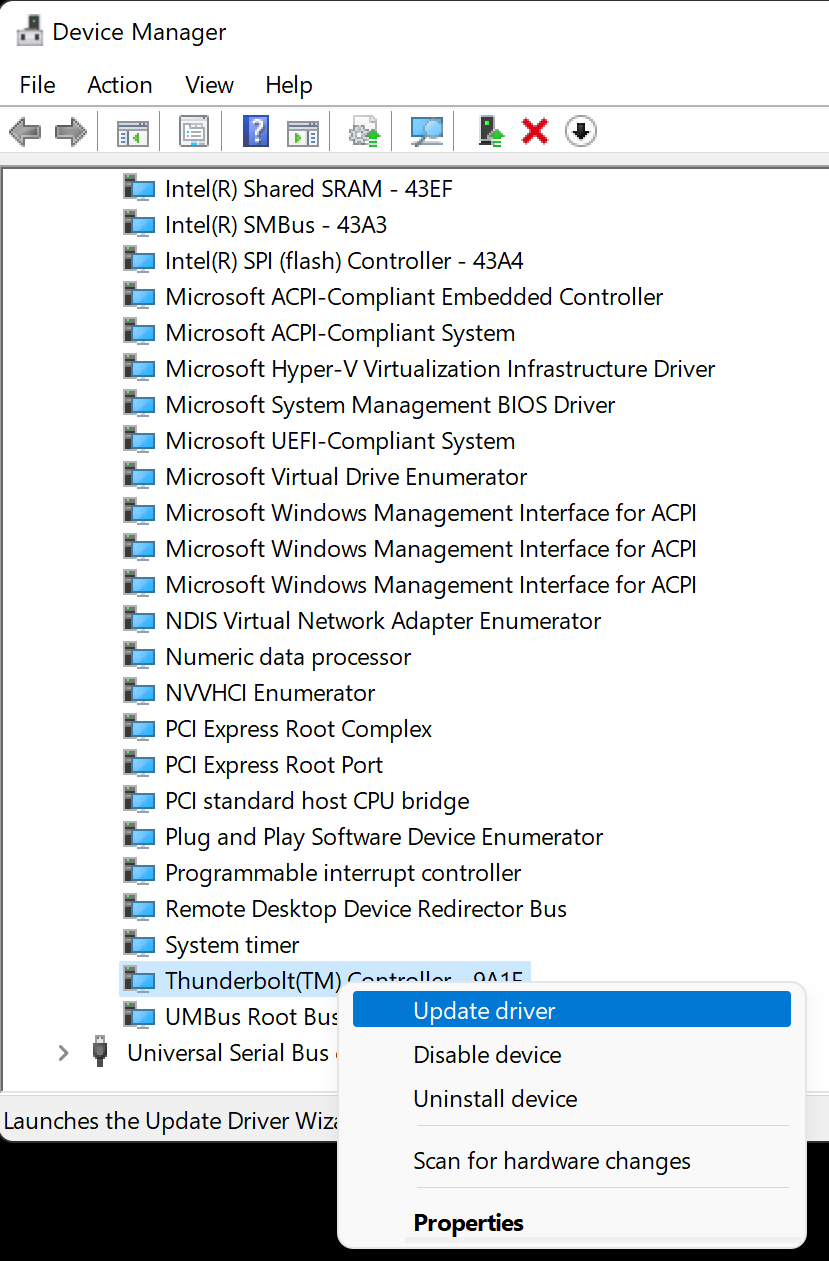 STEP 11: Select the option to "Browse My Computer" for the correct drivers.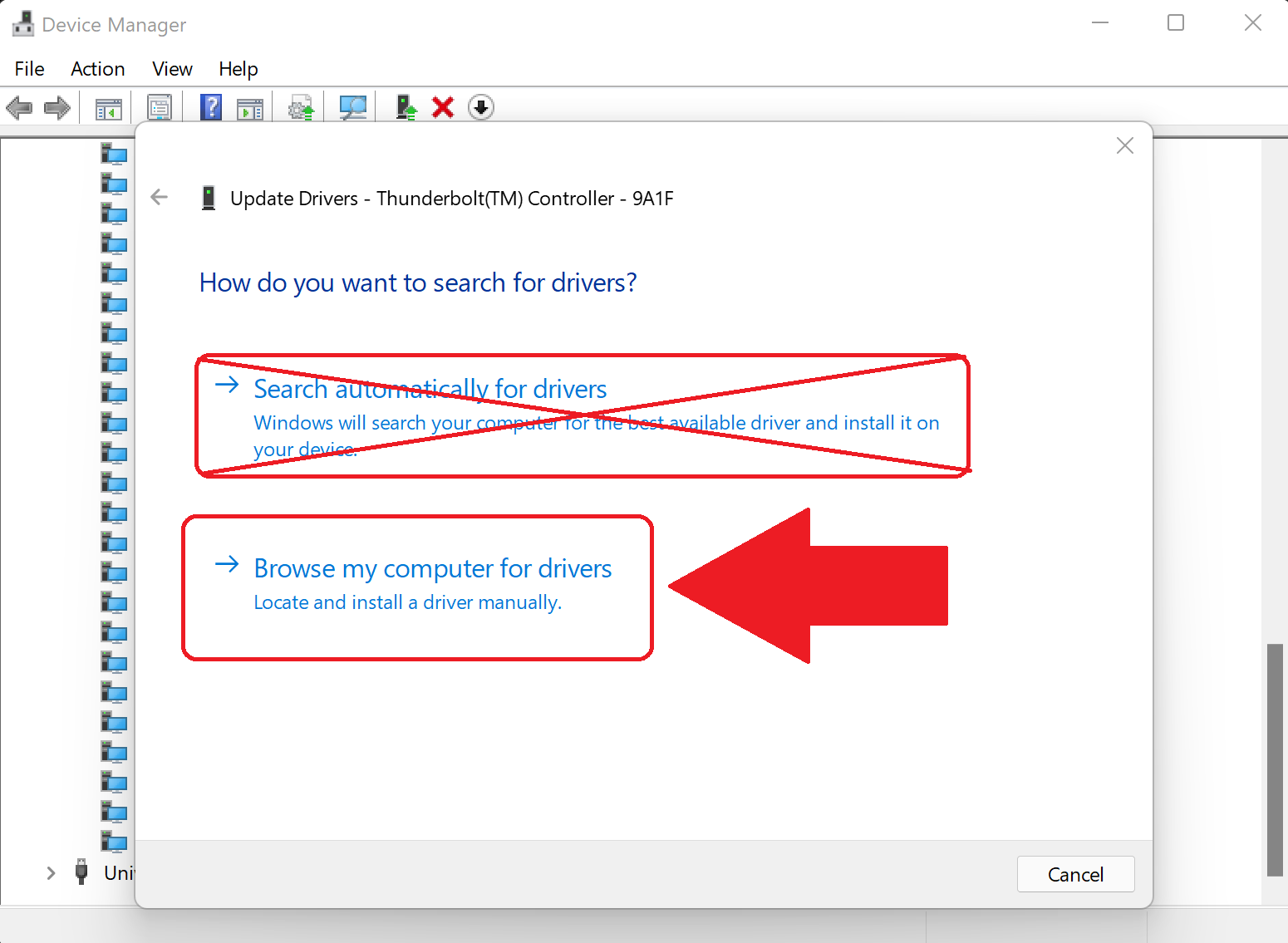 STEP 12: Navigate to your Downloads folder and select the folder you created in your Downloads folder and click "OK".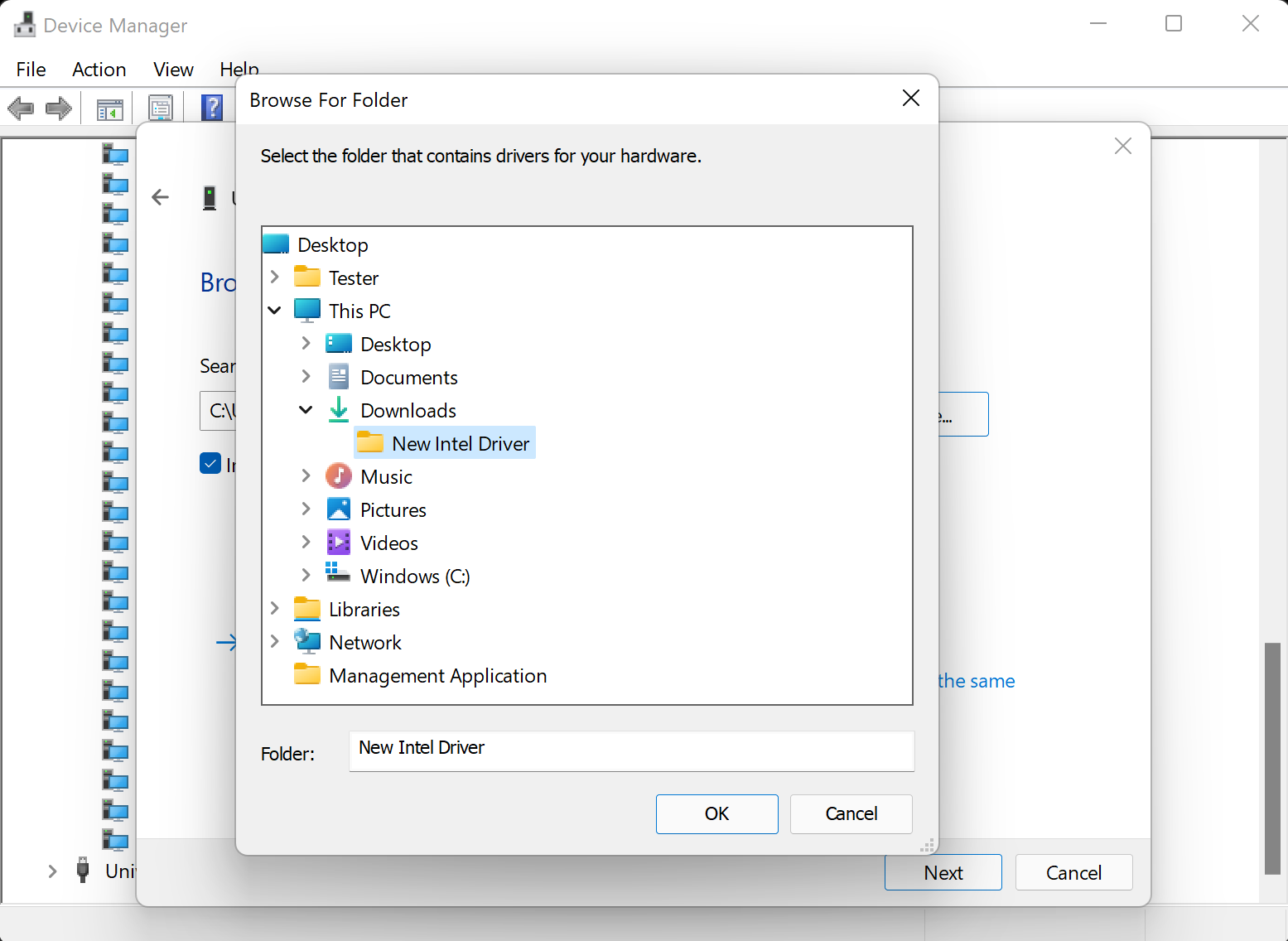 STEP 13: In the next window select "Next" to load the driver.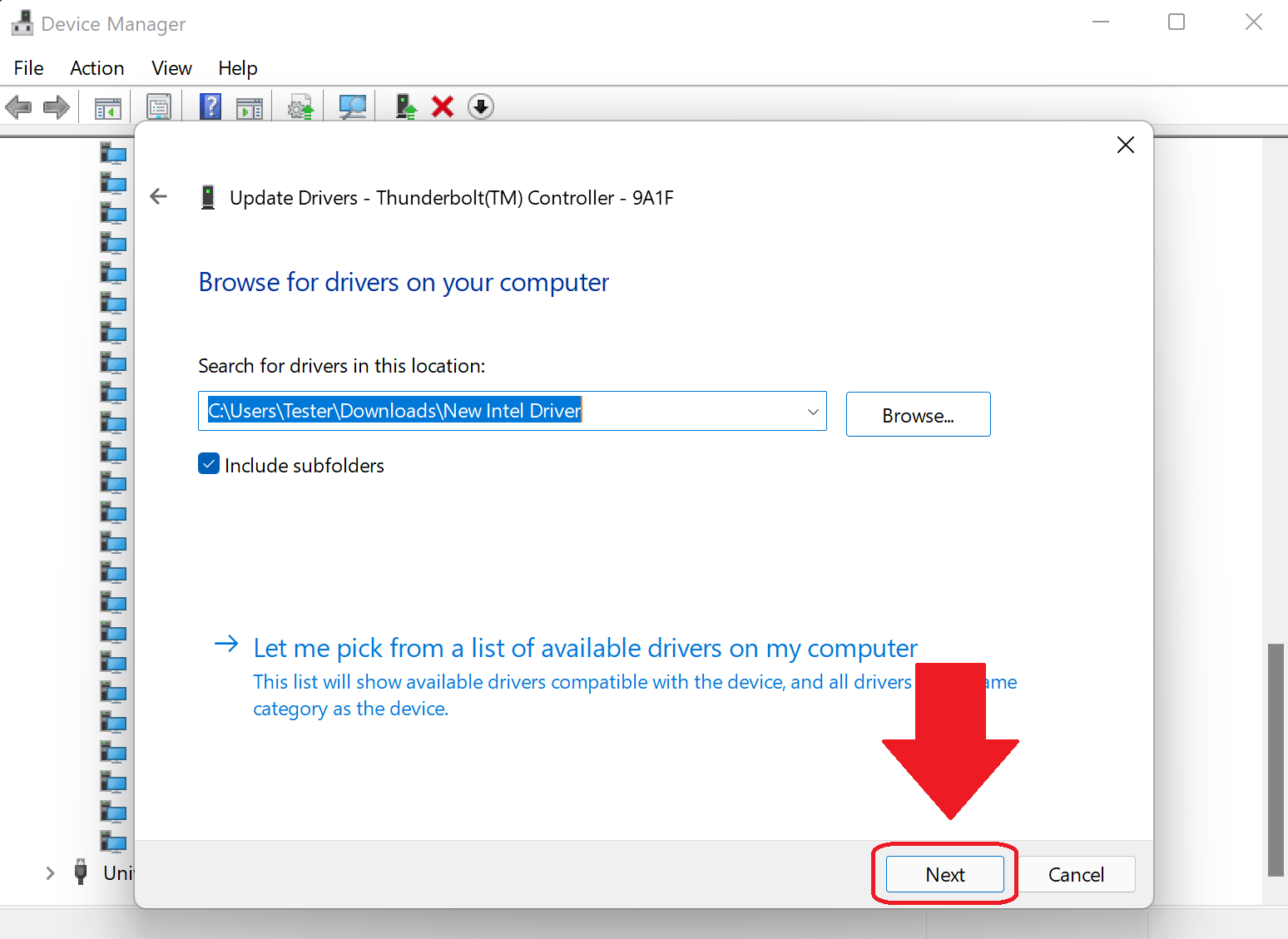 STEP 14: Windows will now update your system the latest driver that you specified.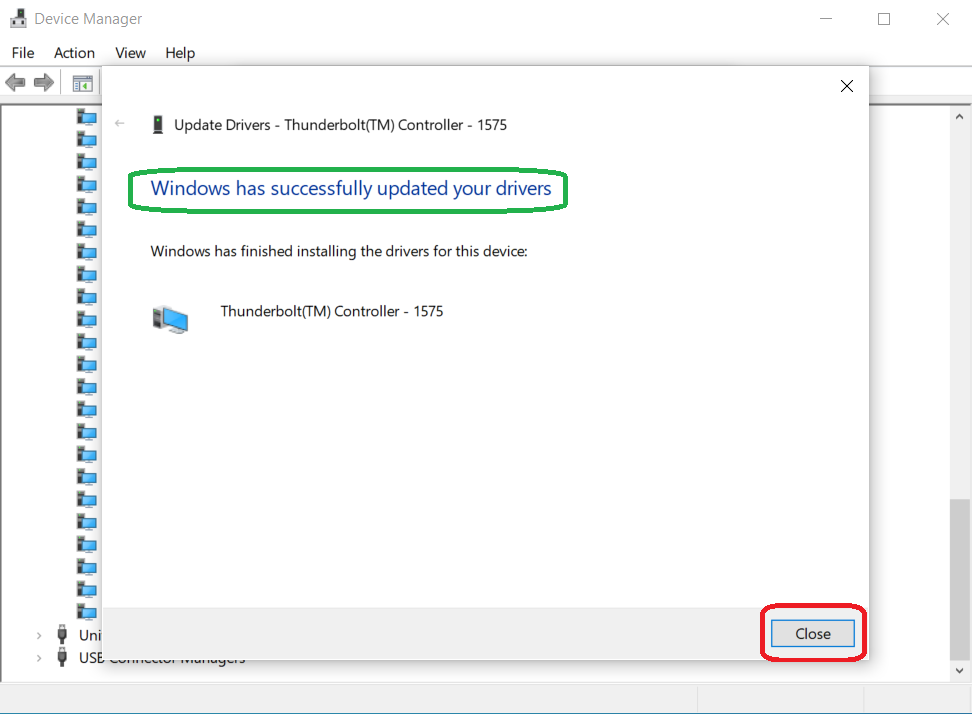 STEP 15: The window that appears will show new driver has been installed.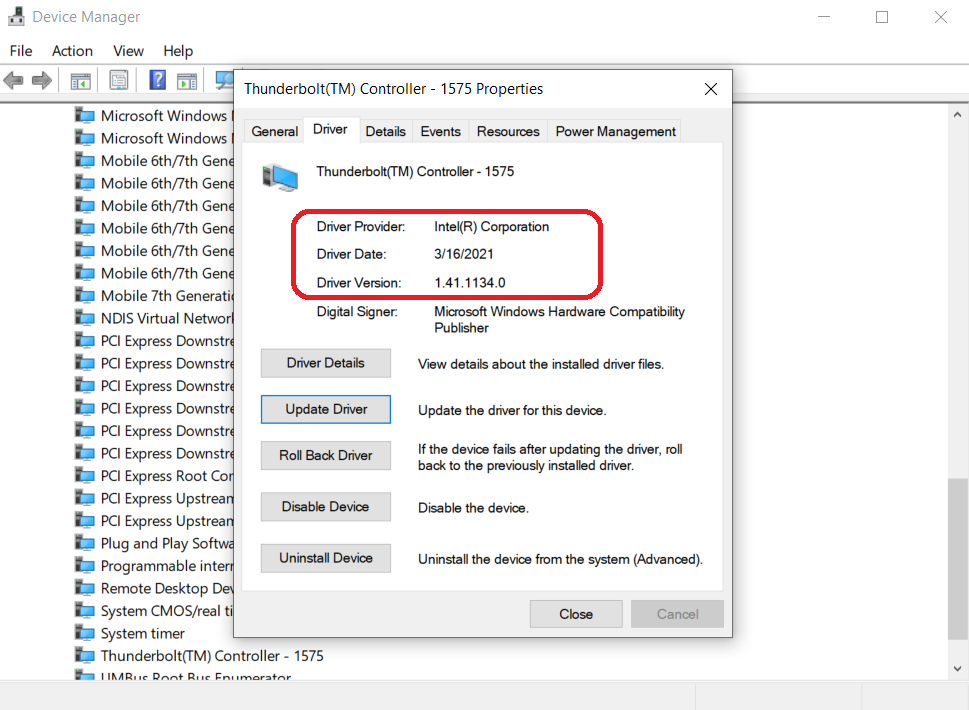 STEP 16: Restart your system.
In the end your system should be working, here is a picture of a 11th Gen Intel laptop working system with TB4. (system is a Gigabyte OLED 15 XD - Dell K16A TB3 Dock - Startech TBT3TBTADAP - Apple Thunderbolt 2 cable - Quantum)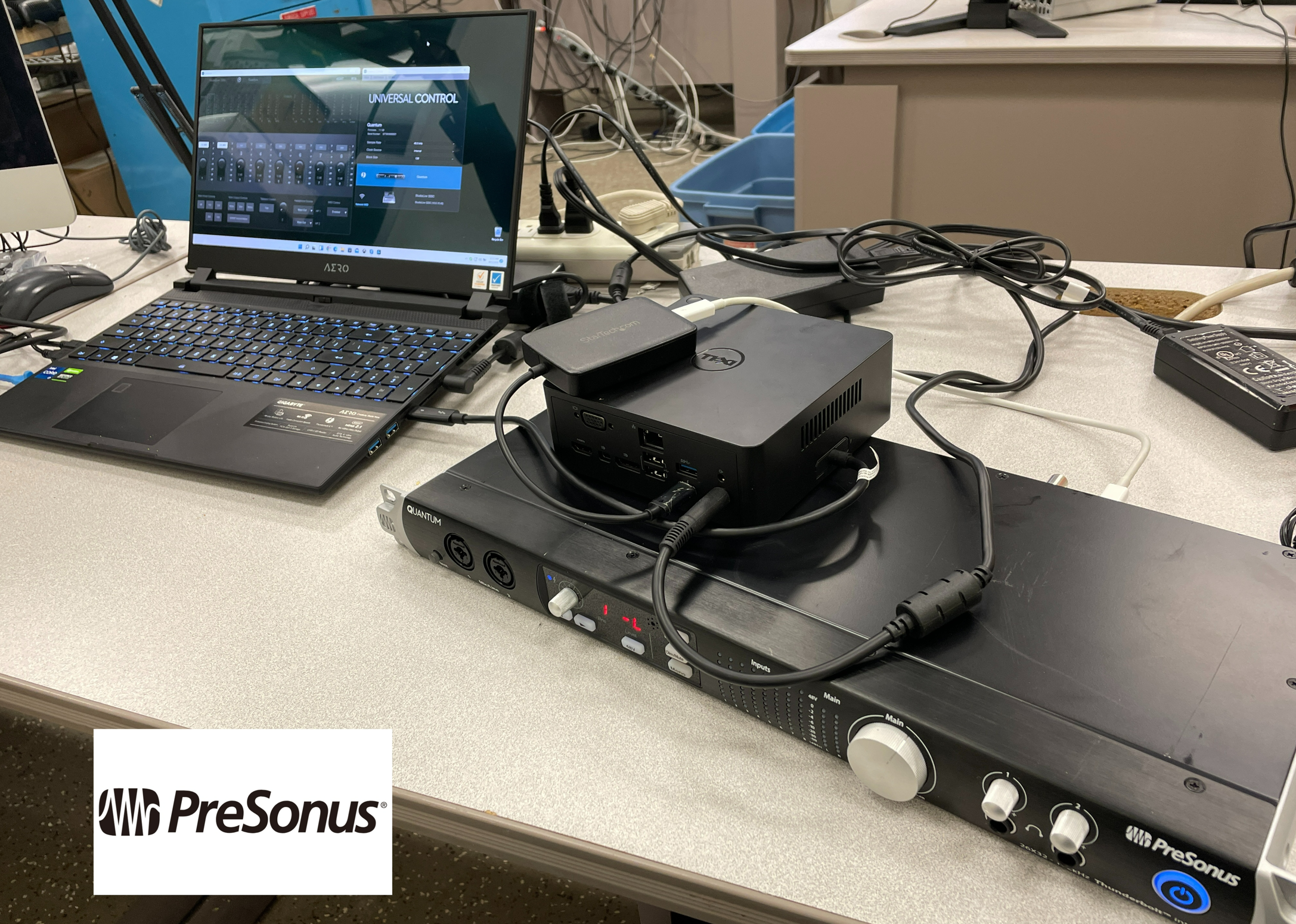 Thanks to the PreSonus user community for contributing to this solution!
Discuss here at Questions & Answers
==================================================================
Please contact PreSonus Technical Support by creating a Support Ticket at
My.PreSonus.com

for further assistance.