Published July 2021
Before proceeding please be sure your firmware is updated on your StudioLive and that you are using the latest Universal Control:
StudioLive Series III Console - Firmware Update
StudioLive Series III Rack mixer - Firmware Update
Universal Control:
https://www.presonus.com/products/UC-Surface/downloads
==============================================================
The Series III Console mixers are capable of recording all 32 inputs plus the main left / right mix for a total of 34 channels.
SD Card Requirements
For multi-track SD card recording, the StudioLive Series III console mixers will require SDHC - Class 10 - U3 cards. See the article below for more information on SD cards.
https://support.presonus.com/hc/en-us/articles/115000921126-Recommended-SDHC-Cards-for-Multi-track-Recording
Video instructions can be found here:
StudioLive Series III - How to use the SD Card Recorder on StudioLive Series III digital mixers (Video)
Recording to SD Card (Creating a new session)
1.) Insert your SD card into the slot on the console then press the 'Edit' button directly above the SD card slot. This will open up the SD recording menu which displays the size and name of your card.
2.) Touch 'Speed Test' on screen. This will test your SD card for errors as well as ensure it is capable of recording the full number of tracks.
3.) The next step is to touch 'New Session' on the touch screen. Here you can name the Artist, Performance and Location of your recording. Touch the blank area under the aforementioned headings and the on screen QWERTY keyboard will appear. Type in your desired information and touch enter. When you've entered the artist name, performance name, or location for one session, it is saved for easy use in future sessions.
Once you've entered the needed information for your new Session, touch Create in the Touch Display to create the new session, or touch Cancel to cancel this operation and exit the New Session screen. Once a new Session is created, the Capture screen is shown on the Touch Display, and you can begin recording.
For more information, see Section 8.3 of the Studio Live Series III Owner's Manual.
Here you can arm your tracks. Touch 'All' for all available channels to be recorded or if you only want certain channels, touch 'Select' and highlight the desired channels as seen below.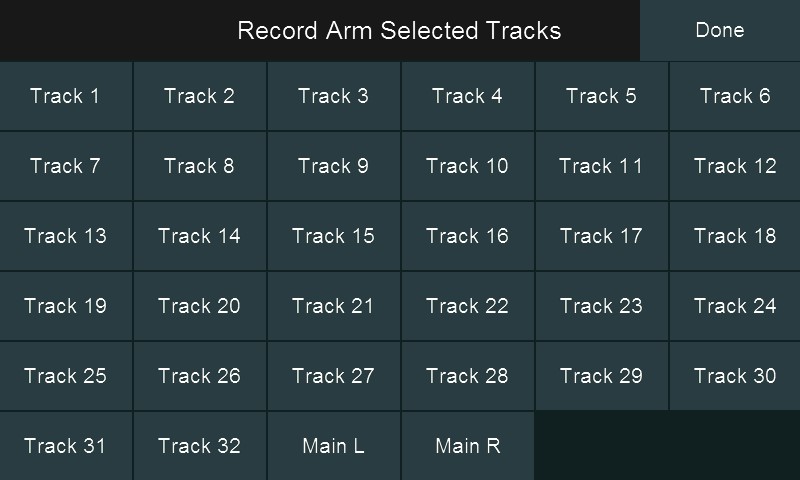 When this screen is active, the select buttons above the channels will begin to blink. They will stop blinking when selected by either touching the corresponding channel on the screen or pressing the channels select button.
*NOTE* Once recording is complete touch the 'Save and Close' button in the upper right corner of your touch screen to allow recorded info to be played back from your SD card through your console.
Playing from SD Card (Loading a session for playback)
Insert you card and select 'Load Sessions'. On this screen, you can select from a list of existing live recording sessions.
To load a session for playback:
• Touch the Session of your choice to select it. The Recall button flashes.
• Press Recall to load the Session.
*NOTE* When the 'Load Mix' option is active, the mix Scene stored with the session will also load.
Once your session loads, touch 'All Ch to SD Input" if you are playing all 32 tracks from the or you may select the channels individually and set their input to SD.
For other details please see section 8 of the Studio Live Series III Owner's Manual
==============================================================
Please contact PreSonus Technical Support by creating a Support Ticket at My.PreSonus.com/Support for further assistance.