Published May 28 2021
A Cue Mix is a secondary mix that is separate from your main mix. This secondary mix is usually provided to musicians for monitoring purposes during the recording process.
PLEASE NOTE: You can read more about Cue Mix in the Studio One manual. To reach the manual, click on Help in the menu at the top of the screen, if you are already working within Studio One and select "Studio One User Guide". Then search for Cue Mix.
Click "OK" when done to be taken back to the Arrange Window in Studio One.
Alternatively, the Studio One Manual can be found on the Presonus website.
Here are 10 easy steps on how to create a Cue Mix in Studio One on a second output stream. How this is done with other DAW's is similar, just look for how to set up a Cue Mix with your preferred DAW.
Step 1: Routing in Universal Control:
Universal Control gives you the power to create monitor mixes outside of Studio One. To control your Cue Mix settings exclusively from Studio One please navigate to Settings in the top right corner of Universal Control and select Mixer Bypass on the next screen.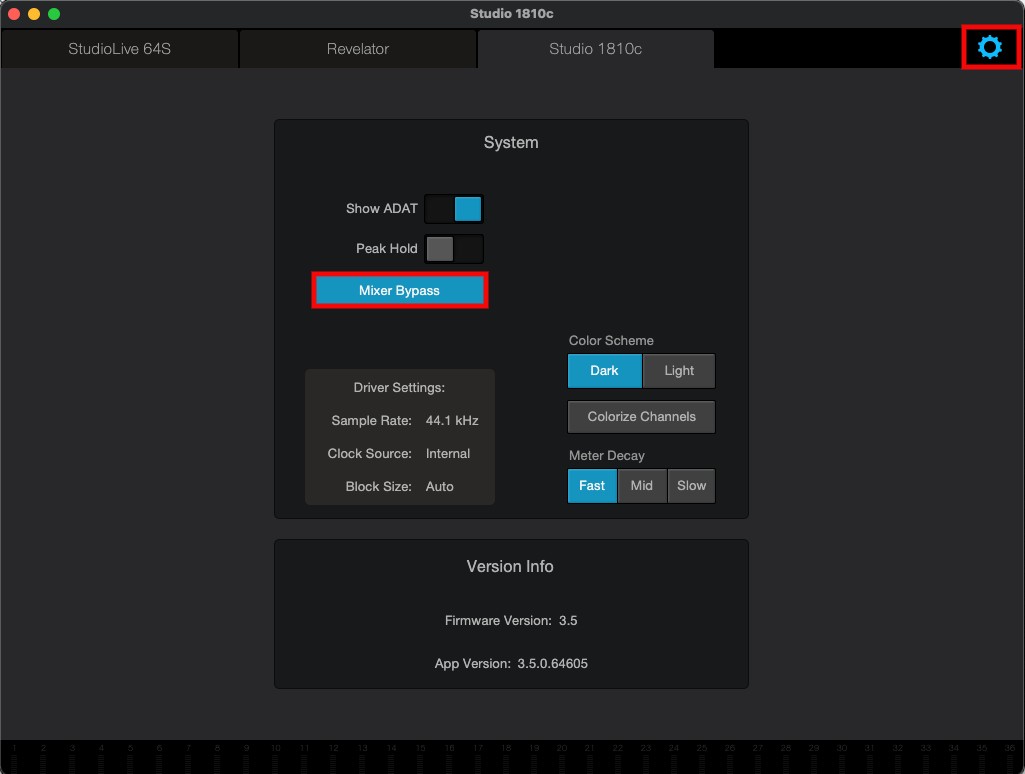 Step 2: Select Audio Interface
Launch Studio One and select your audio interface. On the Studio One Start Page, select Configure Audio Device. On Windows, you then choose Studio USB in the drop-down window. This will select the correct driver for the 1824c and the 1810c.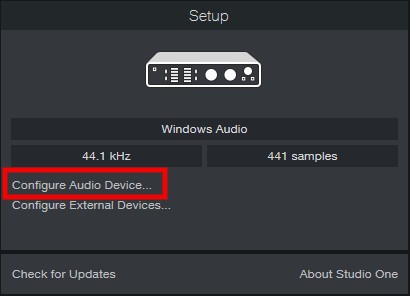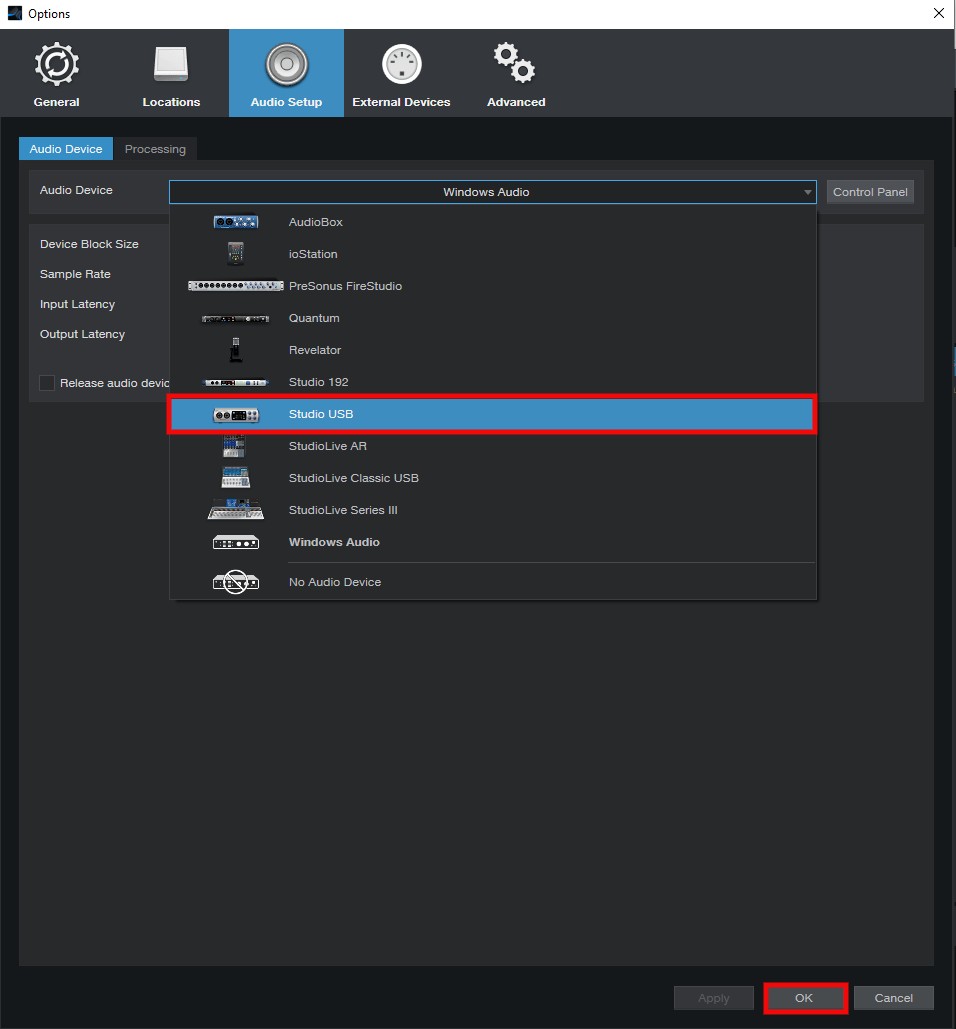 On Mac you will choose your interface from the drop-down menu.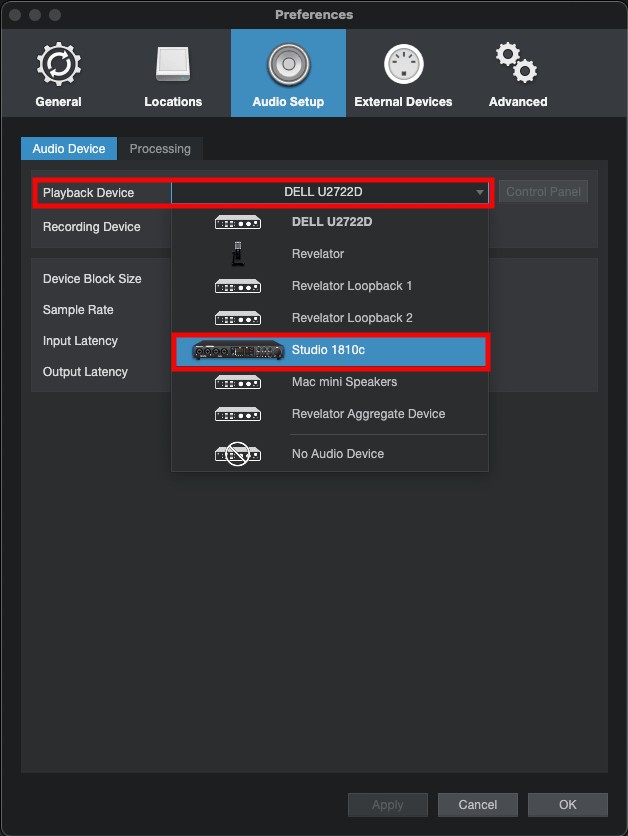 Step 3: Click "Create New Song"
First, click the Interfaces Tab and then select Studio 1810/Studio 1824 template in the first column depending on which interface you are using.
Then, change any of the relevant information such as the Song Title, the sample rate, resolution, etc. If you're not sure, just leave the default settings.
Click OK to go to Step 3.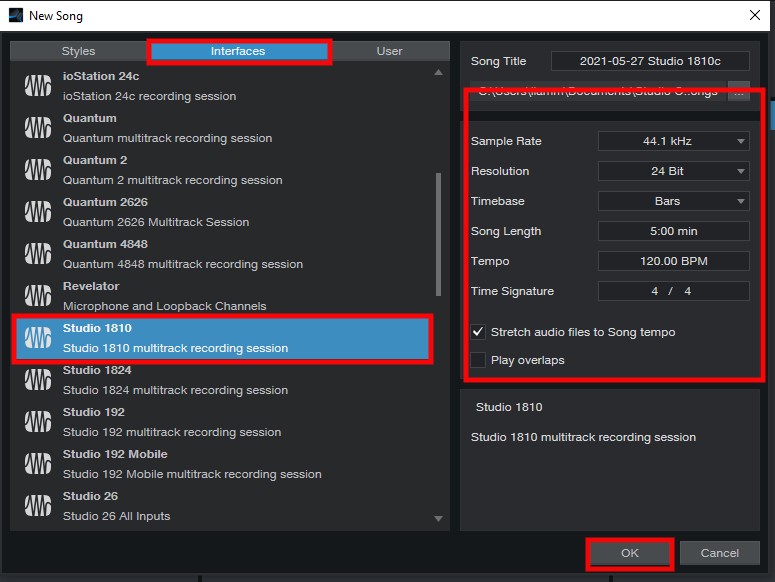 Step 4: Now we need to open up Studio One Options/Preferences
At this point, you'll be placed in the main Arranger Song window in Studio One.
On Windows, click on Studio One in the Top Menu select Options.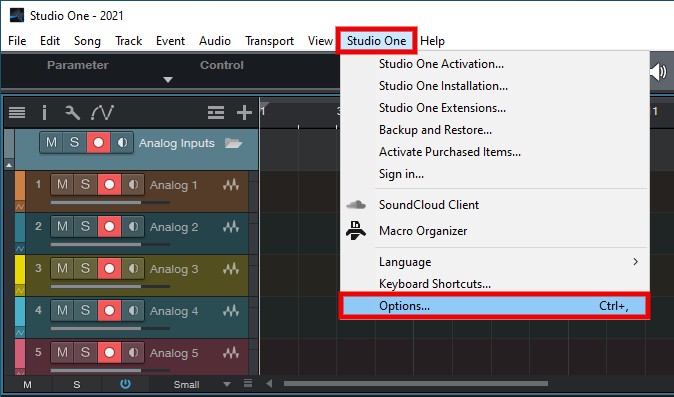 On Mac, click Studio One in the top left corner and select Preferences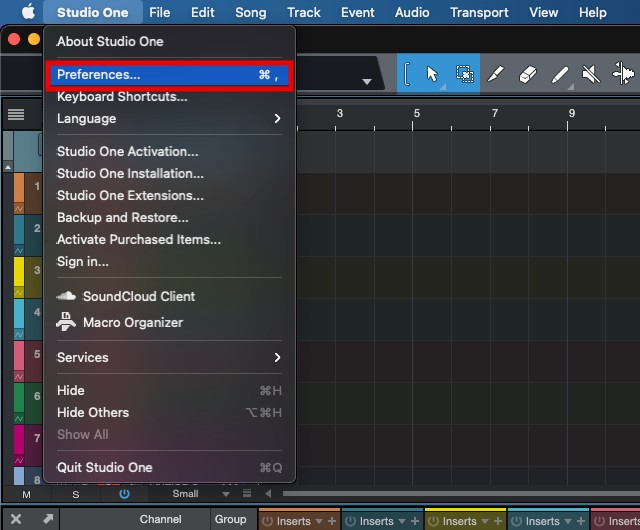 Step 5: Song Setup Access - Studio One Options Menu
Click on Song Setup in the Studio One Options/Preferences menu.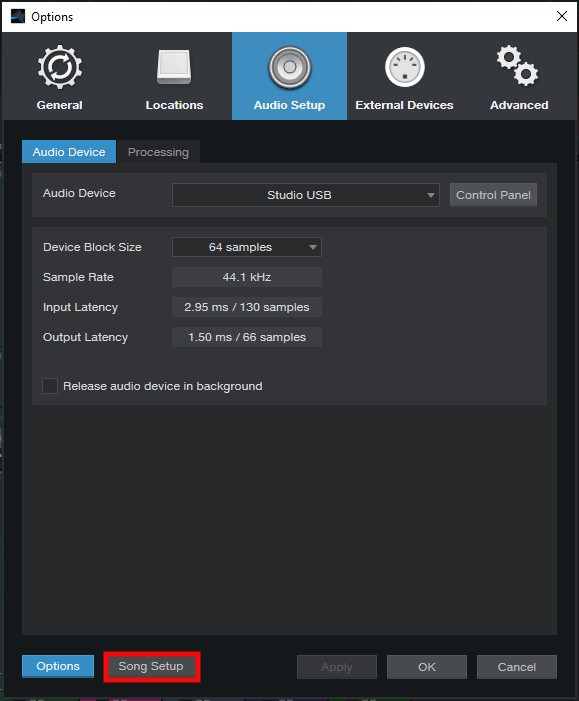 Step 6: Song Setup - Adding Output Channels to Studio One
First, Click the Audio I/O Setup Menu Button
Second, Select 'Outputs' Tab
PLEASE NOTE: You can now see the Output Channel Mapping of the interface. On both the 1824c on 1810c, Headphone Out 1 shares the Main Out 1 & 2 stream while Headphone Out 2 shares the output stream for Output 3 & 4.
If you are using the template as we advised, all outputs will be correctly assigned by default. You will notice that all headphone outputs other than HP1 have a box beside their name ticked which signifies that they are assigned as a cue mix.
Outputs can also be manually added by clicking Add (Mono) or Add (Stereo) depending on your preference.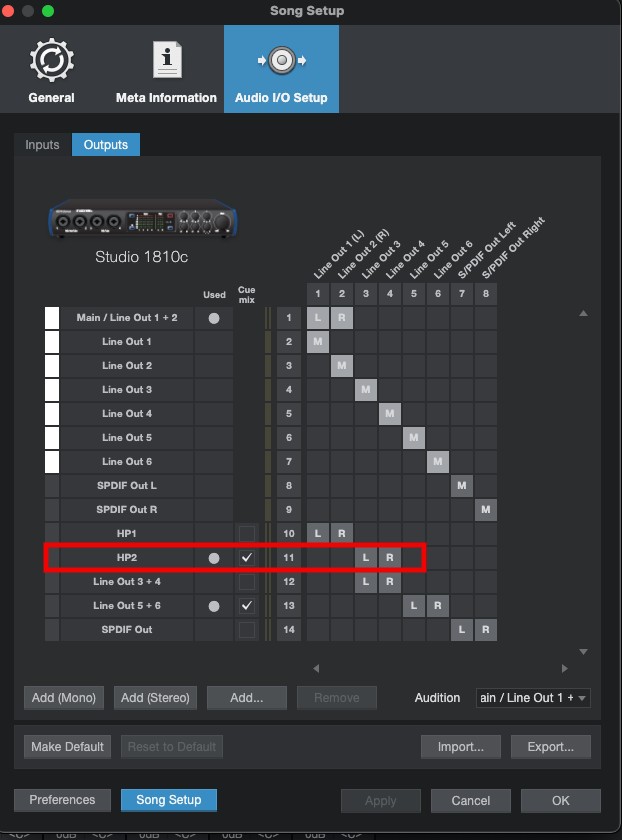 Step 7: Renaming HP 2 for Cue Mix
Double-Click 'HP 2' to rename to 'Headphones' (or whatever you want to name your cue mix). Once finished click ok.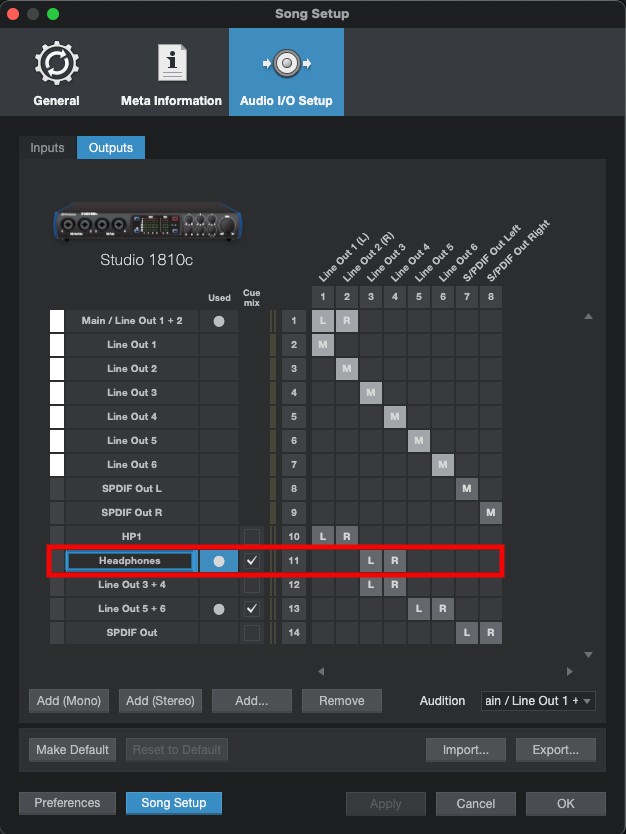 At this point you will now hear playback of all your channels through your Cue Mix however, we want you to see where the "Cue Mix" appears and how you can adjust it should you feel the need.
Step 7: Opening Console on Arranger Window
Next return to the Studio One Arranger Window.
PLEASE NOTE: If your Mixer is already on your Arranger Window, Skip to Step 9.
If your Mixer is not already On Screen, click F3, for some gaming or laptop keyboards, you must also hit function key (fn)+F3.
On a PC Laptop Keyboard, the function key (fn) is in the lower-left corner (most often).
Alternately you can click on "View" on the Studio One Menu and select "Console".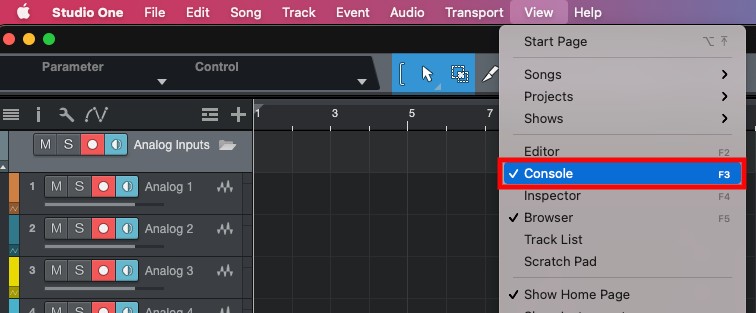 Step 8: Getting to see Cue Mix.
Once you select Console on the View menu, should see something that resembles this at the bottom of your Arranger window.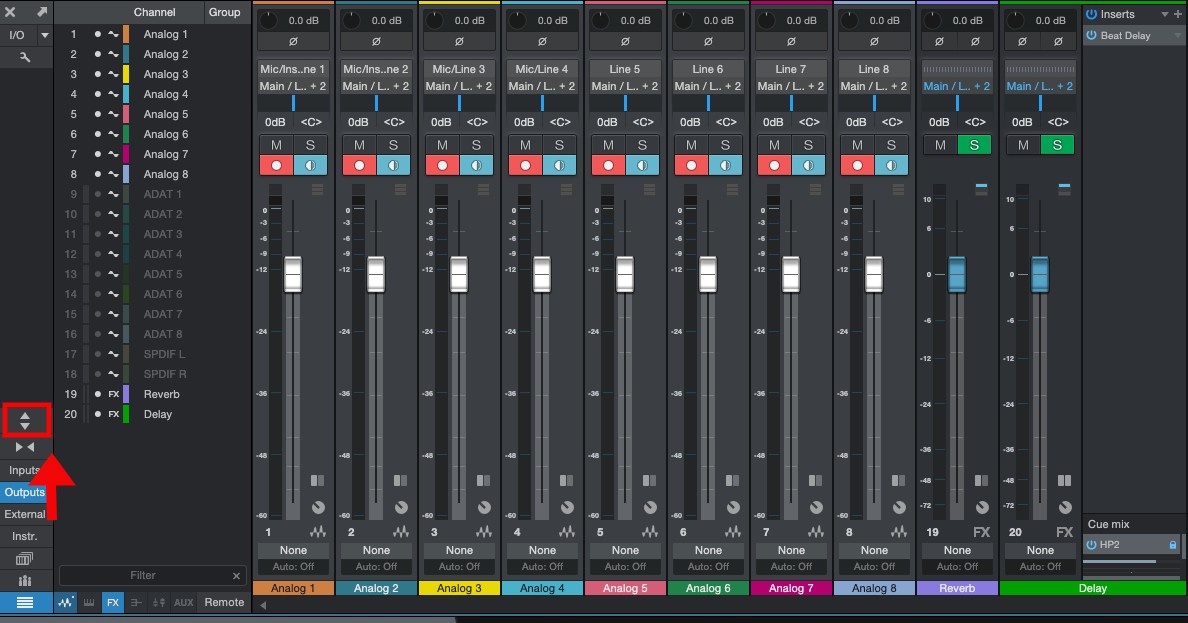 Once there, click on the Up Arrow over the Down Arrow and a new level of information will appear over your channels.
Step 9: Cue Mix Uncovered
All Channels now monitor the Headphone Outputs that were assigned in Audio Output in the Song Setup menu.
You now have Headphone Outs without altering your Main Mix to the Main Outputs.
Above each channel, you will now see that there is an independent level adjustment for each Cue Mix. So you can tailor your mix to your needs.
Keep in mind that any changes to the Main Output are not reflected in the Cue Mix.
For this, you'll want to monitor your main speakers, use the Main Volume Knob on your interface to control the level going to your speakers.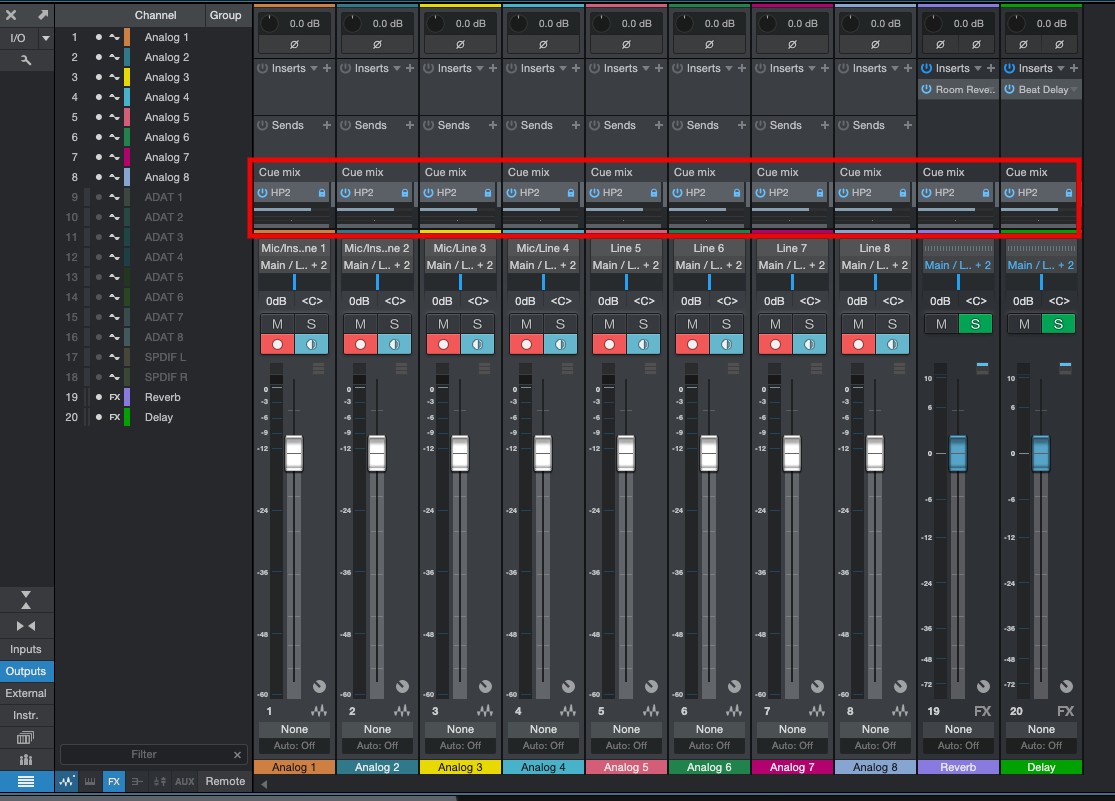 Step 10: View Output Channels
If You wish to see the output channels in the console simply click Outputs in the bottom left corner then move your mouse to the left-hand side of the Master Channel, click and drag to the left. This will reveal all of the available Outputs including the Cue Mix.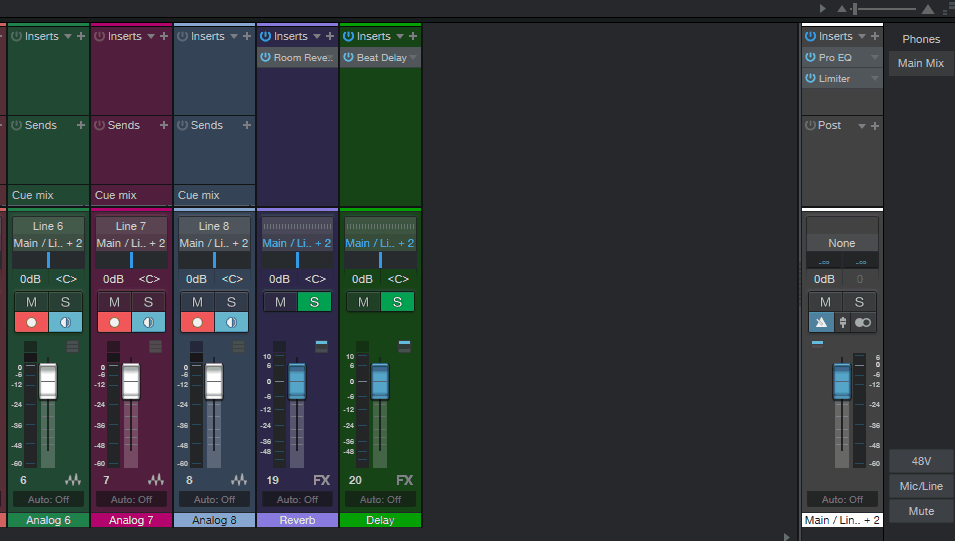 That's it, you're done!
==============================================================
Please contact PreSonus Technical Support by creating a Support Ticket at
My.PreSonus.com

for further assistance.