Published April 20, 2021
Hook up:
For a guide/chart on connecting your Audio devices and speakers to the MicroStation BT, please see the following Quick-Start Guide.
Please note: The USB-C connection on the back of MicroStation BT is for Power only and will not show as an audio device when connected to your computer.
Bluetooth Setup/Pairing:
Press and hold the "Pair" button until the light flashes.
Once flashing, select "Micro Station BT" from your Bluetooth Device.
The Pair light will turn solid when paired to your device.
Press the Bluetooth button on the left to listen to the Bluetooth input.
Controls and Connections: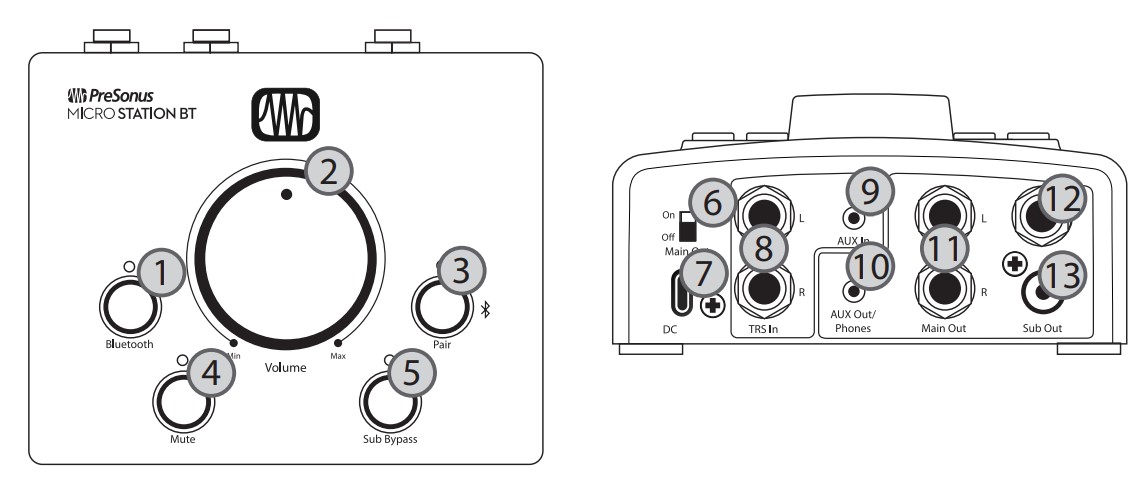 1. Bluetooth On/Off. Enables Bluetooth input.
2. Volume. Controls the overall output volume.
3. Bluetooth Pairing. Press to pair your Bluetooth device.
4. Mute. Mutes all outputs.
5. Sub Bypass. Mutes Sub Outs only.
6. Main Out On/Off. Enables / Disables the Main and Sub Outs. Enable to use
Aux Out/Phones exclusively.
7. Power. Connect USB-C to USB-A cable (included) to USB power (adapter
not included).
8. TRS In. Balanced stereo 1/4" TRS inputs.
9. Aux In. Unbalanced stereo 1/8" TRS input.
10. Aux Out / Phones. Unbalanced stereo 1/8" TRS output (line level or
headphones).
11. Main Out. Balanced 1/4" TRS outputs for speakers or power amp.
12. Sub Out (Balanced). Balanced 1/4" TRS output for subwoofer.
13. Sub Out (Unbalanced). Unbalanced RCA Output for subwoofer.
Note: Use either the Unbalanced or the Balanced Sub Out. Only one is required.
======================================================
Please contact PreSonus Technical Support by creating a Support Ticket at My.PreSonus for further assistance.