Published January 14, 2021
We've gotten a few reports about this on Windows systems exclusively and are investigating. This comes down to system optimization. Making sure your system has all the correct device drivers for your chipset and embedded USB device controllers.

The Atom SQ is a class compliant device, we're not providing any device drivers to make this work with the OS, instead Atom SQ relies on the operating system to provide a method by which it communicates through standard USB connectivity. However Windows has it's own device drivers for the CPU and USB Chipsets that our device relies on to communicate.

We found a case where someone was using the Intel C230 chipset for an X79 CPU, an older INF driver that was installed with Windows 10 displayed this issue, when an updated the chipset INF driver from Intel was installed, the problem went away.

Make sure the chipset driver for your computer is up to date, it appears that the chipset driver that controls USB found in some Microsoft Windows 10 installations is older / out of date compared to newer chipset drivers provided by either Intel or AMD directly on their websites.

Depending on what system you're using. Windows update does not always update these drivers and the user must update these manually.

This is most likely to occur with systems that:
* Systems that did not originally come with Windows 10 as part of their original configuration
* Mobile / Laptops that originally shipped with Windows 7, 8 or 8.1 where Windows 10 was not part of the original install.
* * Even older Windows 10 systems from 2017 are seen to have this issue too.
* Custom built enthusiast systems, where Windows will install it's own drivers and the system builder may not load the drivers provided by the motherboard vendor's website (or from install disc that came with the motherboard).

To see what chipset your system is running, open up Device Manager.
The fastest is to hit Windows Key + X and hit the letter M
In the list of devices you'll see a list of + signs, click on the + sign where it says "System Devices"
Scroll down till you see something that says "Intel Series Chipset Controller" there will be some numbers after it. Should look something like this, your chipset may be different than in my example.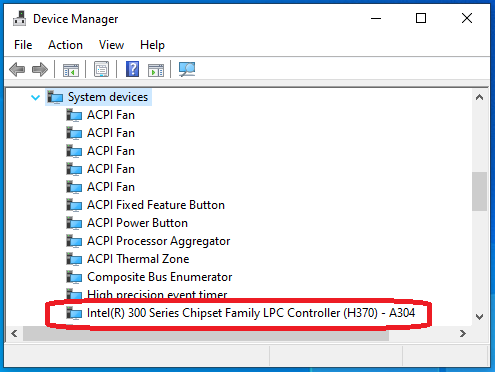 Then do a web search to find the updated driver for that chipset. If you right click and select update, it will only update what Microsoft has on file (which is not what you want), if you do a web search you may get a newer driver from Intel (or AMD) that is newer than what is in the Microsoft archive. (this is preferable)

That may resolve it, however you may also need to update your USB chipset driver. The next thing to check is to update your USB Device drivers. Same as before, Microsoft keeps older versions on file for Windows update, doing a web search manually may find you newer USB chipset drivers.

To see which USB chipsets you have in your system go back to Device manager and select in the list where it says Universal Serial Bus Controllers. It's not uncommon to find two different USB chipsets in the same system. Motherboards often have one brand chipset for the back panel riser and another for the front panel ports. In my case I have that and some expansion cards installed so my USB Series Controllers looks like this: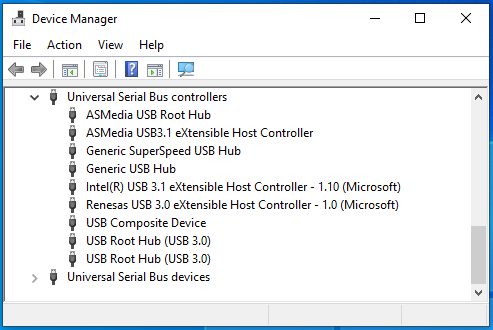 This may not be exclusive to Intel, the same issue may occur for AMD. This does not appear to happen with any macOS systems.

Also see this article on USB 3.0 chipsets (while it was written for AudioBox USB), has info and links to vendor sites for chipset specific drivers. https://support.presonus.com/hc/en-us/a ... h-USB-3-0-
If you try all these things and still don't have any luck we've found in some cases where inserting a USB Hub between the computer and the Atom SQ will resolve the issue.
Using a powered USB-C to USB-A (x4) hub appeared to work, and it worked with or without the power cable attached, including having the Atom SQ go to sleep when the computer goes to sleep. We used the RSTech USB-C 4 Port Hub (Amazon Link) worked in our testing of this issue that provided a clean start up with Studio One each time.
While in other tests using a USB-A to USB-A hub worked only partially where one port worked but the others did not. Many passive hubs only replicate one port effectively and then just make copies of the first port (acting more like a splitter than a hub), your mileage may vary with unpowered hubs.
==============================================================
Please contact PreSonus Technical Support by creating a Support Ticket at
My.PreSonus.com

for further assistance.