Updated March 3, 2021
If you are experiencing an issue with your Eris Speakers, here are a few common troubleshooting questions to consider when trying to find the source of the issue.
Cabling:
Have you checked all cabling to ensure there is no fault with the cables?
If you are using Eris X.5 speakers that connect with a speaker cable,

Have you checked that the cable is properly seated in the black and red ports on the back of each speaker?
If the issue is with one side (Left vs Right),

Do you have the same issue if you swap the input cabling around? (L>R, R>L)

Does the issue switch sides?
Input Sources:
Have you tried different media sources? (Phone, Tablet, different Computer, etc.)

Do they have the same issue?
Power/Environment:
Have you checked different power sources? (Plug, outlet, circuits, surge protectors, etc.)
If your speaker(s) have a fuse, have you checked the fuse to see if it is blown or damaged?
Be sure the speaker is powered OFF and unplugged before checking the fuse.

Using a flat head screwdriver you can remove the fuse holder and check the fuse. If the fuse is dark in color or damaged, it would indicate that the fuse has blown. If there is a spare fuse in the holder, swap them around and put the holder back in.
The fuse can be found behind the panel under the port for the power cable.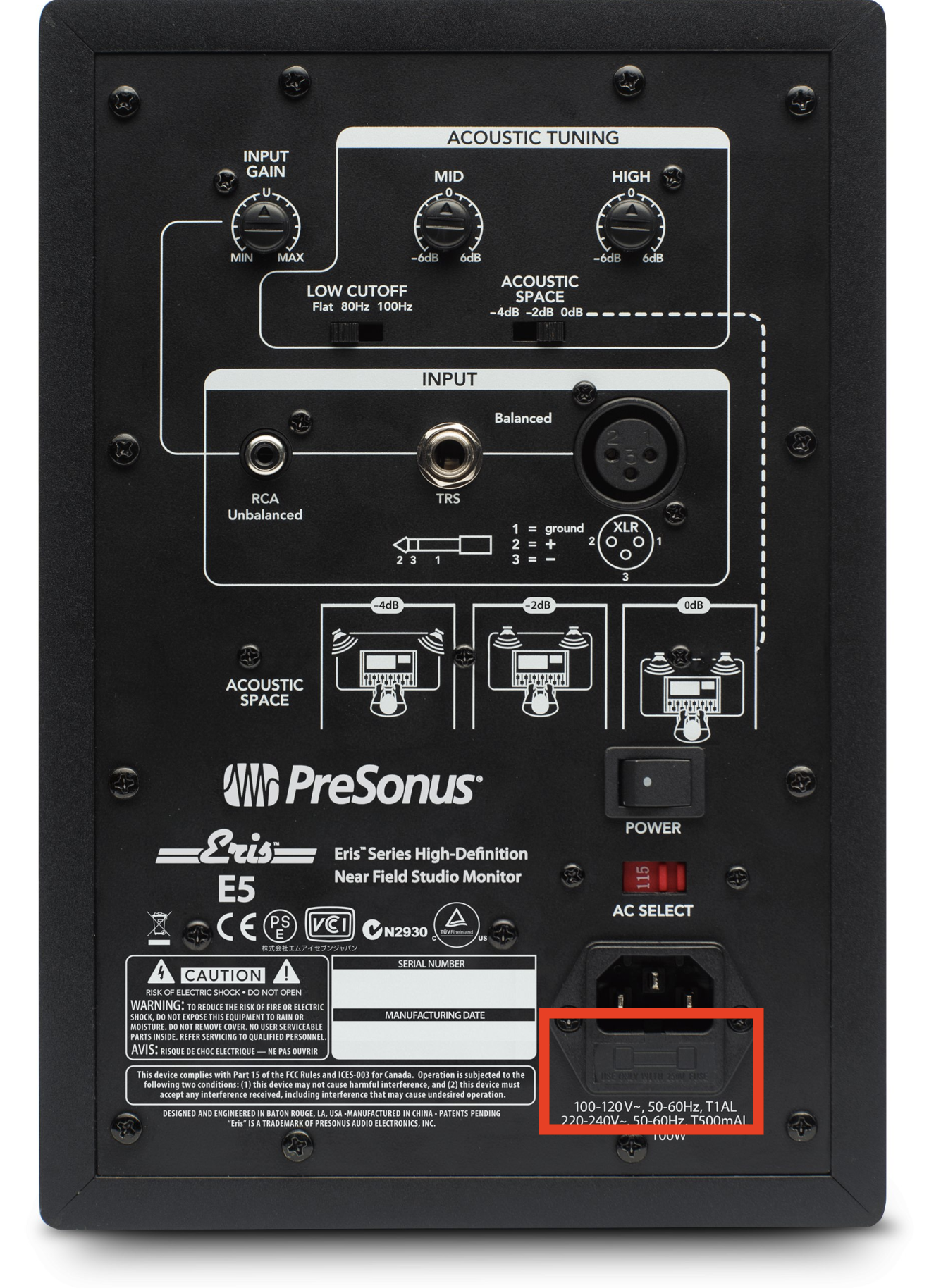 If your speaker has a red AC SELECT switch on the back,
Is it set to the correct voltage for your country/location?

*Do not change the AC SELECT while the speakers are on, and do not power them on if the AC SELECT is switched to the incorrect voltage*

If you are hearing interference/noise (such as RF Interference) from your speakers, it may be helpful to test them in a different room/location and see if the noise is from interference from your phone or other devices in close proximity to the speakers in their usual location.
==================================================================
Please contact PreSonus Technical Support by creating a Support Ticket at
My.PreSonus.com

for further assistance.