Published June 18, 2020.
Reviewed November 24, 2020
Before proceeding, please be sure your firmware is updated on your StudioLive,
StudioLive Series III Console - Firmware Update
StudioLive Series III Rack mixer - Firmware Update
Latest Universal Control:
https://www.presonus.com/products/UC-Surface/downloads
==============================================================
Please note: Beginning with firmware version 2.4, "Stagebox Setup" menu is now referred to as "Remote I/O Setup." These two menus are otherwise identical in application.
Step 1: How to make the connections.
Connect both mixers Audio Network (AVB) port using an approved cable. Please consult this guide to ensure that you are using suitable cabling.
Link: https://support.presonus.com/hc/en-us/articles/360031841952-Ethernet-Cables-for-AVB-Guide
Step 2: Setting up your stage box mode
On the FOH (Front of house) console you need to go to.
Home > audio routing > Remote I/O Setup (Stagebox setup)
Ensure that the connected rack mixer is setup to "Stand Alone" Mode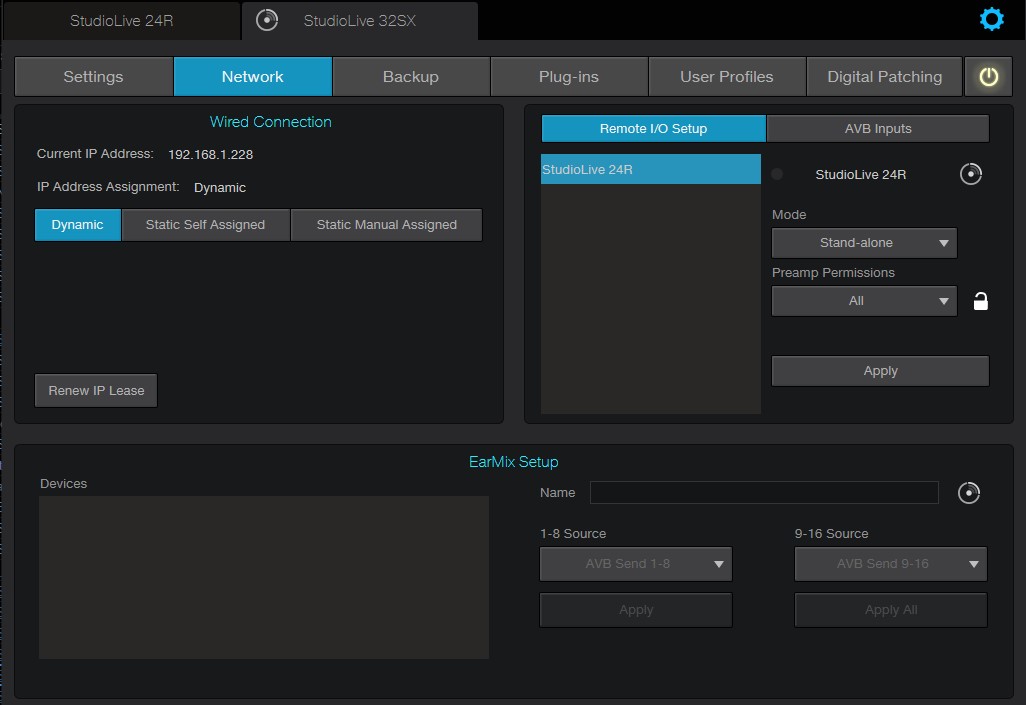 Please consult this manual for a description on the difference between the 3 modes that are available.
Link: https://pae-web.presonusmusic.com/downloads/products/pdf/StudioLive_Series_III_Stagebox_Mode_Addendum_V5_EN_25032019.pdf
Step 3: FOH AVB inputs from your rack mixer.
On the FOH mixer go to, Home > audio routing > AVB input streams
Assign your inputs from the rack mixer as you wish to have them on the FOH mixer. This now means that inputs coming in on the rack mixer will be on the FOH console for you to mix.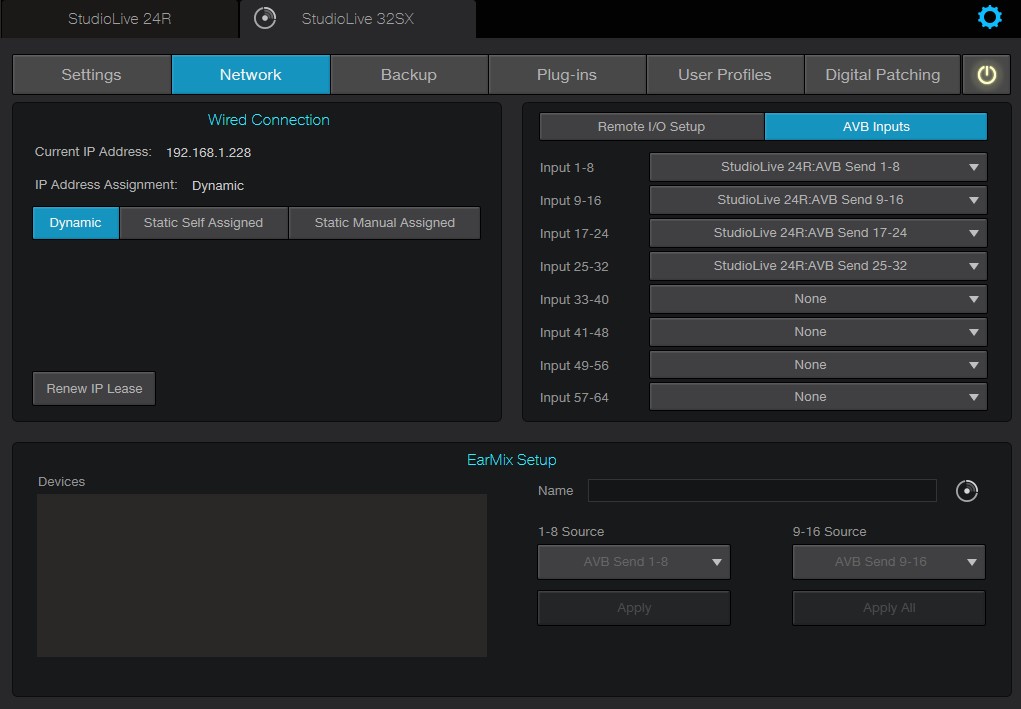 Ensure that you have changed the channels inputs on your FOH console to "Network" so these channels can now get audio from the connected rack mixer.
You can use a combination "Networked" inputs or "Local" inputs for your setup.
Step 4: Steps to route your AUX channels on FOH to come out of the Rack mixers outputs
On the connected rack mixer go to "Network" tab and select "AVB Input" tab
Assign inputs for Input 41-56 as the same sends from the FOH mixer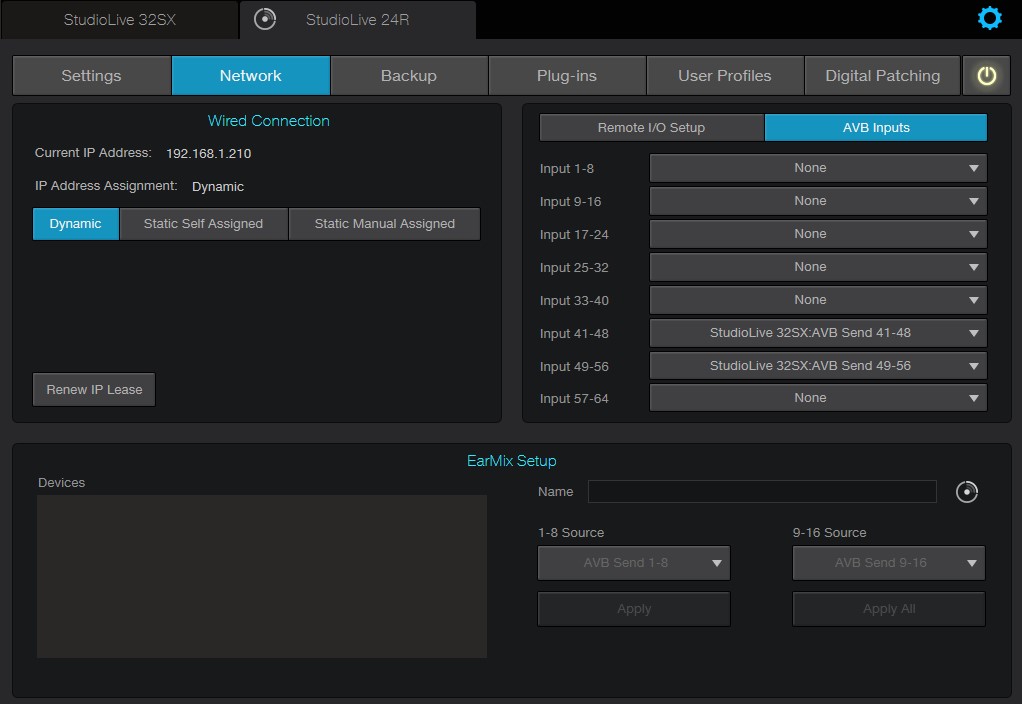 On the rack mixer press "Mix Masters"

Select AUX 1

Change the input for AUX 1 to be "Network"

On the "I" aka "Input" tab where it says "Routing" change the input to be "41" which is AUX 1 from the main FOH console

Once done create a AUX 1 Mix on the FOH console and now AUX 1 on the "Stand Alone" console is getting the AUX mix created on the FOH console

Repeat this step for all Flex Mixes you wish the rack mixer to be getting from the FOH console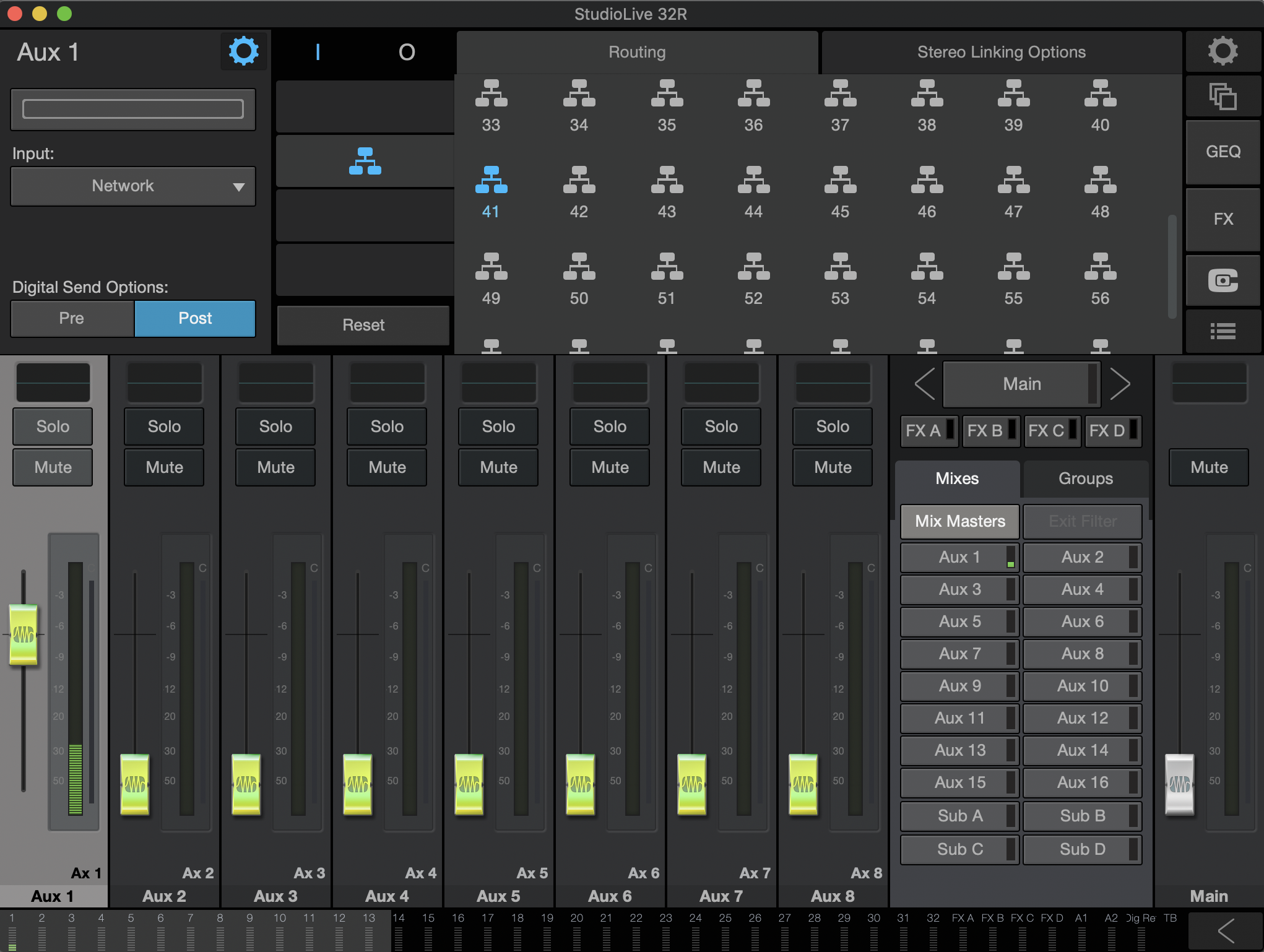 Important points to note:
This also works should you have your rack mixer in "Monitor Mixer" mode and wish to have some AUXES controlled by the FOH mixer.

If your rack mixer is "Monitor Mixer" mode and no longer sending the USB channels to the FOH mixer then you need to change the channels input from USB to Analog and back to USB to establish the connection. This is done on the digital patching tab when you are logged into the rack mixer. This is because monitor mixer mode will default back its channel input.
==================================================================
Please contact PreSonus Technical Support by creating a Support Ticket at My.PreSonus.com/Support for further assistance.