This article is for this model FaderPort: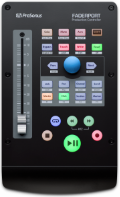 Support for new FaderPort released in 2018 is provided in Studio One 3.5.6 by means of an extension. Upon registering your new FaderPort in your my.presonus.com account will appear an extension that you'll need to download and run. Once installed, will enable your new FaderPort to work in Studio One 3.5.6. 
Studio One 4 has native support for the new FaderPort, no extension installation is necessary.