PreSonus Product Service and Support
Guide for Consumers

Both Hardware and Software-based concerns or Technical Support needs are best addressed by creating a Technical Support request within your personal my.presonus.com account.

A PreSonus Technical Support representative will work with you to determine the nature of the concern and will then advise you accordingly.

If field repair is advised, FMIC has established a network of independent Authorized PreSonus Service Centers for both in and out of Warranty service. The PreSonus Dealer from whom the product was purchased may also be authorized for Warranty service and should be the first point of contact when service of any kind is required for a PreSonus brand hardware product.

PreSonus Service partners are listed at presonus.com, or you may obtain location information by speaking with the FMIC Gear Advisor team at 800-856-9801, or via email sent to consumerrelations@fender.com.

Field Serviceable products may be repaired, in or out of Warranty.

Non-Field Serviceable products are simply exchanged, should they fail under the applicable Warranty. You may contact the FMIC Gear Advisor Team, at 800-856-9801 or via email sent to consumerrelations@fender.com for in warranty
exchange assistance.

For In-warranty service or exchange, the product's retail purchase receipt must be presented as proof of Warranty coverage.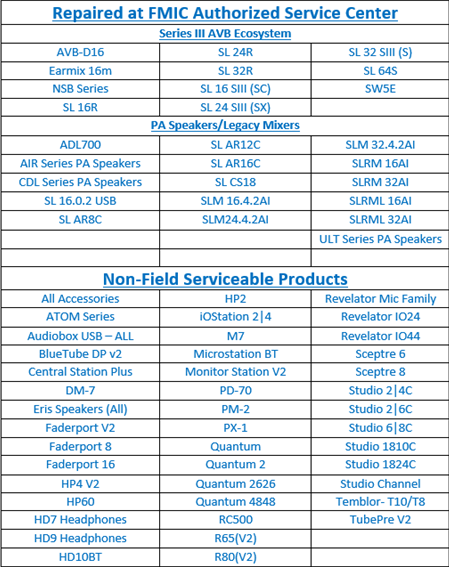 Thank you for your support of PreSonus products!