Studio One 6.1 introduces anonymous usage data sharing as an option for users to provide the development team with application usage information. This includes general usage statistics, as well as selected hardware and system information. Usage data sharing is anonymous and has no noticeable impact on application performance. As a user, you are free to opt-in or opt-out at any time.
Usage data sharing adds another layer to our user feedback system, which includes the user forums, social media groups, Studio One Meetups, answers base, and diagnostics reports. This allows us to make better and more informed decisions on new features and improvements. By sharing usage data, you actively participate in the design of Studio One and contribute to new features and improvements.
Here's how it works:
When you launch Studio One 6.1 or later, you will see the new "Usage Data Settings" window, which is also available at any time from the Help menu. Click "Yes" to opt-in and start sharing usage information. Click "No" if you don't want to share usage information with PreSonus.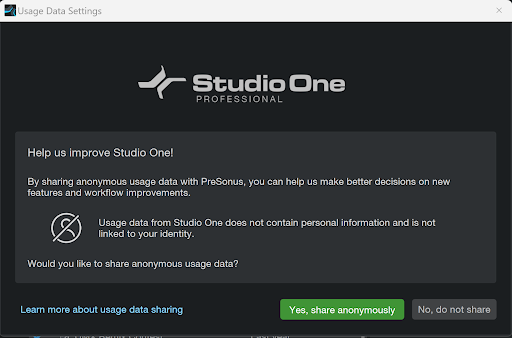 To protect your privacy, usage data from Studio One does not contain personal information and is not linked to your identity. This means while we at PreSonus get a statistical overview of feature usage across the whole user base, we can't tell which individual user has used a particular feature and we also can't tell the order of steps you take in the program.
Technically, analytic events are first stored in a local database on your computer in the Studio One settings folder. A report summarizing multiple events is created every couple of days and sent to our analytics service provider. The report is preprocessed locally so that it contains simple counters and calculated frequencies only thus PreSonus can't restore the original events from it. No sensitive data ever leaves your computer.
If you decide to share usage data with PreSonus, Studio One will collect information including:
Application launch frequency
Number of documents created and opened
Number of files exported
Time spent on pages (Start, Song, Project, Show)
Command, plug-in, and audio/MIDI device usage
Input methods used (mouse, keyboard, pen, touch)
Selected hardware and system information
Please note that Studio One does connect to online services for activation, installation, and other web-based features. Some of these services may continue to collect usage data linked to your identity and in accordance with our Privacy Policy.
Also note that while we hope to get insights in how to improve Studio One you are still on your own with your music or audio production. We can supercharge your workflow but we can't help with the creative part, unfortunately 🙂