In Studio One 6, when working with MIDI data, users often want to print the audio being generated from external MIDI devices. Studio One offers a special feature to accommodate this.
The option "Bounce Selection" renders the selected Instrument Part to a new Audio Event, and places it at the correct Timeline position on a new Audio Track.
You will need to have the proper audio connections setup from your MIDI device to your audio interface. See the Studio One online reference guide: Audio Device Setup: Studio One.
To bounce any MIDI Instrument Part to an Audio Track:
Select the MIDI Instrument Part.
Right-click and either select

[Bounce Selection]

in the Event menu, or simply press [Ctrl]+[B] or [Cmd]+[B](macOS) on the computer keyboard.

When "Bounce Selection" is selected, an Audio Track will be inserted (A), and the Bounce Instrument Parts window appears. The Bounce Instrument Parts window shows the options for this bounce.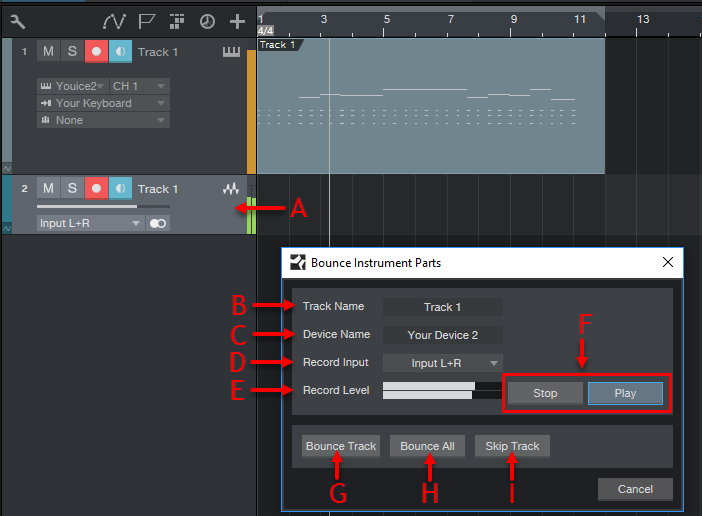 Here are definitions for the options in the Bounce Instrument Parts window.
B. Track Name: Use this option to name the track that will be created from the bounce.
C. Device Name: This is set to the name of the external MIDI device the MIDI Instrument Part is sending MIDI to.
D. Record Input: Use this drop down to select the audio input source for the Bounce.
E. Record Level: The Record Level shows the peak of the incoming audio signal. This level is controlled from the hardware volume of the external MIDI device, or using the hardware volume on your audio interface.
F. Controls: In the Control section, there is a Stop and Play button. Use Play to preview the bounce.
G. Bounce Track: Starts the Bounce for the selected track.
H. Bounce All: All instrument tracks pointing to the same device are bounced, not only the selected.
I. Skip Track: Jumps to the next track pointing to the same device.
BOUNCING
When you are ready to bounce, press Bounce Track.
For this to work, the cursor will need to be at the start of the MIDI part.
Once the Bounce has started, you will not be able to stop bouncing until the bounce is complete.
The original MIDI part will be automatically muted upon completion of the Bounce.
Here is an animation that shows the complete process: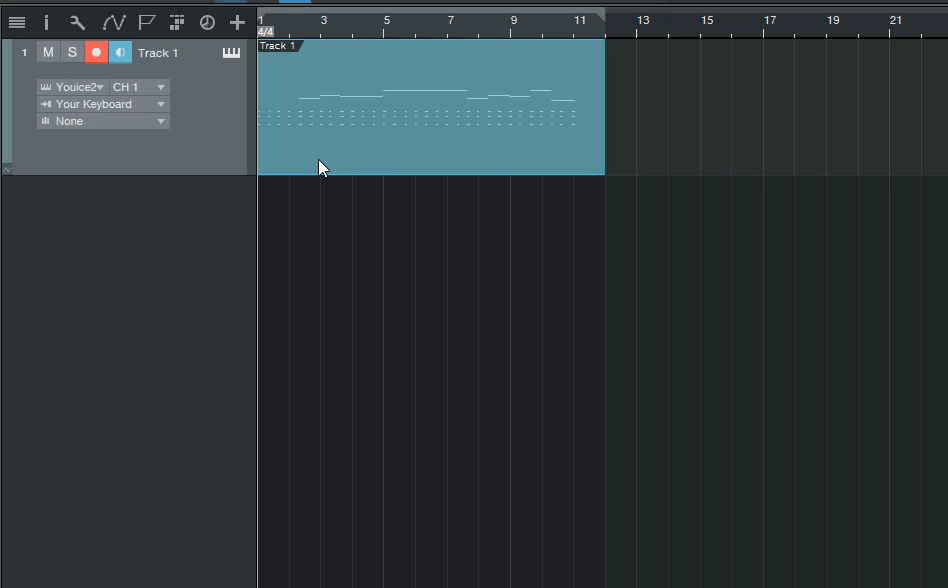 Related Articles: