Reviewed Jan 29, 2021
Before continuing you will need to be sure you are using the latest Universal Control and Firmware for your StudioLive:
StudioLive Series III Console - Firmware Update
StudioLive Series III Rack mixer - Firmware Update
Universal Control can be downloaded here:
https://www.presonus.com/products/UC-Surface/downloads
====================================
To record the on-board FX busses of the StudioLive Series III mixers, you will need to arrange Studio One to input from an Aux output channel of the StudioLive. Then route the FX Return channel into that Aux from Universal Control, or on the physical Console, to be recorded in StudioOne.
Studio One
1. With your Series III mixer connected through USB and powered on launch Studio One.
Create a new song using the template for your mixer from the "Interfaces" tab when creating a new song. A "StudioLive 32 Session" is chosen in the example below.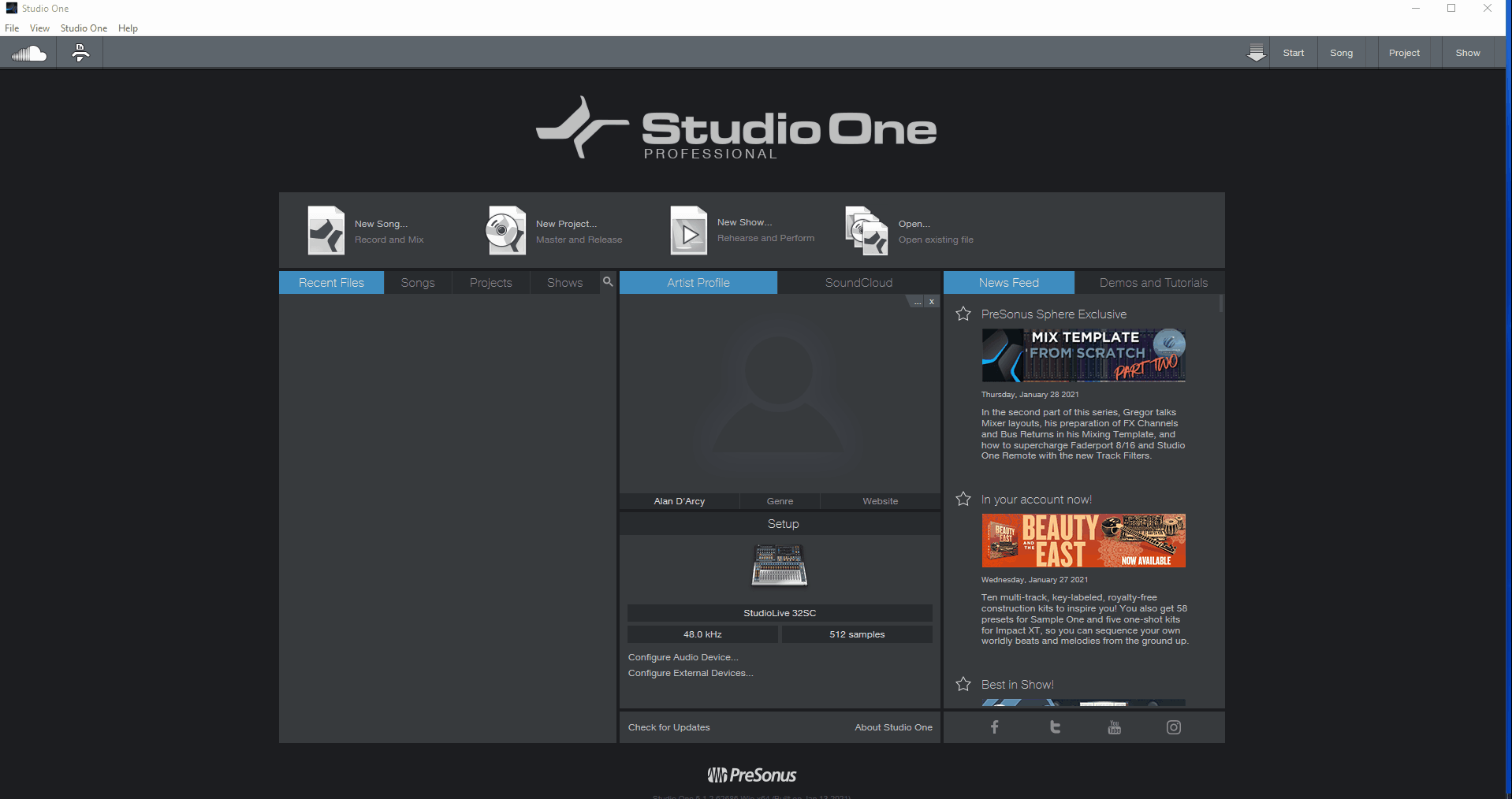 2. Create a stereo Track in Studio One, Track>Add Stereo Track.
Open the Audio I/O setup menu and create a stereo input and rename it after your mixer for convenience, In this case the channel is named 32SC FX.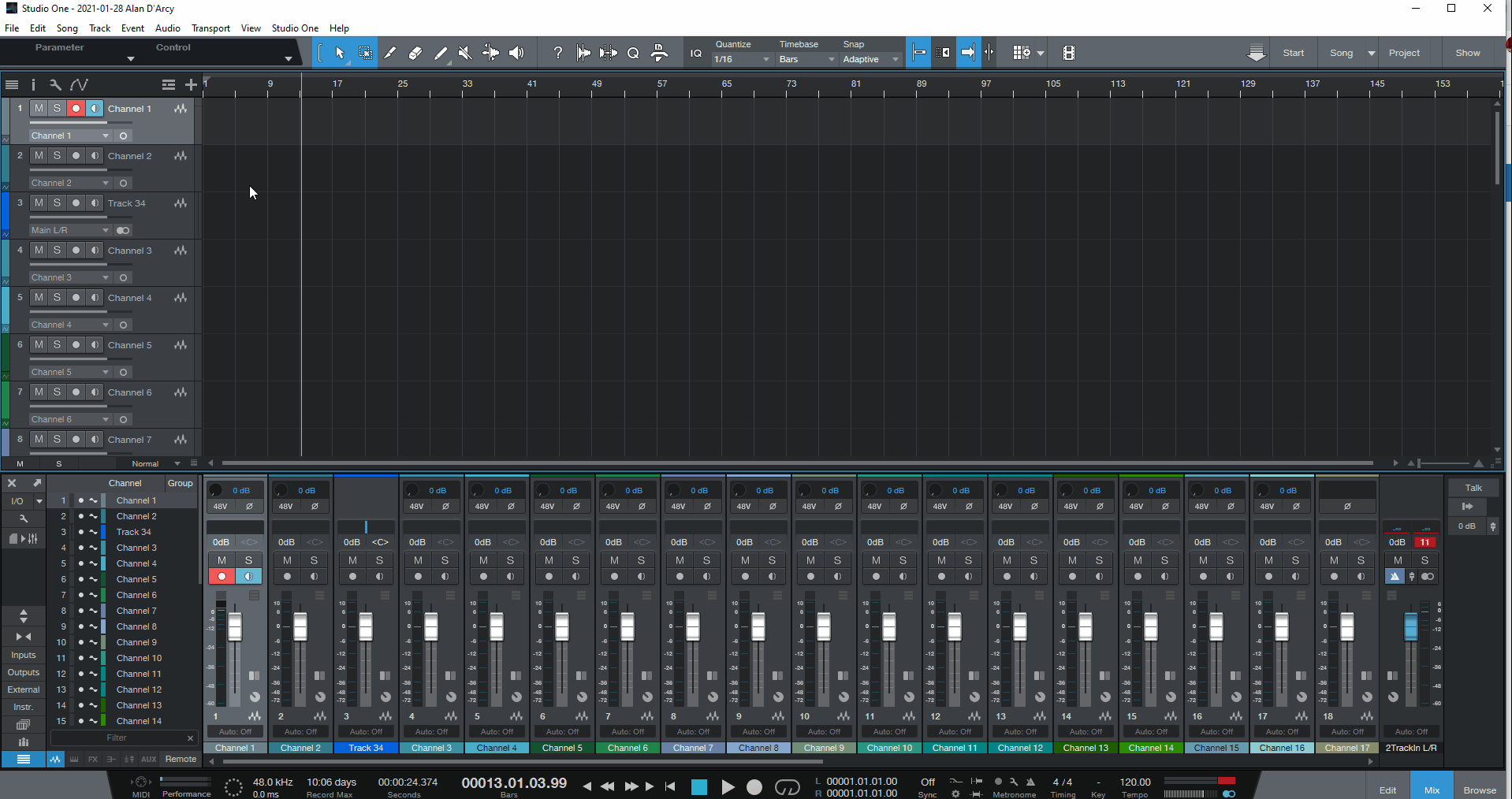 3. Reroute the input patch for the 32SC FX to channels 55 & 56 on the routing grid and click OK. (Shown below)
In the Studio One fader-view rename the stereo channel to 32SC FX also.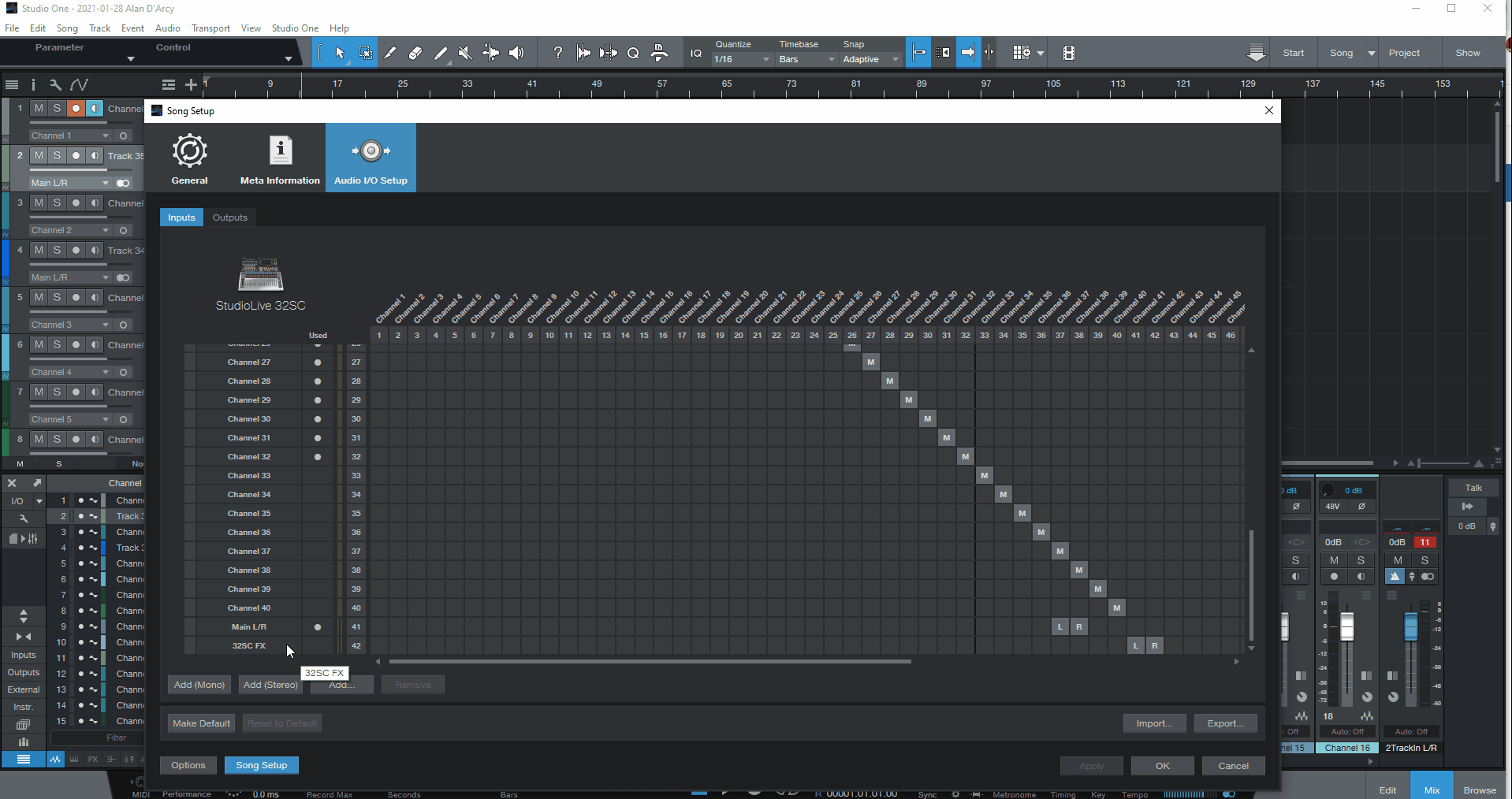 4. Route the output of the channel 1 to 2TrackInL/R which will correspond to Tape In on the Main Mix layer of the mixer.
Your new stereo track 32SC FX should route from 32SC FX 55/56 to 2TrackInL/R. For further related information please see the following article.
StudioLive-Series-III-Templates How to get Stereo-Playback from Studio One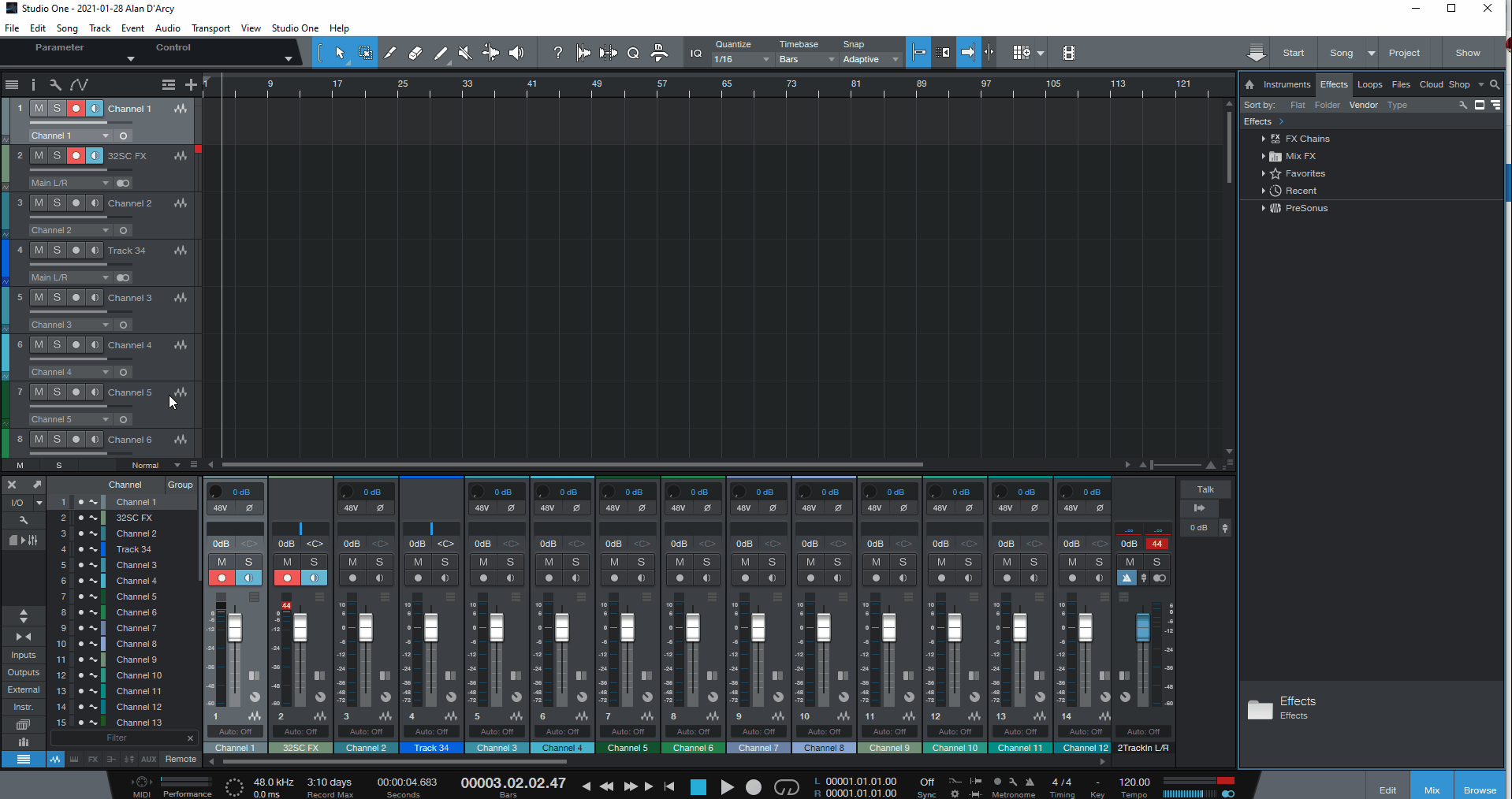 Universal Control
5. Now you will need to open Universal Control and double-click your mixer's icon.
Ensure that you have the correct input source selected. For this example an analogue input is the audio source. Gain stage your audio source to between -18db to -12db and raise your channel 1 fader to unity.
If you are unsure regarding input source types then please see the following article. https://support.presonus.com/hc/en-us/articles/360050925691-StudioLive-Series-III-Templates-How-to-get-Stereo-Playback-from-Studio-One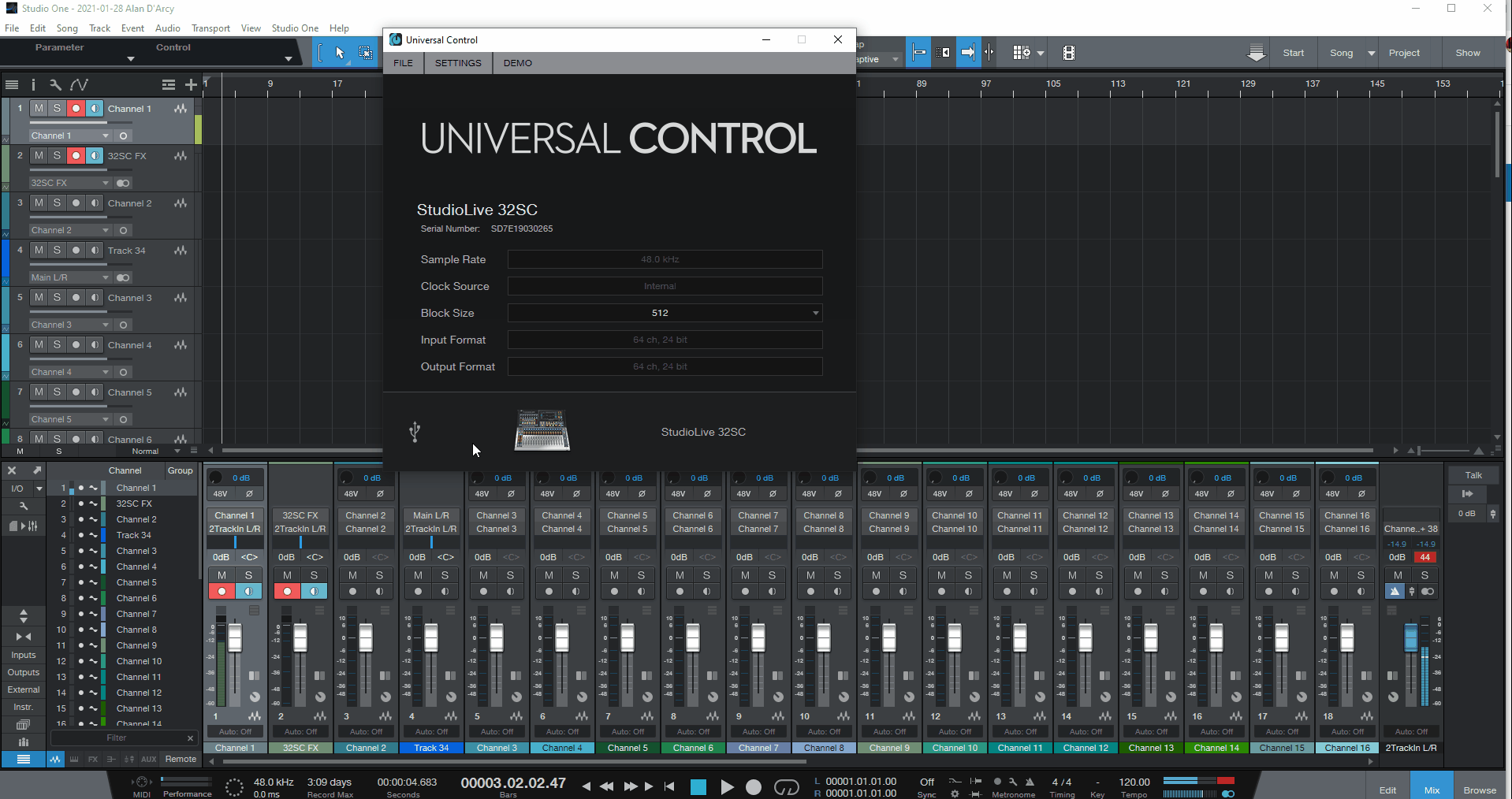 6. Now we will send Channel 1 to FX A by selecting FXA by raising the Channel 1 fader and the master fader to unity.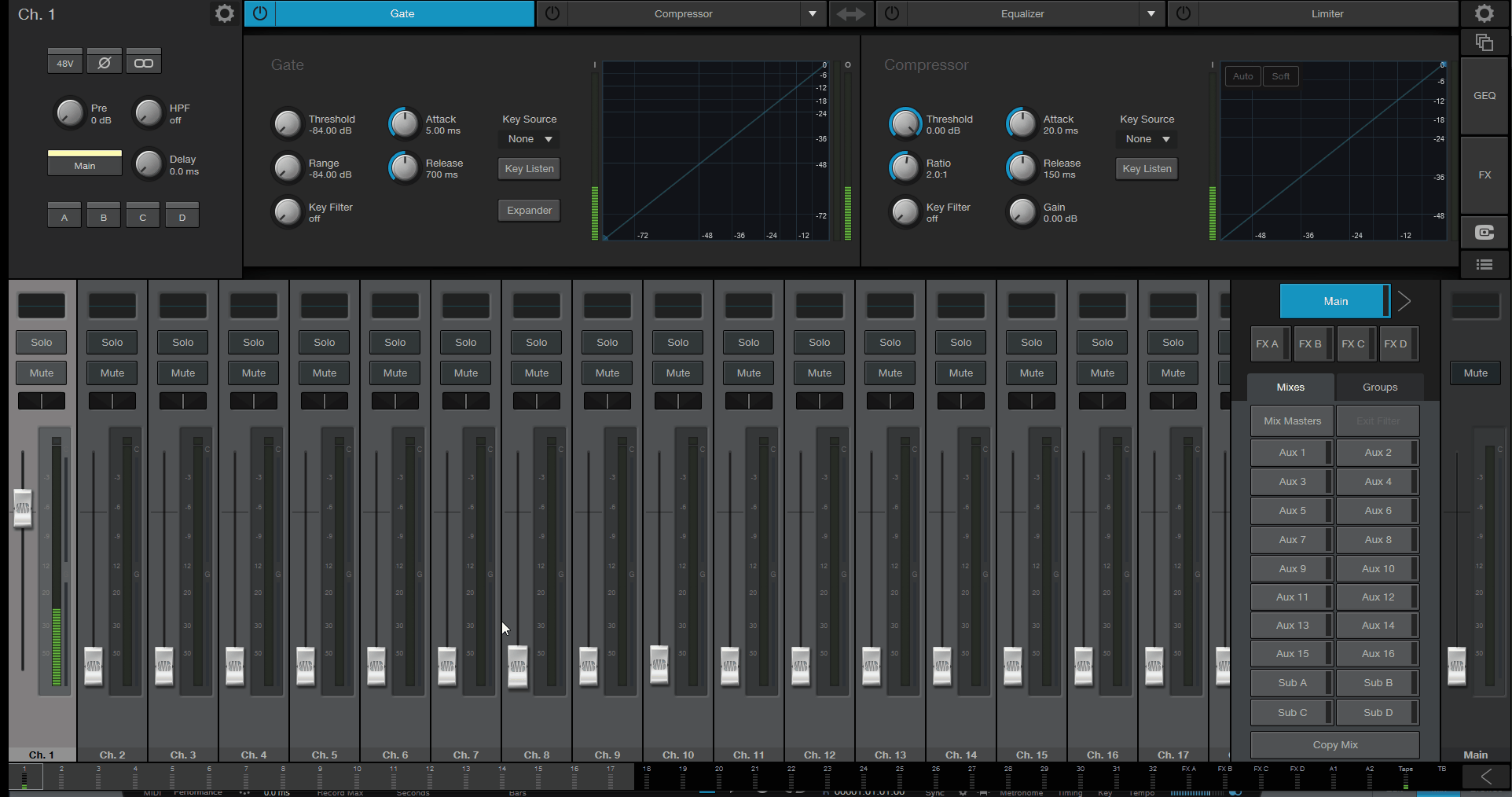 7. Now select Aux 15 and click on the Aux master fader and select the link Aux button which will provide stereo by linking Aux 15/16.
Scroll over until you see the FX Return A fader and the master Aux 15 fader, then raise them to unity.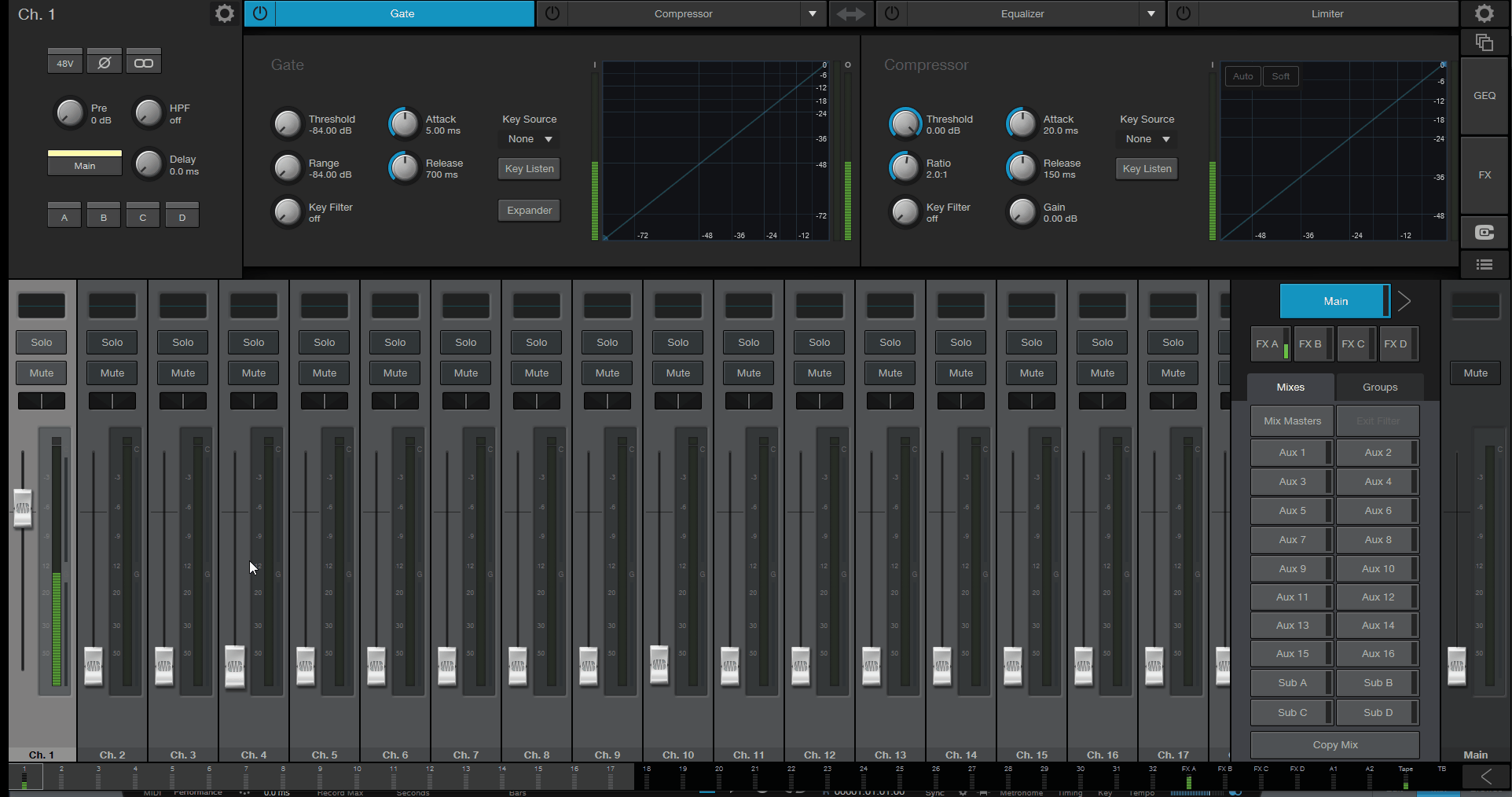 Studio One
8. Switching back over to Studio One, you should now see metering on Channels 1 and 32SCFX.
With both tracks armed press record and you will now be recording your original Dry audio and your Stereo FX Return from your StudioLive mixer.
You should now see FX Return signal in Studio One by recording the Aux output of the StudioLive with the FX Return channel pulled up in that Aux Layer.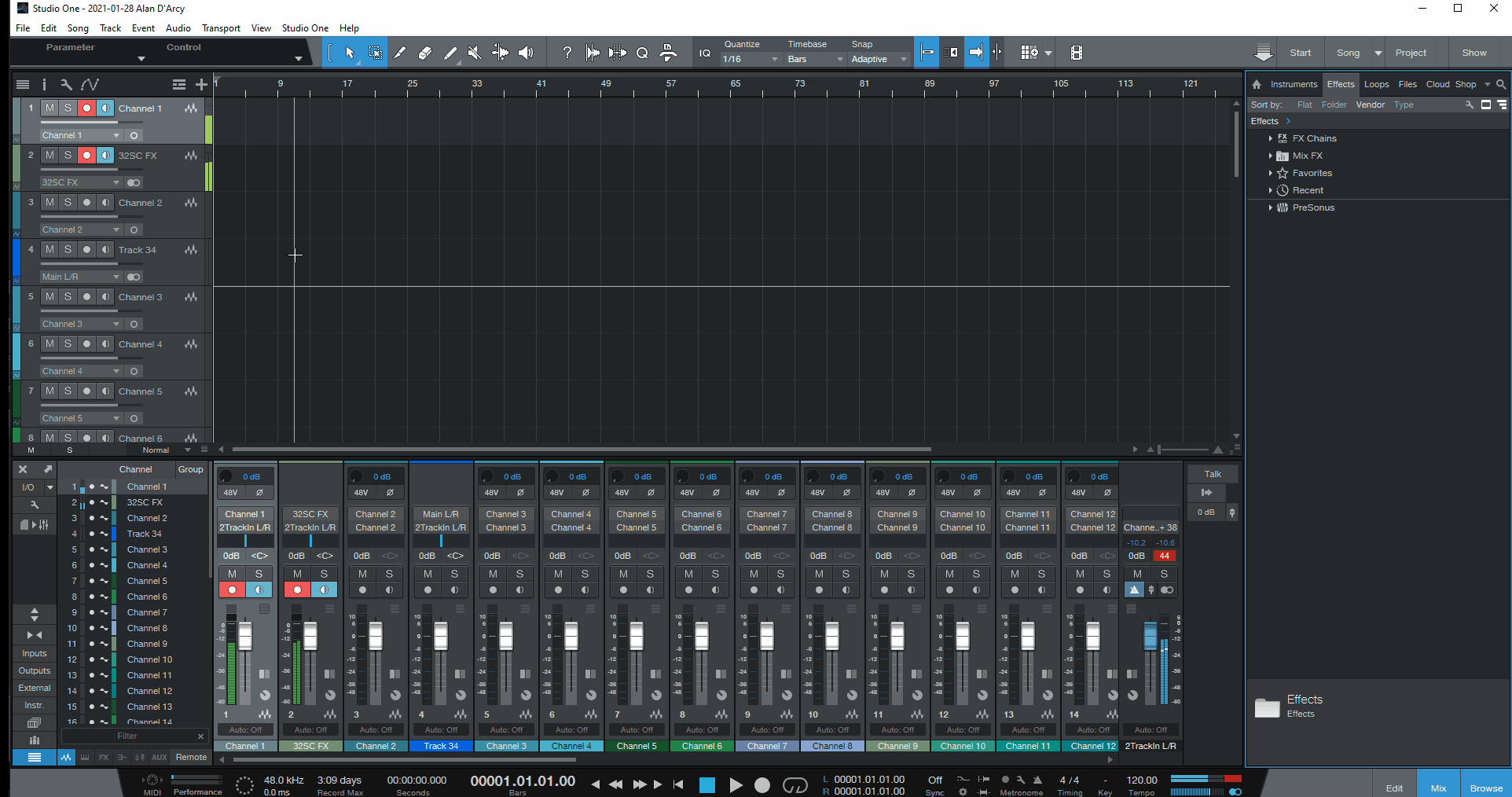 ==================================================================
Please contact PreSonus Technical Support by creating a Support Ticket at My.PreSonus.com/support for further assistance.