Published June 30, 2020
Below you will find information on resolving permissions issues on macOS that could prevent you from activating some PreSonus software...
1. Go into "Go" in your computers Finder menu bar and locate "Computer." From there, go into Macintosh HD (your system hard drive) /Users/Shared/Library. Right-click the "Library" folder and go to "Get Info." Below is an image that illustrates this option.
** Be sure to go to /Users/Shared/Library. Occasionally users will incorrectly change permissions in the wrong /Library folder and it will not work"**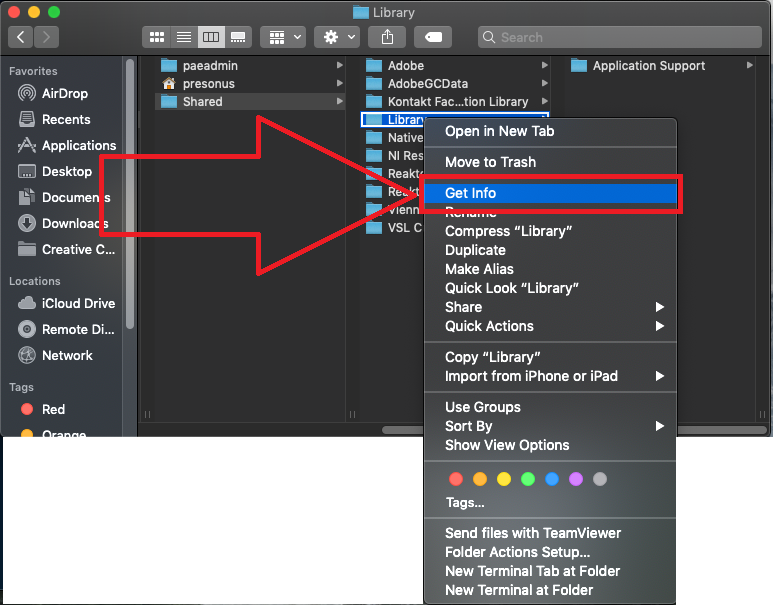 2. Once you open the "Get Info" window for "Library," you can click the padlock at the bottom right-hand corner of the window and enter your Mac password. You can then make changes to the settings. You can set each of your users, that are in the "Sharing & Permissions" section of the "Get Info" window, to "Read & Write." You should have your user name in there along with "Wheel" and "Everyone." If not, simply press the + sign to add them.
***If you receive an error message that you do not have permission to change the permissions, please go to Go>Utilities>Terminal to open the Terminal utility. You can then paste in the following terminal command and press "enter" on your computer keyboard.
diskutil resetUserPermissions / `id -u`
You can then reboot your computer and try changing the permissions once more.
Please refer to the image below.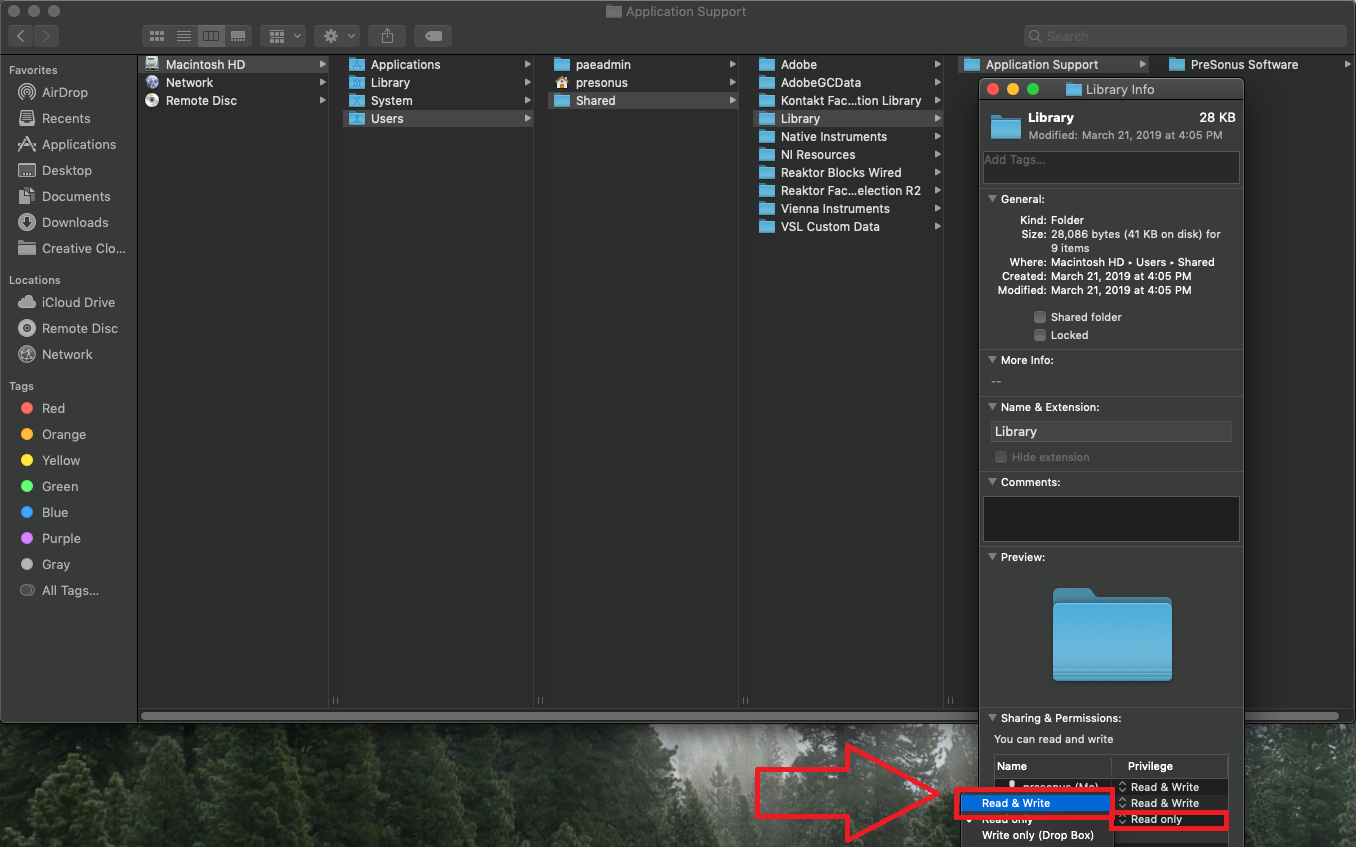 3. Once you have set the permissions to "Read & Write," You can apply these changes to all enclosed items. Simply click the gear wheel and select "Apply to enclosed items." Below is an image that illustrates the setting.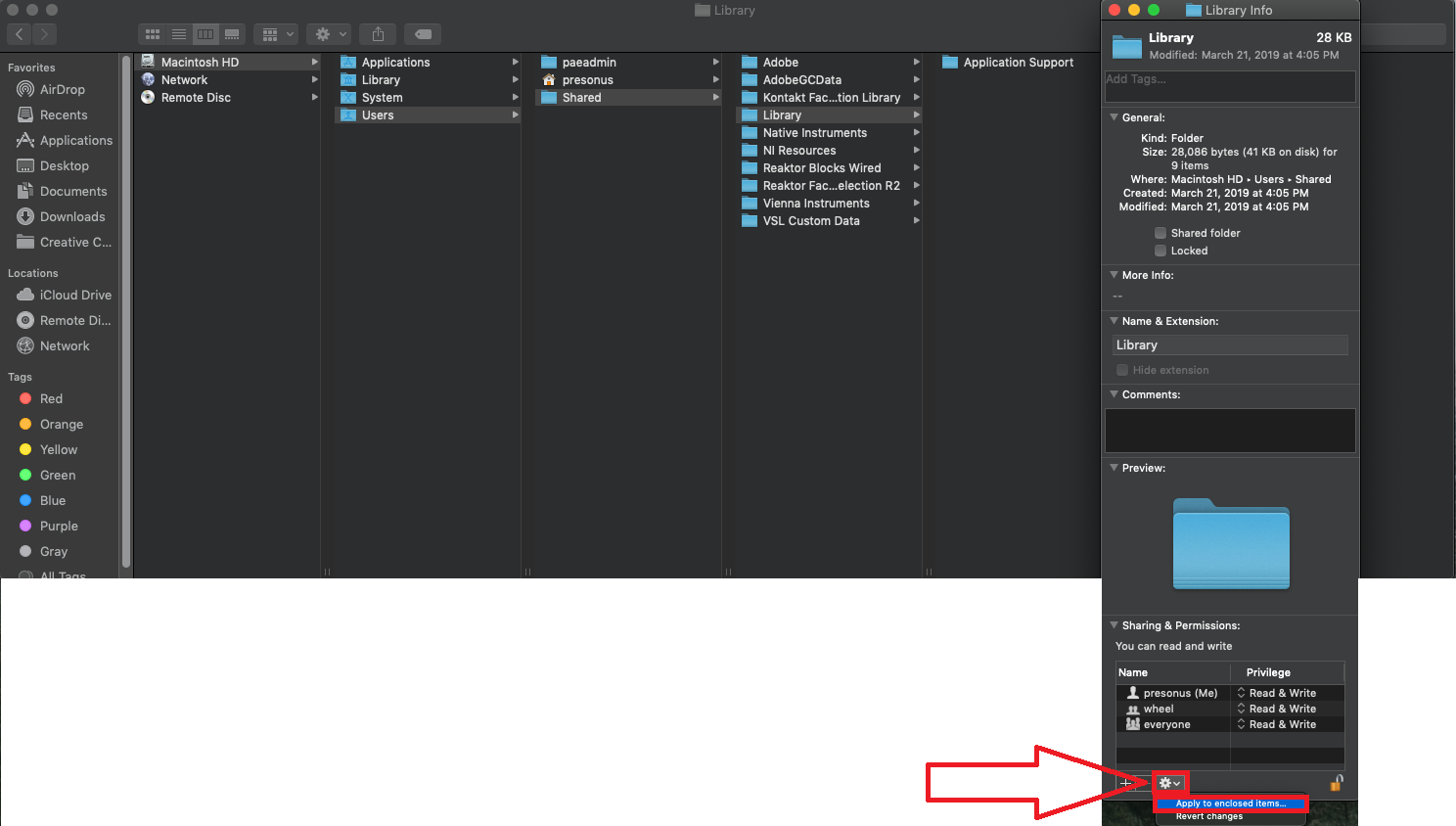 4. Re-open your software and try activating once more.
======================================================
To report any issues, please contact PreSonus Technical Support by creating a Support Ticket at My.PreSonus.com/Support for further assistance.