In Studio One 5, you may notice a new window that appears when scanning for plug-ins. This is when you first start Studio One. Below you will find instructions for working with this new and improved functionality.
1. Below is a screenshot that illustrates the new window that you may run into when scanning for plug-ins. If you choose the option to "skip" a plug-in, then that plug-in will not be loaded on that particular launch of Studio One. The next time that you launch Studio One, the software will attempt to load the plug-in once more. If you choose to "Disable" a plug-in, the plug-in will be added to the blocklist in Studio One and the program will not attempt to load it again.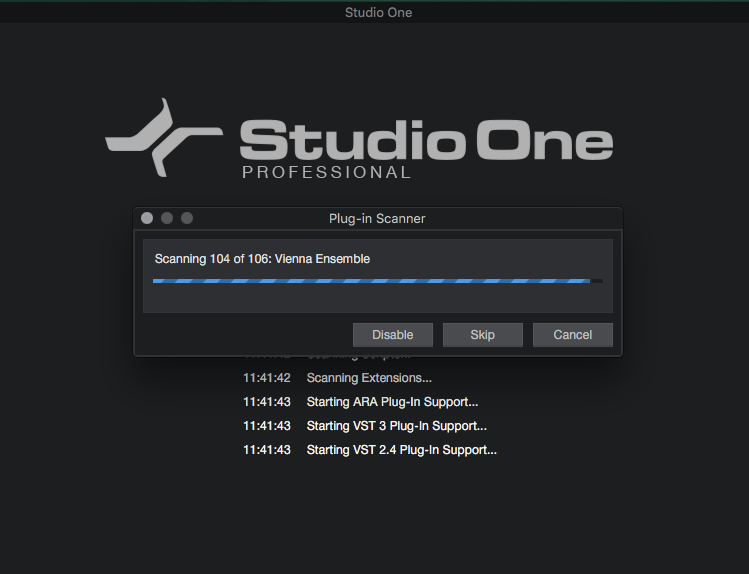 2. If you have accidentally disabled a plug-in and would like to reset the blocklist, this can be done. You will want to go to Studio One from the menu bar of the program and select "Options" on a Windows machine or "Preferences" on a Mac. You can then go into "Locations" and choose the option for "VST Plugins." Here you will find the "Reset blocklist" button. Once you press the "Reset blocklist" button, the next time that you launch Studio One, it will re-scan all directories that are listed.
Below is a screenshot: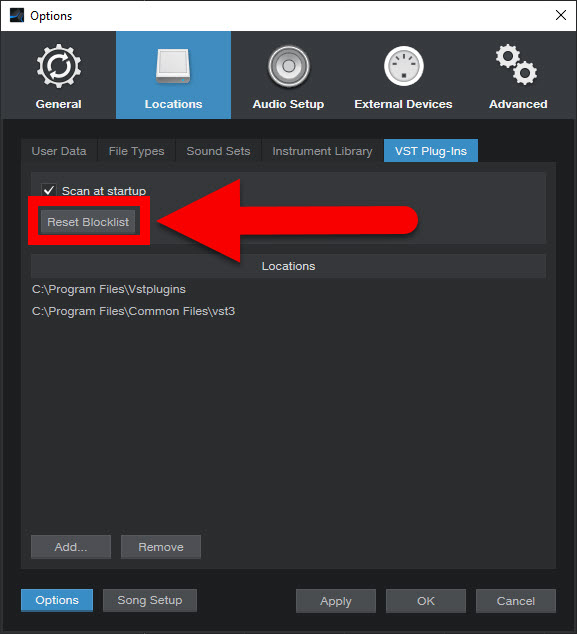 3. There is now a log file that is created from the scan results. If you open Studio One 5 and go to Help>Open Settings Folder, you see the settings files folder for the program. You can then go into the folder titled "x64." In this folder, there is a text file titled "PluginScanner.log." If you open this text file, you can view everything that transpired during the scanning of plugins on launch. It is sometimes beneficial to attach this file to a tech support ticket, should you be having a problem with a plugin or plugins not loading into Studio One.
Please also take note of the following:
The scanner works the same underneath as it did in Studio One 4, it's just now an external process.
First scan will be a full scan (new install, etc.) and subsequent scans will go much faster.
Initial block listing of some plug-ins on first scan is not an indication of incompatibility. Resetting the blocklist and scanning again often resolves that.
The scanning process in general relates to VST & VST3 plug-ins. AU plug-ins are "owned" by macOS and are not part of that process.