Published June 18, 2020.
Reviewed November 24, 2020
Before proceeding, please be sure your firmware is updated on your StudioLive,
StudioLive Series III Console - Firmware Update
StudioLive Series III Rack mixer - Firmware Update
Latest Universal Control:
https://www.presonus.com/products/UC-Surface/downloads
=============================================================
Please note: Beginning with firmware version 2.4, "Stagebox Setup" menu is now referred to as "Remote I/O Setup." These two menus are otherwise identical in application.
Step 1: How to make the connections.
Connect both mixers Audio Network (AVB) port using an approved cable. Please consult this guide to ensure that you are using suitable cabling.
Link: https://support.presonus.com/hc/en-us/articles/360031841952-Ethernet-Cables-for-AVB-Guide
Step 2: Setting up your Stagebox mode
On the FOH (Front of house) console you need to go to.
Home > audio routing > Remote I/O Setup (Stagebox setup)
Ensure that the connected rack mixer is setup to correct mode for the designed usage of the stage box.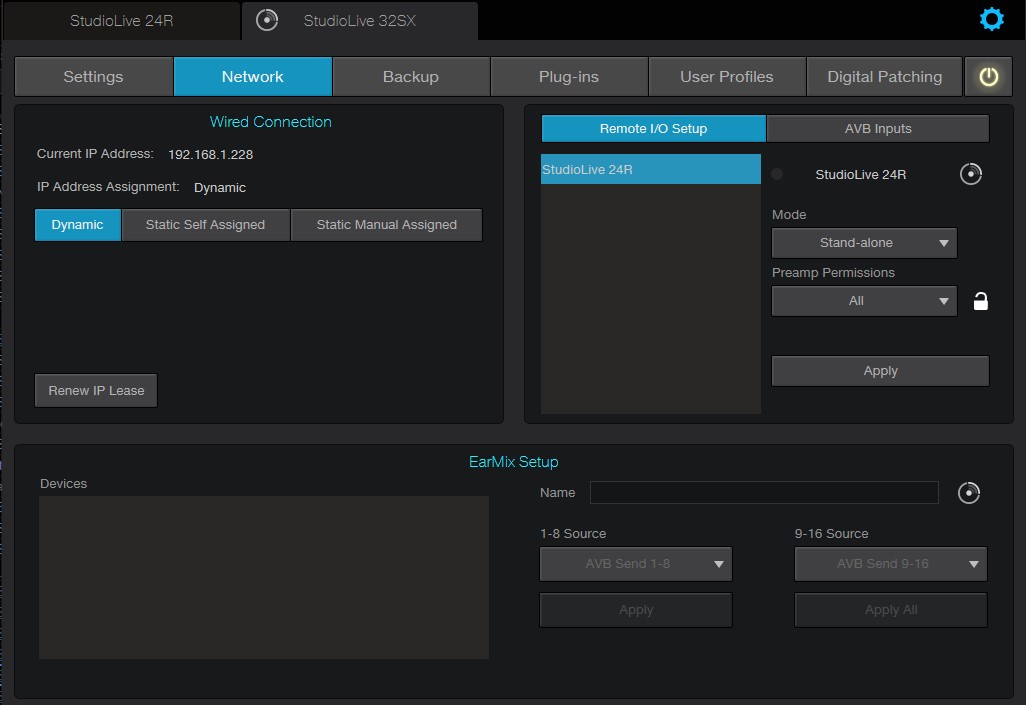 Please consult this manual for a description on the difference between the 3 modes that are available.
Link: https://pae-web.presonusmusic.com/downloads/products/pdf/StudioLive_Series_III_Stagebox_Mode_Addendum_V5_EN_25032019.pdf
Important points to note:
Using a rack mixer in "Stage Box" mode will not allow for the any USB inputs to be used on the FOH console.
When using "Monitor Mixer" mode then as per the design of this mode all outputs on the rack mixer are controlled by the rack mixer. USB inputs are still seen on both consoles.
When your connected rack mixer is in stand alone mode its common to want all Flex Mixes such as your AUXES to be set and controlled by the FOH Console. If that is the case you will need to follow this Knowledge Base article to set that up. Link: https://presonus.zendesk.com/knowledge/articles/360044713652
Step 3: FOH AVB inputs from your rack mixer.
On the FOH mixer go to, Home > audio routing > AVB input streams
Assign your inputs from the rack mixer as you wish to have them on the FOH mixer. This now means that inputs coming in on the rack mixer will be on the FOH console for you to mix.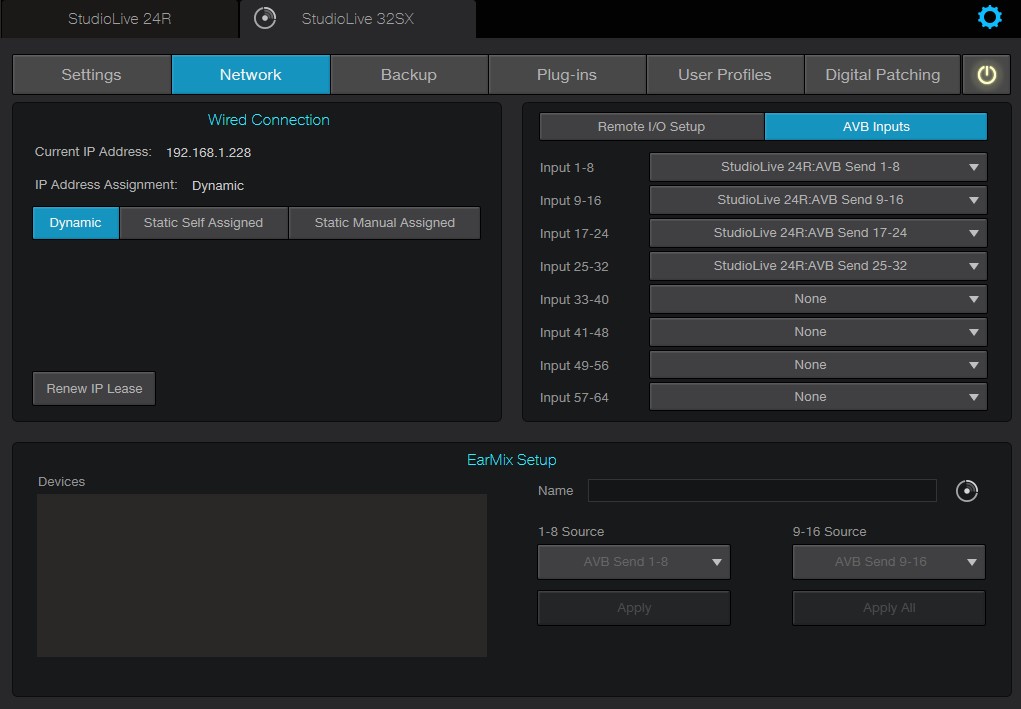 Ensure that you have changed the channels inputs on your FOH console to "Network" so these channels can now get audio from the connected rack mixer.
You can use a combination "Networked" inputs or "Local" inputs for your setup.
Step 4: Connecting the USB to your rack mixer.
On the rack mixer connect your computer to the USB port
Launch Universal Control or UC-Surface
Change your desired channels on the rack mixer to have their inputs set as USB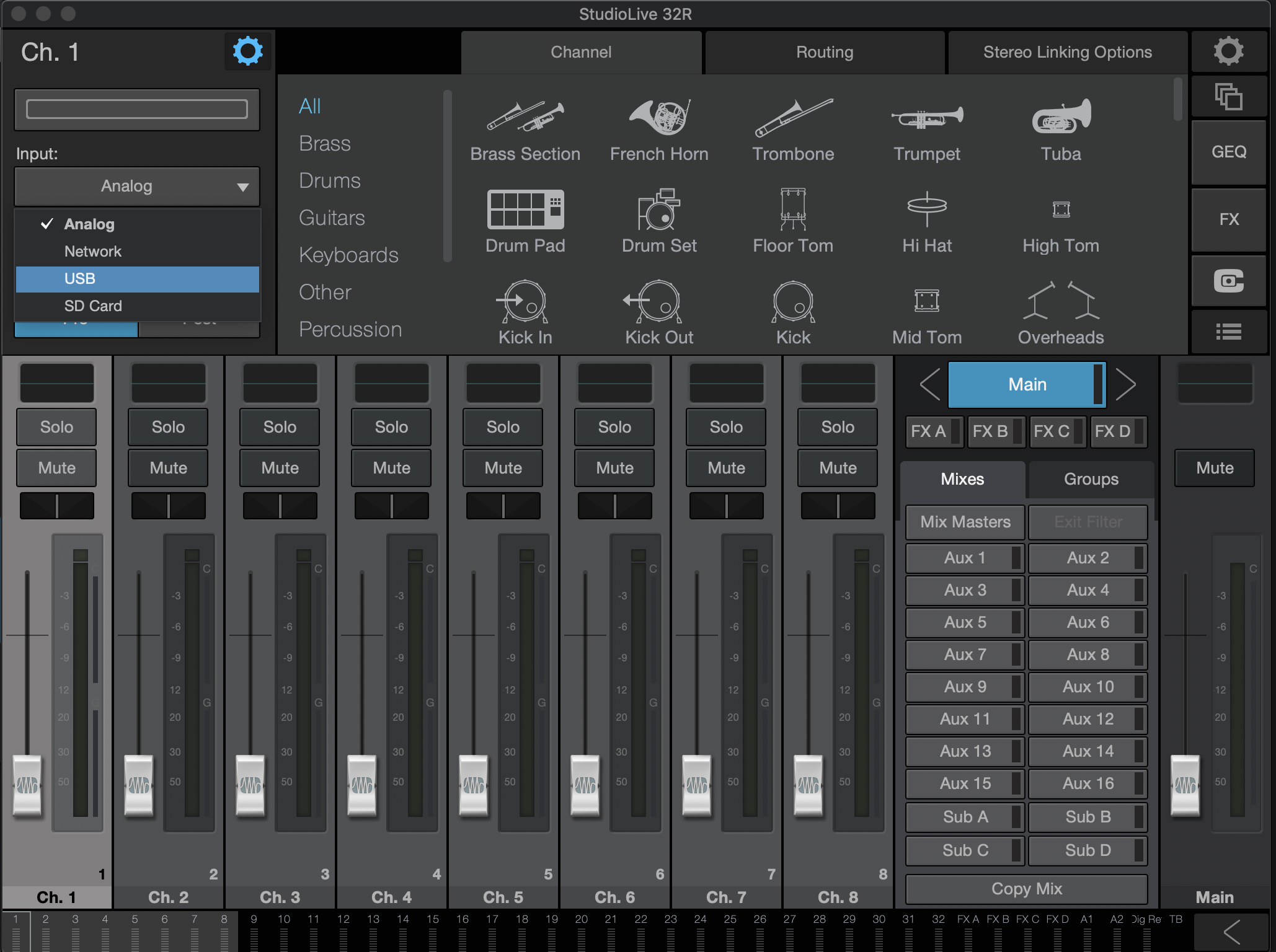 Now we will use Studio One to play back some USB audio.
Launch Studio One and create a new song using the template for your connected rack mixer. Templates are a feature of Studio One Artist and Pro versions only. The reason for using templates is that by default all the channels in Studio One are setup on a 1:1 basis, we do not have to do any routing in Studio One, it is done for you.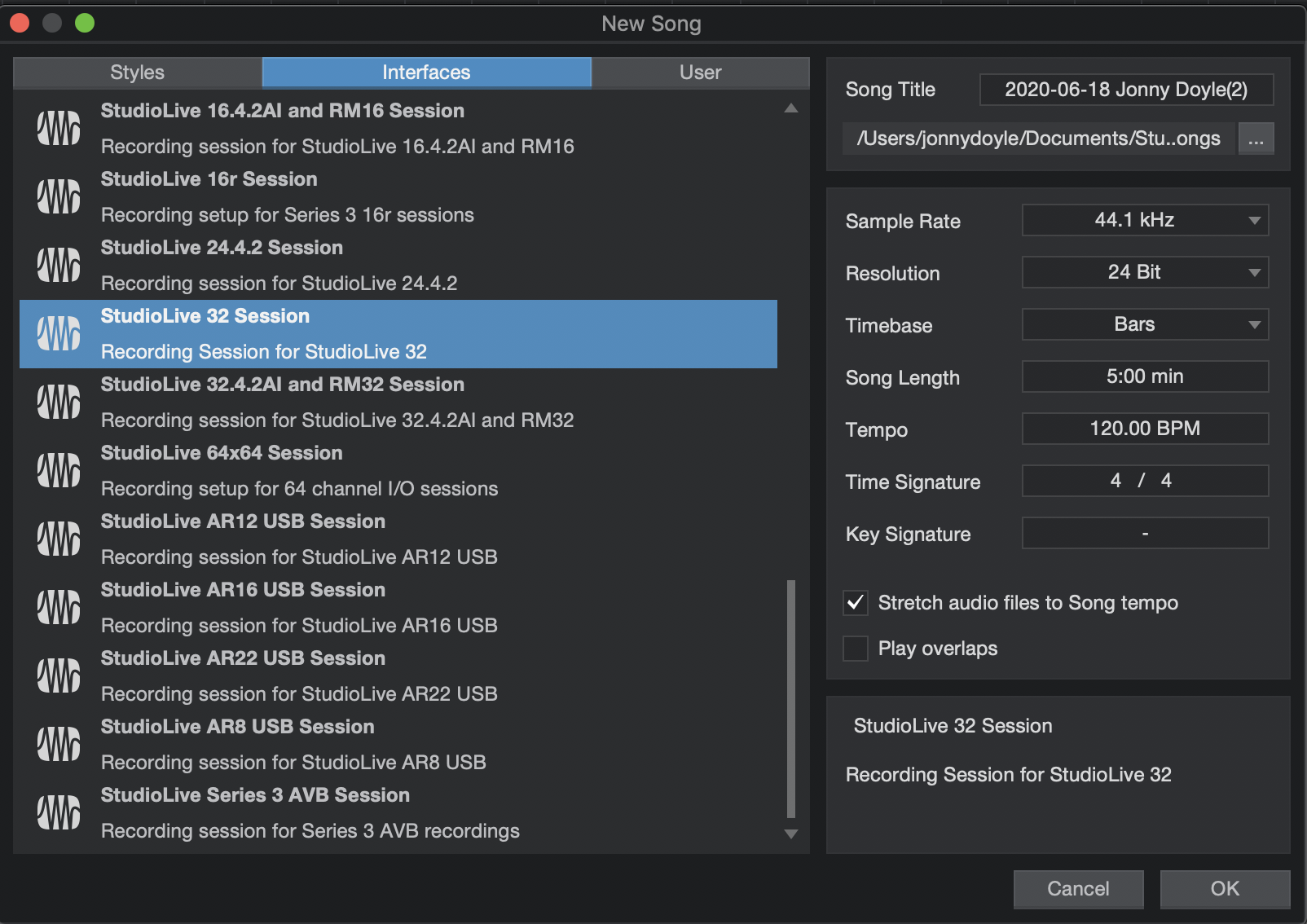 In the above picture you can see that on Channel 1 in Studio One I've dropped a Loop on repeat. You can see that the output for Channel 1 is set to Channel 1 which is USB send 1 which is Channel 1 on the rack mixer.
Once I press play in Studio One you can now see that audio is playing on Channel 1 on the rack mixer and on Channel 1 on the FOH mixer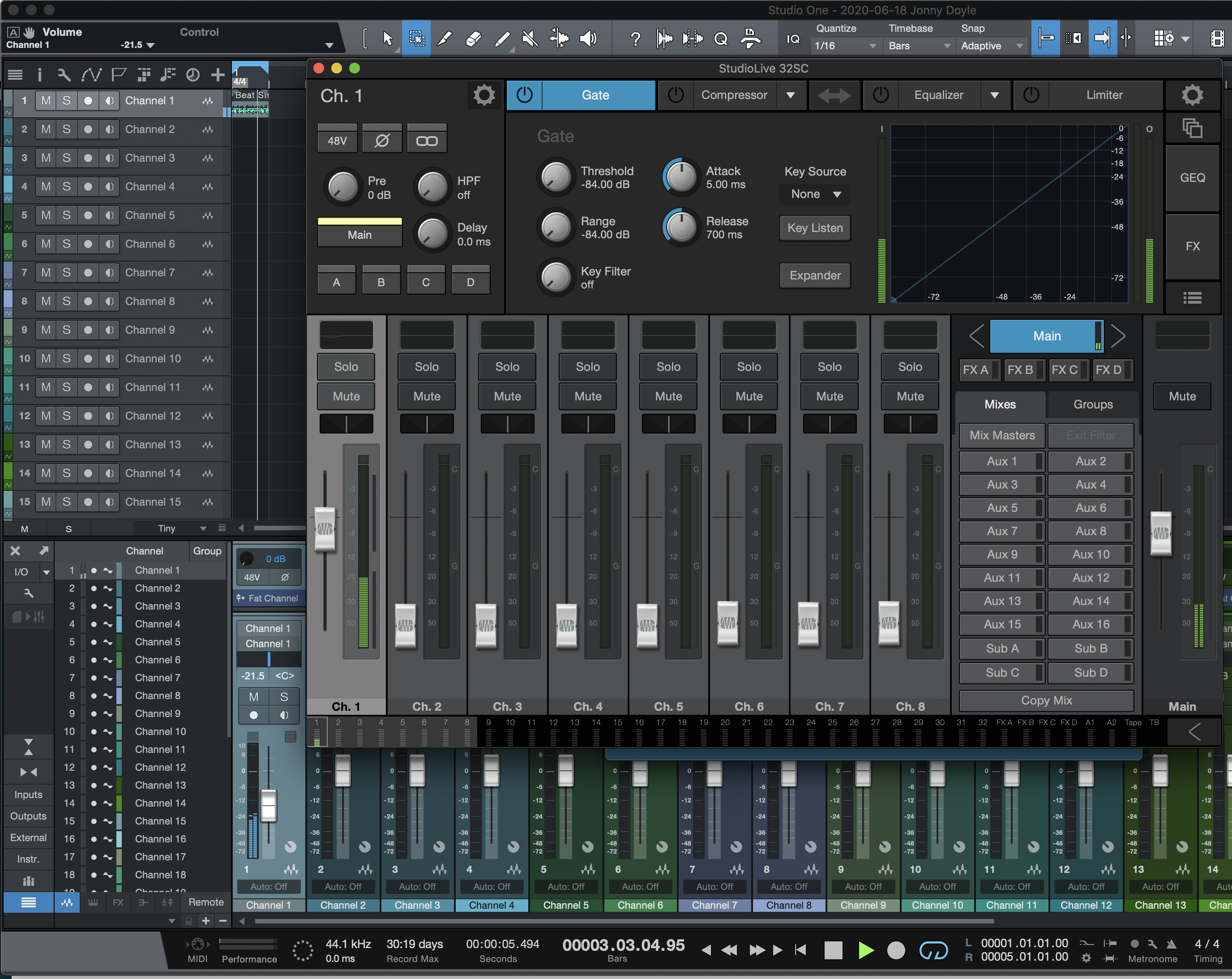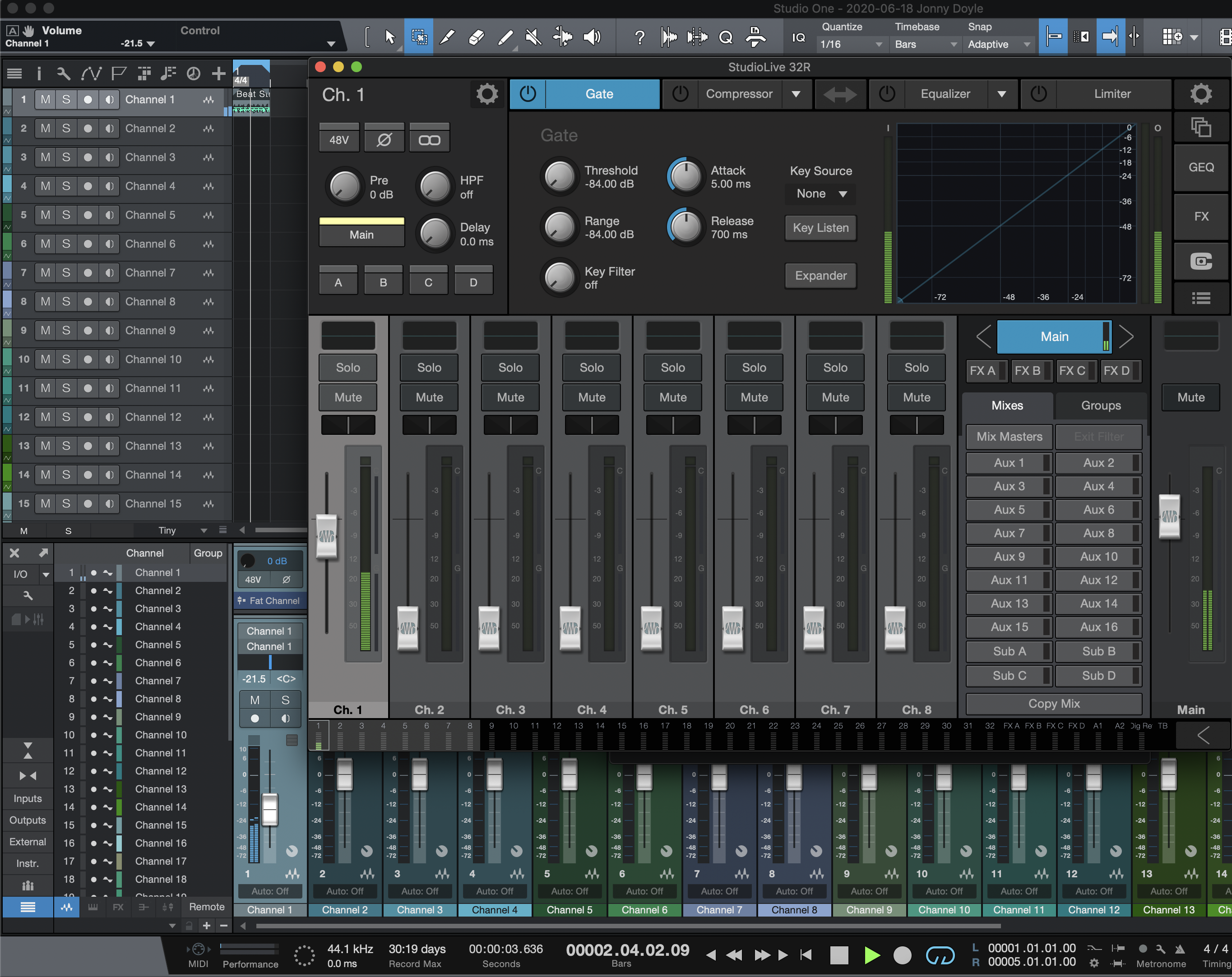 Repeat this process to set up your USB inputs on the rack mixer that can be shared to your FOH console.
Important points to note:
This can be done with any combination of Series III mixers. The above example shows a 32r and a 32SC but any 2 mixers can be used like this.
While Studio One is shown in the above example the same process of connections applies to other support DAW's.
==============================================================
Please contact PreSonus Technical Support by creating a Support Ticket at My.PreSonus.com/Support for further assistance.