You may run into an issue when starting a new session or when opening a current session that uses a Studio One Instrument, where you are running into very high CPU utilization. One instantiation of Mai Tai with a stock patch and 4 notes of polyphony will make the CPU spike and audio cut out. Why is this, and what can be done to fix it?
The answer is: Make sure that any of the Mai-Tai presets you are running have a quality setting that is not set to Supreme, which will occupy a lot of CPU (ie. Ryan's Strings). Setting it to a different level will reduce CPU usage.
Mai-Tai has different quality settings which can be found on the lower right side.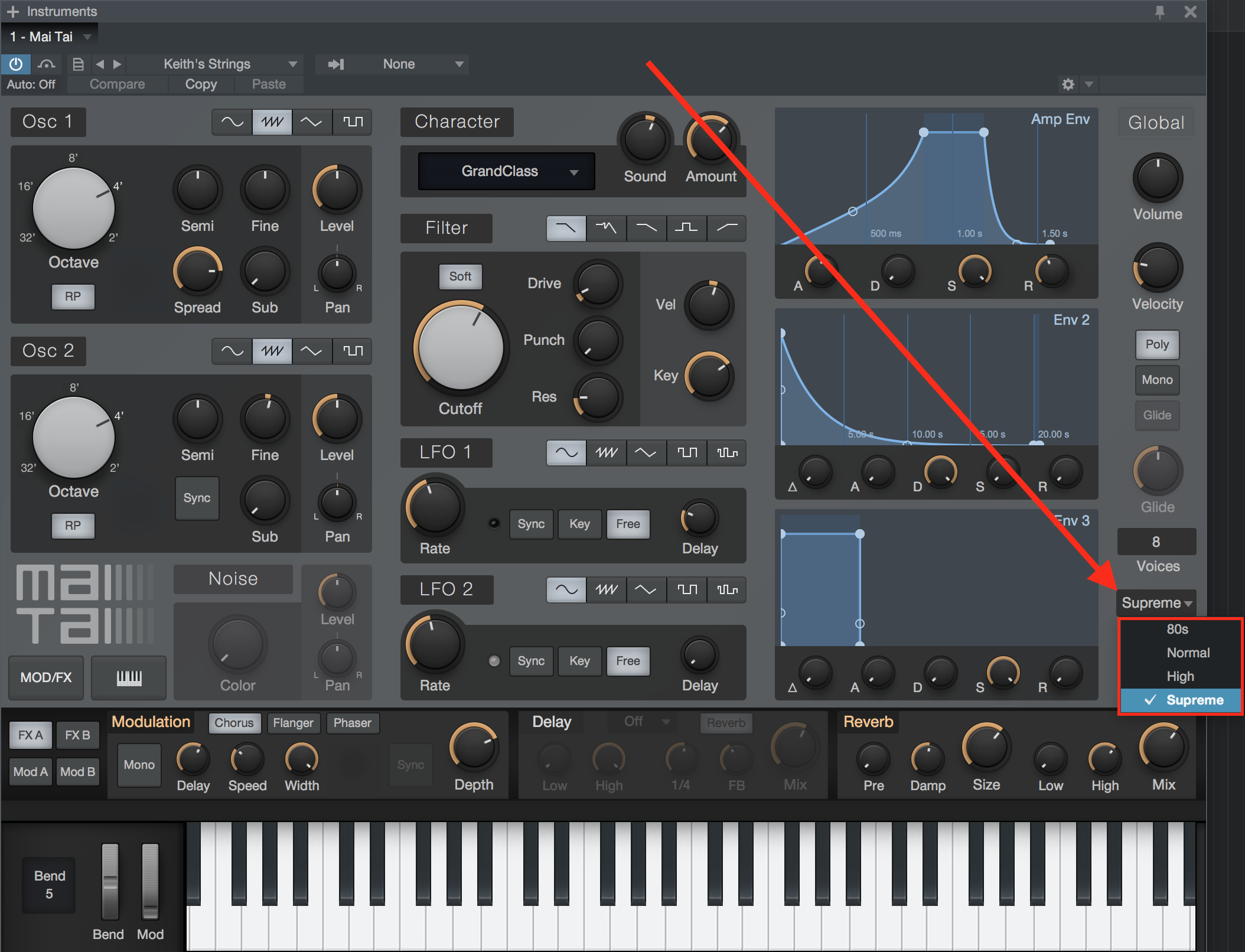 Each preset can have it's own unique performance quality setting.
There are 4 settings to choose from:
As with any synthesizer, the amount or processing power determines the quality of the sound. The settings are basically the amount of oversampling of the oscillators.
Most presets have the setting of Normal, but some presets are set to High or Supreme, depending on the choice of the sound designers.
High and Supreme settings require hefty systems with a lot CPU horsepower and substantial amounts of memory to allow for processing. An example of a system capable of handling multiple instances of Supreme Mai Tai might be Intel i7 (5th or 6th generation +) with 16GB+ of RAM and 64-Bit Windows 10 or Mac OS12.
If you have a system which cannot handle these higher settings, just adjusting the quality setting to Normal should be adequate. Or choosing a different preset may be needed. You may also consider upgrading to a more capable system for your composition needs, if using these higher settings are going to be commonplace.