Updating Studio One is a simple process that can be done from the Studio One context menu under the HELP menu or by using your computer's Web browser (Internet Explorer, Safari, Google Chrome, Mozilla Firefox, etc.).
From within the Studio One Software:
Click on the [Help] tab in Studio One, in the drop down menu select the option [Check for updates].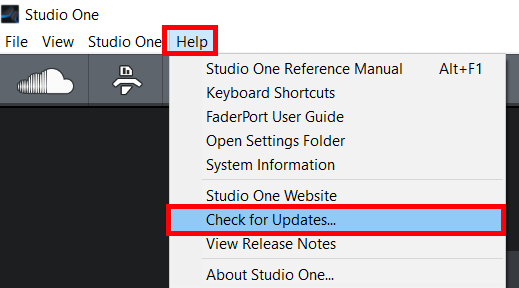 This will open a pop up window inside Studio One and automatically download/install the update.
Important Notes: If the built in updater is not working for any reason, use the steps outlined below to log into your user account and download the installer file directly from your user account.
Unlike certain other programs, Studio One is not updated via a "patch"; the new version simply replaces the previous version, resulting in an update. This will not affect your settings, songs, or files in any way. We recommend updating Studio One regularly as new versions come out, as this will improve the performance of the software, as well as adding new features.
Follow the steps below to download and install the new version of Studio One from your user account.
Please shut Studio One down. Studio One cannot be running while you perform the update. Then, follow the steps below. If you are not already logged into your PreSonus user account, log into your account: https://my.presonus.com/
Locate the [Products] menu tab. Click this button to view your registered product lists.
Select the [Software] button in your user account to view your registered software listings.
Press the [Direct Download] button to start the Studio One download for your operating system.
Clicking either the product name, or the

arrow, will open a new page that has your Studio One download listings.
Once you are on the downloads page for Studio One, the installer for your Operating System should be available.
Studio One downloads page.
Click [Download Installer] to download Studio One.
Windows browsers will show the Windows installer. Run the downloaded installer, and it will overwrite the previous build of Studio One, effectively updating it to the latest version.
macOS browsers will show the macOS installer. Launch the downloaded installer, and drag it to Applications. It will give you the choice to overwrite the previous version or replace the previous version. That would be your choice.
If you are downloading from a different computer (i.e. Mac vs PC) than the one on which you plan to Install Studio One, and need an installer for a different operating system, please click on [Show All Systems] to access the download version.
Note: the Studio One installer is the same for all versions: PRIME. Artist, and Professional. You can download the Studio One program from any of your Studio One products and achieve the same update without a loss of features. The version of Studio One installed on your computer is determined by the product key that you activated it with, not the file that you installed.