This article is to assist with those that are not sure how to properly contact PAE Tech Support for technical issues with your PAE software and/or PAE hardware via the email option.
Please Note: Usage training is not provided by the Support Team.
If your inquiry is pertaining to training needs, we ask that you please post such questions in the user based forums, visit any of the various FaceBook Groups, Answers.PreSonus.com and also take a look at our Knowledge Base [ HERE ]
If you have an existing ticket opened for the same issue, it is advised that you respond to that ticket rather than create a new support ticket. Once a ticket has been replied to, you have 5 days to get back to us. After that 5 day period, your ticket will be set to "solved" for a period of 2 days. If you reply to a "solved" ticket, the ticket will be re-opened. If you do not reply to the solved ticket during that 2 day period, it will then be set to "closed" and cannot be re-opened. If you reply to a "closed" ticket, a follow-up ticket will be created on our end.
For those with opened or pending tickets already, please follow this link --> I have created a support ticket, but not sure how to access it.
IMPORTANT: Creating a NEW SUPPORT ticket for an issue that is already opened can cause a delay in the response time. We highly recommend you log into your account and respond to a ticket if you have one opened already. This will help to ensure you get the most timely response to your issue without any delays as we answer each ticket in the time it is received in our in box. Already opened tickets get precedence in that priority!
Creating a support ticket
Note: When creating a support ticket, please be concise and specific as relates to the issue being reported. For example, writing "Studio One doesn't load." won't help the technician to more quickly assist you. Please describe the issue in good detail including any error messages or images that you may think are relevant. Doing that will help to facilitate a faster resolution to your reported issue.
1. Log into your PreSonus account: https://my.presonus.com.
2. Click on [Support] and then click [Create a Ticket]

3. Fill out the request form (add an attachment if needed) then press [Submit].
My.PreSonus - How to Add a File or Document to your Support Ticket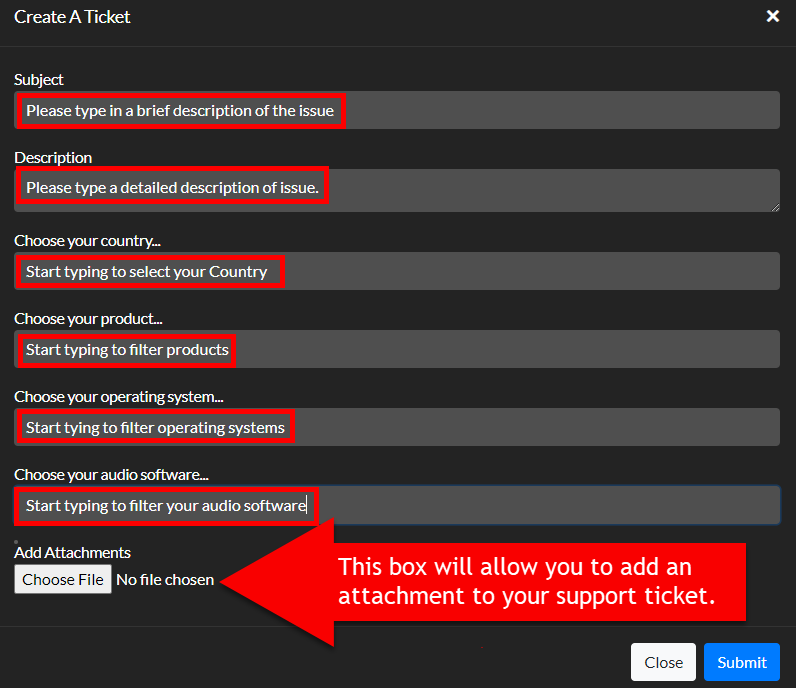 If you have already created a ticket and cannot locate it
I have created a support ticket but not sure how to access the support ticket I created.
How to Contact Support [ HERE ]
or Try Our New My.PreSonus App
- [ iOS ]
Related articles:
I have created a support ticket, but not sure how to access it.
I have left a Voice Mail with Tech Support, but no one is returning my phone call.