This article applies to this model FaderPort: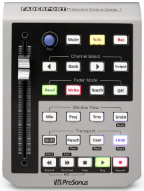 How do I set up my FaderPort Classic in Cubase/Nuendo 64bit on Windows?
You can use the FaderPort Classic as a HUI device with Cubase or Nuendo for both 32-Bit and 64-Bit in Windows 7 SP1, Windows 8.1 or Windows 10.  No further installation is necessary in order to proceed with setup in your DAW. 
 *NOTE: See here for info on HUI mode functionality

1. Connect your FaderPort, launch Cubase/Nuendo, and go to Devices | Device Setup
2. In the Setup window, click the + symbol for "Add Device" 
3. Select "Mackie HUI" from the list
4. Select 'Mackie HUI" from the devices list. Set the MIDI Input and Output to "Faderport"
NOTE: In the Devices Menu on the left, click MIDI Port Setup, y

ou may also want to u

ncheck "In All MIDI" under MIDI Port Setup so that the Faderport keep-alive MIDI pulse does not get recorded when working with virtual instruments
Click "OK". Your FaderPort is now ready to use.
PLEASE NOTE: Because the FaderPort Classic was not designed to function specifically as a HUI device. The FaderPort Classic does have some inherent functions intended for use with previously supported Native mode drivers which do not respond to the Mackie HUI protocol. 
The following buttons have no functionality:
Output
Punch
User
Prev
Next
RTZ
Also note, this is an update to what is printed in the manual on page 11. Earlier versions of Cubase had less functionality. 
The following buttons (as previously stated in the manual as having no functionality) work now under Mackie HUI with Cubase 8.