This article applies to this model FaderPort: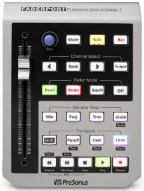 How do I set up my Faderport in Logic X?
Apple's Logic X is now a 64 bit only application. Previous versions of Logic had the option to run in 32-bit or 64-bit mode, but Logic X no longer has this option. In order to use the Faderport Classic in Logic X, you must either install our Native FaderPort Classic support file or set it up as a Mackie HUI Device.
Set up the Faderport Classic with Native Support in Logic 64 bit
NOTE:  In Native Mode, you will see an entry in Controller Setup for the Faderport, but no image of the Faderport like you see in previous versions. This does not affect functionality.
Or alternately, set it up as a HUI device:
Set up the Faderport Classic in Logic as a HUI device
NOTE:  There may be issues in Logic X where the Read, Write and Touch modes do not function after setup.  In order to make these work, do the following:


1. Open "Logix Pro X/Control Surfaces/Controller Assignments"
2. Select zone "Automation" and mode "Automation Mode"
3. Select control "Touch Automation" and change "Multiply" to 2
4. Select control "Write Automation" and change "Multiply" to 4