Q: Where can I purchase a replacement power adapter for my PreSonus Faderport Classic?
A: If you are looking for a replacement power supply please check out the listing below:
9 Volt Power Adapter
This will supply power to the FaderPort (Classic) / Gray Model.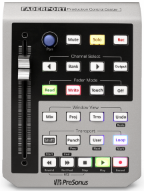 WARNING: Please make absolutely certain that you are purchasing the right power supply for your PreSonus device. If it does not meet the exact specifications of your unit, it could damage it, requiring repair.