This article applies to this model FaderPort: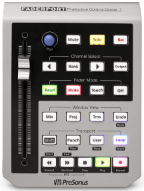 Question:
How do I set up my FaderPort Classic in Pro Tools?
Answer:
The FaderPort Classic is supported in Pro Tools through HUI emulation mode. There is no software installation necessary. Once you have connected your FaderPort Classic, launch ProTools to set up the FaderPort Classic as a HUI device
  *NOTE: See here for info on HUI mode functionality
1. Go to Setups | Peripherals
2. Create one HUI device under MIDI Controllers
3. Set the Receive From and Send To options to "Faderport". # Ch's should be set to 8. Click Ok.
4.  Some versions of Pro Tools may (Windows systems) may require you to enable the following options inside of your Peripherals area.  These options should not change any interaction on Mac systems as well:
MTC Synchronization requires adding "Faderport [Emulated]" mode:
MIDI Machine Control should be enabled to read "Faderport [Emulated]" with default values selected.
Your FaderPort Classic is now ready to use. Enjoy!
See here for current FaderPort Classic compatibility with Pro Tools: http://support.presonus.com/entries/23450595-ProTools-HUI-Support-FaderPort