This article applies to this model FaderPort: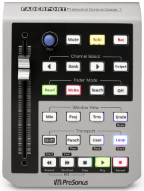 Question:
 How do I set up my FaderPort Classic in Ableton LIVE?
Answer:
The FaderPort is supported in Ableton LIVE through the Mackie HUI protocol. There is a special firmware mode that adds specific functionality within Ableton LIVE. Once you have connected your FaderPort Classic, press and hold the STOP button to change the FaderPort Classic's mode of operation. The "OUTPUT" and "UNDO" buttons will begin to flash. Press the "OUTPUT" button to enter LIVE mode (or press the "UNDO" button to cancel). Once you have pressed the "OUTPUT" button to enter Ableton LIVE mode, launch LIVE!
 *NOTE: See here for info on HUI mode functionality
1. Go to Options | Preferences
2. Choose the MIDI/Sync tab and set the Control Surface to Mackie Control and the Input and Output to "FaderPort" (or depending on your OS version it may show as "USB Audio Device")
3. Make sure that Track, Sync, and Remote are all turned on for both the Input and the Output of "MackieControl" Close the Preferences window.
Your FaderPort Classic is now set up and ready to use.
Enjoy!